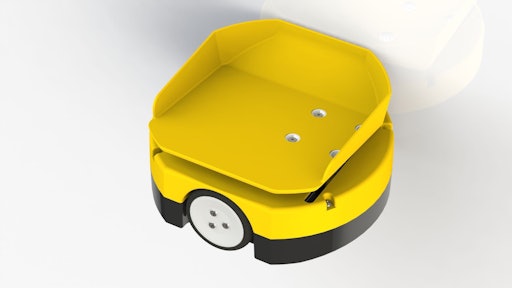 Tompkins Robotics
Tompkins Robotics, a business unit of Tompkins International, has expanded its autonomous mobile robot (AMR) product line to include the t-Sort Mini. At nearly half the size of the original t-Sort solution, the t-Sort Mini is ideal for sorting small items up to 5 pounds, including jewelry, cosmetics and pharmaceuticals.
"Traditional sortation systems were not designed to handle changing shopper habits and the rise of digital commerce," says Mike Futch, president of Tompkins Robotics. "The new t-Sort Mini provides clients with a cost-effective solution for sorting small, lightweight items that cannot be accommodated by a traditional conveyor system."
Ideal for small to large distribution operations, t-Sort is a portable, scalable robotic sortation system that operates similar to a tilt tray sorter without a fixed track, moving freely to any divert or induction station along the shortest path. Its applications include e-commerce, retail replenishment, returns, shipping and can even be deployed in the backroom of a postal or retail location. The t-Sort system is also fully modular and additional robots can be added or removed instantaneously without any interruption or downtime.
Last year, Tompkins Robotics introduced the t-Sort Plus, which is capable of handling items up to 66 pounds, which is six times the weight of the original t-Sort solution. Together, the t-Sort AMR suite provides a fully modular, scalable solution for a broad range of applications with shorter lead times and lower capital investment than traditional sortation systems.