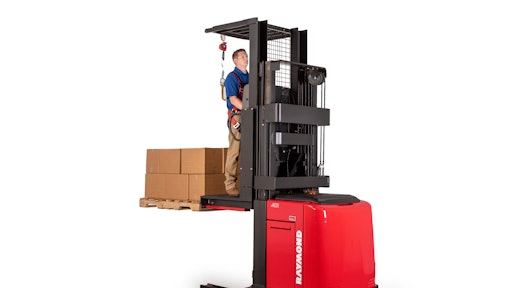 The Raymond Corporation introduces the new Raymond Model 5300 order picker, providing a configuration for every application.
Model 5300 offers updated technology for enhanced truck performance and design features for improved efficiency and lower cost of ownership — particularly ideal for smaller operations with light-duty cycles. The new orderpicker will have a 24-volt battery and is available with two mast options:
Two-stage mast with a lift height of 241 inches and up to a 2,200-pound capacity.
Three-stage mast with a lift height of 240 inches and up to a 3,000-pound capacity.
With Raymond's exclusive ACR System, operators will have more up time, quicker acceleration and smoother directional changes on the Model 5300. The system also allows for fewer battery changes and advanced diagnostics, equating to reduced maintenance costs and lower total cost per ownership.
"To maximize productivity in today's fast-paced industry, the Model 5300 will offer design versatility and affordability to better serve customers' needs for light-duty, value-driven applications and single-shift pick throughput requirements," says Shannon Curtis, product manager for order pickers for Raymond.
In addition, product enhancements have been made to the Raymond Model 5500 and 5600 orderpickers, which are used for medium- to high-throughput and heavy performance applications. On both models, the lift and lower speeds have been improved, allowing for more picks per shift and increased productivity.
"These product line enhancements help us offer configurations for all applications, and our improved lift and lower speeds will move more product faster to keep pace with today's heightened demands," Curtis says.
To learn more about Raymond Model 5300, 5500 and 5600 orderpickers or The Raymond Corporation, or to locate an authorized Raymond Sales and Services Center, visit www.raymondcorp.com or call 800-235-7200.