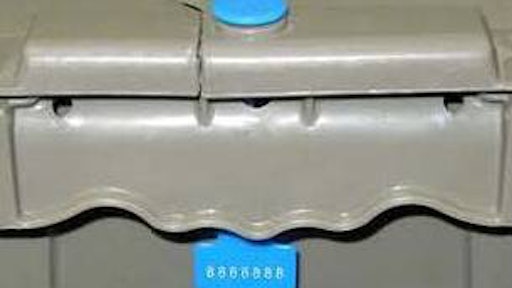 Pomona, N.Y.—May 2, 2013—Cambridge Security Seals (CSS), which offers an extensive line of tamper evident/resistant, high-security loss prevention seals, received a patent by the U.S. Patent and Trademarks Office for the design of its Strapless Tote Seal (product # CSS-STS). It seals a tote without a strap, eliminating the most common source of seal-breakage in high-impact sealed tote environments. The STS has a broad array of box and tote sealing applications and is an addition to the company's line of tamper-evident and tamper-resistant security seals.
"While other seals companies have been focused on acquisitions, cost-cutting, plant shutdowns, layoffs, production delays and offshoring of production, CSS has quietly and effectively built a U.S. manufacturing and development operation that fosters customer-centric innovation while reducing both lead-times and costs," confirmed Elisha Tropper, Chief Executive Officer of Cambridge Security Seals.
Cambridge Security Seals services an increasingly diverse customer base spanning a variety of industries, including freight; logistics; distribution; trucking; retail; cash handling; airlines; rail transportation; government; pharmaceutical; food and beverage; medical; and agriculture.
According to Brian Lyle, Vice President of Sales & Marketing at Cambridge Security Seals, the Strapless Tote Seal was conceived of and designed specifically to meet the challenges set forth by some of the industry's largest seal users.
"Companies engage Cambridge Security Seals because they understand our commitment to work with them to meet their individual needs," said Lyle. "Our line of tote security products now includes fixed length, adjustable length and strapless seals, each customizable to meet the operational, tracking and security requirements of virtually any customer or application."
The patent, Lyle stressed, is indicative of CSS's determination to develop updated and enhanced solutions for common unresolved security seal issues.
Companies in this article