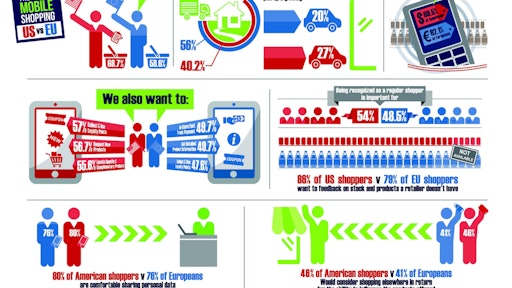 Both Americans and Europeans are now eager for mobile interactions as part of their overall grocery shopping experience, according to new survey results from Symphony EYC.
The poll identified that shoppers want personalization, mobile services and shopping as:
Shoppers want to be recognized when they walk into a store, receive individualized offers and manage retail loyalty programs via their mobiles
The majority of shoppers want to use their mobiles to compare prices in-store, locate products and provide feedback
Very few shoppers are actually using their mobiles to buy groceries, despite their thirst for mobile services
"While American and European grocery shoppers differ in how they are interacting with their grocers, the majority would like to enhance their in-store shopping experience with mobile services," said Ellen Dixon, Global Senior Vice President of Marketing, Symphony EYC. "In particular, shoppers want to be able to use their mobile devices to locate specific products within the store, to compare prices with those elsewhere and to provide feedback and suggestions on grocery assortments."
Personalization—Being recognized as a regular shopper was only slightly more important for Americans (54 percent) than for Europeans (48.5 percent). In general, Americans (19 percent) were more interested than Europeans (16 percent) in having grocers understand their health/personal preferences, such as diet, allergies and lifestyle preferences. Both Americans (53 percent) and Europeans (48 percent) would like to receive offers relevant to their shopping preferences.
In-store mobile services—The ability to compare prices was the most-wanted mobile service for both American (69.5 percent) and European (62.1 percent) respondents. However, shoppers on the two continents diverge when it comes to other services. Americans rank collecting and using loyalty points (57.5 percent), requesting new products (56.7 percent), and locating specific and complementary products in store (55.6 percent) as their top priorities. Europeans, on the other hand, want in-store fast track payment (49.7 percent), getting more detailed information on products/ingredients (49.7 percent) and collecting and using loyalty points (47.6 percent).
Mobile grocery shopping—Shoppers in the U.S. and in Europe have yet to embrace grocery shopping via their mobiles with only 5.6 percent of Americans and 8.7 percent of Europeans reporting that they have actually used their mobiles to buy groceries.
Influencing product selection—Americans were most interested in being able to influence the products stocked by retailers, with 86 percent of Americans versus 79 percent of Europeans wanting to be able to request that a retailer carries or stocks a product they don't currently offer; 72 percent of Americans versus 65 percent of Europeans want to share ideas for new products or changes to products; 80 percent of Americans versus 68 percent of Europeans want to give their opinion on what they like/dislike about products; while 42 percent of Americans versus 32 percent of Europeans say they would join similar groups to compare their ideas.
Stickiness—U.S. shoppers (46 percent) also are more likely than their European counterparts (41 percent) to consider shopping elsewhere in return for the ability to influence the products offered.
Pick-up service—Although 69 percent of Americans and 59 percent of Europeans prefer traditional store shopping, buying online and having products delivered home was the second most-liked form of shopping in both regions with 40 percent of Americans and 56 percent of Europeans weighing in. The newer "drive" concept, which allows shoppers to order online, than pick up at a store's drive-through facility, was of interest to 27 percent of Americans versus 20 percent of Europeans.
Privacy—More than 80 percent of American shoppers are comfortable sharing personal data with their retailers as long as it is kept safe compared to 76 percent of European shoppers.
This report is courtesy of Symphony EYC.
Companies in this article