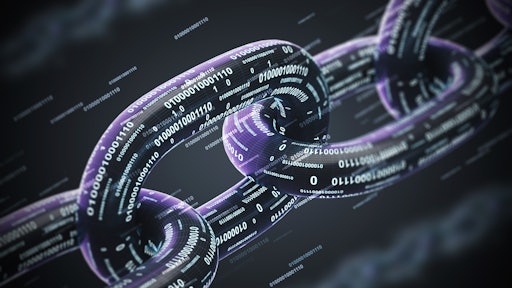 denisismagilov - stock.adobe.com
The term blockchain has often been associated with cryptocurrencies, especially Bitcoin and Ethereum. Blockchain, in fact, has been the key driver behind the rise of cryptocurrency because of its basic features of decentralized approach, enhanced security and immutable ledgers. However, these features have made blockchain extremely important and crucial for various industries and sectors. Supply chain management is one such sector that can truly harness the blockchain technology to its fullest potential. Apart from helping to improve the transparency in supply chains, blockchain has the potential to increase a business's profitability by reducing the associated administrative costs.
In the current scenario, experts are skeptical about trusting the data provided by today's supply chains. This isn't just because the data provided may be false; it is mainly because the source and the reasons behind this predicament cannot be easily traced. Blockchain offers a direct solution to this problem. The level of security it provides and the immutable nature of its ledgers, traceability along with transparency, are the key advantage of aligning supply chains through blockchain. Also, because of the decentralized nature of blockchain, multiple supply chains can integrate with each other effortlessly without any need for an intermediary. Recently, the implementation of blockchain in supply chain management has increased tremendously owing to the various benefits its offers.
In today's era of digitalization, where data is the new oil, supply chains need seamless integration with the digital world so as to fulfill their business or customer needs effectively. Blockchain, being the latest, high-end technological product of the digitalization era, offers the intended seamless integration with digital systems, smoothly.
The world runs wholly and solely on the basis of supply chains. From toys to vaccines, every product that is processed and manufactured today is a result of a resilient supply chain that works behind-the-scenes. Take the example of an end-to-end supply chain that works behind making the COVID-19 vaccination program a success. Say, a country sends a consignment of vaccines to another country. The supply chain of the receiving country is activated the moment vaccines reach the country or many-a-times even before the vaccines arrive in the country.
Firstly, these vaccines are stored in a central repository; then these vaccines are distributed and transported to each state and further to each district. The district store then distributes the vaccines amongst the primary healthcare centers, which then implement the immunization program. All this time, the vaccines need to be kept safe, free from any contamination and at a specific temperature. For all this to happen smoothly, a robust supply chain and logistical support is needed. Moreover, this is just the demand side of the supply chain; another kind of supply chain works in the vaccine supplying country. A complete coordination is needed between these two supply chains to complete vaccination drive successfully.
In such a complex globalization era, where trade has become so dynamic, it is imperative for each and every involved stakeholder to have a robust, resilient, and adaptable supply chain. For the supply chain to have these traits, it needs to fulfil the basic qualities of being transparent, secure, and decentralized in nature.
A new technology that has gained popularity in the last few years looks to be the perfect way to make global supply chains transparent, secure and decentralized, thereby making them robust and resilient in the long run. Yes, that new technology is blockchain technology. The core tenets of blockchain technology and the core requirements of supply chain industry perfectly fit into each other like a jigsaw puzzle. As a result, many key players in the supply chain industry are rearranging their setups to integrate them with blockchain technology. That's why, per analysis done by Research Dive, the global blockchain in supply chain market is expected to garner a revenue of $14,884.4 million at a CAGR of 57.4% in the 2021-2028 timeframe.
Why blockchain in supply chain market will continue to grow?
1. Transparency and traceability. Traceability is a key component of standard supply chain management. This is mainly because, any issue with respect to any error or lapse or delay in the end delivery of the concerned product needs to be traced immediately. Tracing the error is the first step in solving it, which makes it very critical part of problem-solving mechanism. However, in order to trace the lapse, the supply chain should be transparent enough. Blockchain technology mandates that all the relevant information regarding the product or service that needs to be delivered is continuously updated by all stakeholders.
2. Security. Consumer data is of paramount importance in supply chain management. Keeping the consumer data safe is even more important. Blockchain stores data on separate blocks after encrypting it and makes it impossible for any third-party entity who isn't part of the supply chain to access the data.
3. Decentralized ledger. Another important feature of blockchain technology is the decentralized nature of its ledgers. Because blockchain technology works on the principle of networking, all data is updated on the network in a decentralized fashion. This not only prevents redundancy and duplication of data and work, but also helps in doing all the transactions in the supply chain management without an intermediary. Also, since the ledgers are decentralized, not just multiple stakeholders, even multiple supply chains can integrate with each other. This feature of decentralization is another reason why blockchain in supply chain market is growing.
The bottom line
Apart from these, other such features such as enhanced efficiency, greater profits by increased savings, streamlining of operations and more have contributed in the growth of the blockchain in supply chain market. However, the blockchain in supply chain market may face certain roadblocks. Blockchain programming is a tedious and complex job that requires high-level expertise. Also, since it is a global technology, but still at a nascent stage, several countries have different laws governing blockchain technology. Some of these laws may contradict each other, thereby hampering the supply chains. Addressing these issues and integrating all possible supply chains with the blockchain technology, especially in the post-COVID-19 world, will help consumers, industries and the blockchain in supply chain market equally.