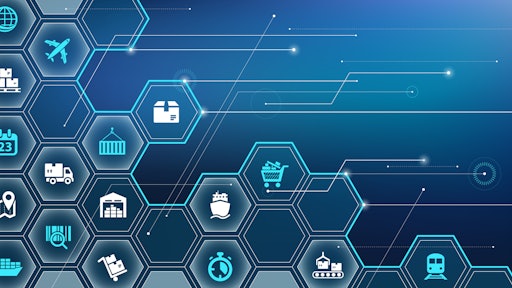 j-mel
Supply chains have been dominating the headlines for months as disruptions caused by the Coronavirus disease (COVID-19) pandemic continue to delay deliveries and drive up costs for consumers. Despite the economic pain and frustration caused by these disruptions, the supply chain crisis has also accelerated many long-overdue changes in the sector, particularly the shift toward smarter, digital supply chain networks.
It's long overdue for supply chain leaders to digitize operations and migrate to the cloud. This transition will increase visibility, resilience and agility; forge healthier relationships between manufacturers, distributors and other supply chain partners; and automate expensive and time-consuming manual processes. Cloud-based supply chains will also be in a much stronger position to collect and analyze data, which will help companies address problems proactively, identify inefficiencies and replicate operations that are working well.
As cloud-based platforms become more powerful and accessible, small and medium-sized companies will be able to compete with their much larger peers. Meanwhile, as supply chains become less error-prone and more efficient, reliable and flexible, B2B partners and consumers will see dramatic benefits. The supply chain sector has been slow to digitize – Gartner reports that more than half of organizations haven't yet "actively started to build a roadmap for supply chain digital transformation." This status quo should be upended immediately.
The cloud makes supply chains transparent
End-to-end supply chain visibility has long been a core focus for the sector. According to a 2020 study released by Bain & Company in conjunction with Microsoft, 40% of supply chain leaders say they plan to increase investments in real-time supply chain visibility. Executives in the sector told EY Global that end-to-end visibility is the top factor in creating successful supply chains, but only 6% said they were very confident in their own systems when it comes to creating this visibility.
By centralizing data on a single platform, providing real-time operational insights and facilitating communication between departments and teams, cloud-based resources have a pronounced effect on supply chain visibility. It's easier for employees and managers to solve problems when relying on shared data, exchanging information quickly and effectively and fully engaged with their colleagues no matter where they happen to be. When a company's employees are siloed and information is scattered in individual emails, spreadsheets and physical documents, there are constant redundancies and other inefficiencies.
Siloing is a problem for any organization, but it's especially harmful for supply chains. When there are so many moving parts, a problem in one place can quickly have cascading effects throughout the entire operation. This is why transparency is vital for supply chains – not only to identify problems as quickly as possible, but to keep all those parts moving in the right direction.
Click here to hear more about the cloud in the supply chain:
How digitization leads to agility
It would be difficult to come up with better evidence for the importance of supply chain agility than the crippling disruptions we've witnessed over the past year and a half. With loaded cargo ships stuck off the coast of their ports and high prices for many goods (due to shortages in many industries), it's clear that the failure of supply chains around the world to adapt to the shock of COVID-19 has had severe economic consequences.
According to the Bain & Company and Microsoft report, a major projected area of investment for supply chain leaders is "flexible operations," while even more respondents say they plan to invest in "predictive planning and demand forecasting." Considering the fact that improved forecasting is integral to flexibility, these priorities make sense. When supply chain managers have access to rigorous data on projected market developments, revenue growth, the volume of products and materials necessary to satisfy demand, and other variables, they'll be able to make informed decisions about production and distribution, rebates and so on.
During the COVID-19 pandemic, supply chains were under immense pressure and many of them didn't hold up. A 2020 survey conducted by McKinsey found that three-quarters of supply chain leaders had problems with production and distribution, while 93% said they planned to focus on increasing resilience across the supply chain. Agility is a key component of resilience, and cloud-based platforms are indispensable for making supply chains as agile as they can be.
The future of cloud-first supply chains
While COVID-19 exposed weak links in supply chains around the world, it also forced many companies to digitize more quickly than they would have done otherwise. According to a survey conducted by The Manufacturer and commissioned by IBM, 67% of leaders in the manufacturing industry say they've "accelerated digital projects as a result of COVID-19." And this phenomenon isn't limited to the manufacturing side of the supply chain sector – McKinsey found that 85% of supply chain executives overall "struggled with insufficient digital technologies" during the pandemic, while 60% plan to implement advanced analytics.
The cloud makes operations more resilient and efficient at every link in the supply chain, from planning and sourcing to manufacturing, logistics and distribution. Supply chain leaders should remember that cloud-based platforms don't just increase flexibility by allowing them to respond to problems more quickly – they also help manufacturers and distributors capitalize on opportunities across the supply chain as soon after they appear. This is particularly important for small and medium-sized companies, which now have access to digital tools that allow them to collect data, communicate and collaborate in ways that would have been impossible a decade ago – capacities that help them compete with larger competitors.
To the extent that the pandemic convinced supply chain leaders to start shifting to the cloud, it may have launched a period of rapid digital innovation in the sector. This is all the more reason why manufacturers and distributors can't afford to delay their digital transformations any longer – doing so will guarantee that they fall behind. While moving to the cloud will address many immediate challenges and needs, the transition will have an even larger impact in the coming years. Companies shouldn't waste another second before getting started.