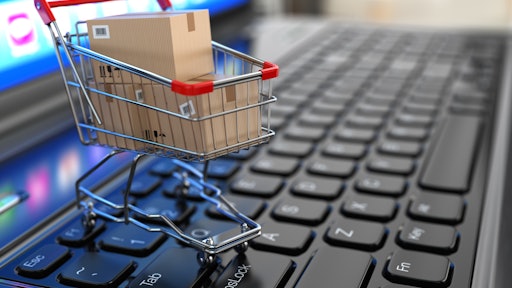 Maksym Yemelyanov AdobeStock_59892801
The COVID-19 pandemic subjected global supply chains to a major stress test, with manufacturing disruptions and shipping bottlenecks even as customer demand spiked and global energy supplies constricted. That's driven companies to make big investments in logistics tech and supply chain management processes. In fact, nearly 80% of supply chain leaders accelerated their digital transformation during the pandemic, and two-thirds will further increase investments this year.
For B2B e-commerce businesses, the modernization of the supply chain can't come fast enough. But making the most of new supply chain technologies will require a new mindset, too. Facing persistent shipping challenges, inflation and economic turmoil, it's no longer enough to simply monitor supply chain operations and respond to disruptions as they happen. Instead, today's businesses need a more proactive and intelligent approach that allows them to anticipate intersecting supply chain challenges and leverage those insights effectively across the value chain.
By using digital tools to integrate supply chain intelligence into a connected, data-rich B2B commerce landscape, it's possible for merchants of all kinds — even, and perhaps especially, smaller operators — to level up all aspects of their operations and make their businesses more adaptable and resilient along the way. Here are 5 key ways that B2B brands can leverage new supply-chain innovations effectively:
Put customers first
It's tempting to think of supply chain issues simply as a logistical problem, but the pain is really borne by the customer, and it's up to brands to ease that burden and maintain customer loyalty. That means looking beyond out-of-stock alerts and proactively leveraging supply chain data across the customer journey. Marketing campaigns can be tailored based on regional inventory data, for instance, ensuring that customers aren't offered deals that can't be promptly fulfilled. Enhanced communications can also be used to offer customized alternatives if an item is unavailable, updates when products are in stock again, or timely updates and personalized discounts as compensation for unavoidable delays.
2. Make smarter decisions
Supply chain analytics used to be chiefly about optimizing for efficiency, but increasingly it's becoming possible to integrate supply chain data into unified business data systems. By bringing together supply chain datastreams, customer relationship management (CRM) tools, B2B e-commerce platforms, business intelligence solutions and more, it's possible to create a data universe that's greater than the sum of its parts — then leverage the emergent insights to drive efficiencies and resilience while also elevating the customer experience. If a supplier's shipment doesn't arrive on time or there's a hiccup at the warehouse, that information can flow freely across your operational ecosystem, enabling decision-makers at all levels — from fulfillment to customer service — to make smarter and better-informed decisions.
3. Plan for the future
With richer supply chain data from digital management systems, businesses can anticipate trends and plan ahead more effectively. Supply chain data can be used to enrich sales projections, spot and address bottlenecks before they become barriers to growth and put new sourcing and distribution infrastructure in place on an as-needed basis. Even labor issues can be addressed more effectively, with supply-chain data and workforce automation tools working in sync to ensure your distribution networks are firing on all cylinders at the moments when you need them most.
4. Unlock new distribution channels
By connecting your supply chain and e-commerce infrastructure, it becomes possible to blur the line between e-commerce and brick-and-mortar in order to streamline fulfillment and turn the entire business footprint into a unified distribution network. In-store inventory can be used to fulfill online orders, for instance, or products can be shipped to stores to streamline the last mile of delivery. With options such as buy online, pickup in store (BOPIS) and store-based product returns, meanwhile, customers can get the results they want more quickly, with less friction and less frustration along the way.
5. Get ready for growth
The current environment is unpredictable, but B2B brands still need to invest in the infrastructure they need to grow their business. Building out smarter supply chain tools and integrating them into a data-forward commerce platform is a smart way to stay agile while developing the robust capabilities you need to grow and expand over time. Speed and efficiency aren't just about building more warehouses and distribution centers — it's about connecting the resources you currently have and leveraging them more intelligently to drive results that directly benefit your customers.
The great equalizer
Pandemic-related supply chain issues have placed an undeniable strain on smaller B2B operators, which often lack the ability to maintain significant inventory in order to shield themselves from disruption. The good news, though, is that smaller, more nimble B2B brands are especially well-placed to capture the benefits as supply chain innovations spread through the space.
Digital supply chain tools, including feature-rich e-commerce platforms and flexible workflow tools, can help B2B sellers of all kinds and sizes to differentiate themselves and level up their operations. To unlock those benefits, merchants need to find ways to integrate supply chain data and digital tools across their ecosystem — while still staying focused on the things they do best.
That's really the key to making the most of new supply chain technologies. Companies that seek simply to streamline and augment their supply chain networks will, of course, see benefits from the investments they make. But companies that go further and use supply chain innovations to elevate all their operations — especially the customer experience they offer — will be well-placed to emerge from the current turbulence in a strong position for future growth.
This is an area where small and emerging B2B operators can particularly shine, because by definition, their digital infrastructure is less established and easier to build out in new directions. By maintaining open lines of communication with customers and using rich supply chain intelligence to augment all aspects of their operations, such businesses can reap significant benefits from relatively modest tech investments, helping them to punch above their weight and keep delighting customers even in the face of supply chain disruptions.