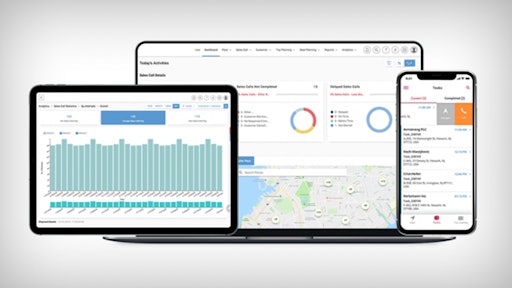 LogiNext
The direction in which consumer behavior has shifted to accommodate ultra-fast last-mile deliveries with flexibility in terms of time and place of delivery. Now, this is an extremely complex problem when it comes to delivery management. E-commerce brands and retail giants have their work cut out when it comes to delivering on this promise.
Logistics technologies like a delivery tracking system or a transportation automation platform have evolved rapidly. They provide great tools for e-commerce and retail chains to orchestrate a great end customer experience and scale to digitally transform supply chains, thus ensuring a superb last-mile delivery experience for end-users.
1. Implement route planning and route optimization. Whenever someone says route planning, Google Maps comes to mind, but for an e-commerce company to deliver thousands of orders in a timely fashion, a more sophisticated solution is required. Artificial intelligence (AI) and machine learning (ML)-powered algorithms are the core of route planning and optimization software that helps a company to efficiently assign orders to drivers, save time and provide accurate ETAs for delivery to the end customer.
How this works is that a system takes in all the orders (coming via the brand's own website, third-party sites or phone calls) and then batches orders into trips according to the delivery location, delivery type (fast, regular, etc.), driver skill set and several other parameters. These trips are then pushed to a driver's mobile app which prompts the driver to deliver orders to the end customer in the most efficient manner.
Click here to hear more about technology in trucking:
2. "Play the field" with 3PLs. Whatever your e-commerce business sells, you already know it is generally not a good idea to depend on one supplier. The same applies to third-party logistics (3PL) and delivery companies. Working with more than one of these companies naturally creates competition and results in better pricing and service for your business and your customers.
3. Mix and match and rate. When working with more than one carrier, you want to use them simultaneously or even have them compete with your own fleet, if any. For example, it may be the case that for X types of orders Carrier 1 is better than Carrier 2. Or Carrier 3 is the most effective in City A but not in City B. All these iterations can be figured out on a daily basis when you have the support of the right algorithm to make those decisions for you.
With this information on hand, you can now assign ratings and best "skills" for those that perform that last-mile deliveries for you and improve efficiency and costs.
4. Offer the best possible customer experience. In this day and age, customers expect their goods to be delivered on time or at least within the time window that they were promised. Keeping them abreast of where in the delivery process their order is creates a great customer experience. Furthermore, it can also reduce the backlash of an order being delayed. Since people are more prone to give bad reviews than good ones, this can be key for your e-commerce business' reputation and sales.
5. Measure, measure, measure. What percentage of your orders were delivered on time? How many packages were lost? What is the average cost of delivering an order? Who is the best 3PL/carrier?
All these and other questions are key for you to make managerial decisions. Having the right dashboards and reports and your fingertips and not spending hours data mining can be key to the ongoing success of your operations.
Conclusion
To sum it up, e-commerce brands had started with the premise of revolutionizing how products are bought and sold online, and now that the world is completely used to the idea of buying products online, the war has shifted to logistics.
Be it a large retail giant or a smaller retail brand, providing an option to buy online is a given. What a brand needs to focus on now is how to deliver it in the most efficient manner. On the face of it, it is more of a logistics company that is able to deliver products in a smooth manner from one place to another.
In such a scenario, it is of critical importance for a brand to take the reins of deliveries in its hands and have complete visibility over the supply chain. Technology solutions let e-commerce companies effectively manage their order scheduling and give detailed analytics and insights to improve operational efficiency.