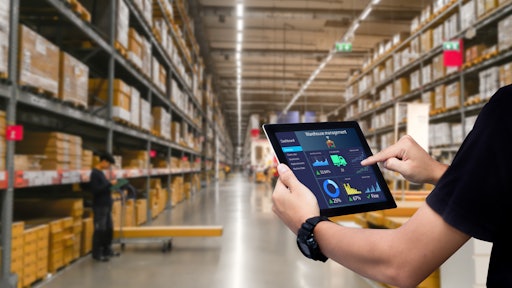 panuwat/stock.adobe.com
Supply chain automation continues to accelerate. Especially in the wake of the pandemic-related labor shortages and supply chain disruptions that have impacted ecommerce growth.
Automation can be particularly useful in helping organizations gain efficiencies and fill gaps when short staffed or up against supply constraints that impact productivity. Automation is equally as useful in times of economic boon when demand is high and it's imperative to keep goods moving.
We live in a time where both situations exist simultaneously—a high demand for products coming into conflict with inflation, labor issues and a sluggish supply chain. For this reason, automation is more important than ever. This is especially true for organizations that ship dangerous goods (DG), which adds a whole other level of complexity, challenges, and opportunity.
Automation's importance in dangerous goods shipping
Shipping goods classified as dangerous makes maintaining a safe and efficient supply chain more challenging. Regulations governing the thousands of items currently considered DG continually evolve, and they vary depending on how and where the goods are transported. Organization not only have to stay up-to-date on the latest regulations (and understand them) but must effectively align their operational processes to comply with those requirements.
Those regulations impact every aspect of getting a hazmat shipment fulfilled, out the door and delivered to a customer, including packaging, labels, documentation, carrier selection, employee training and more. With dozens of tasks required to put a DG item into transport, slow compliance processes mean slower fulfillment, deliveries, and overall business, especially for business constrained by staffing issues. This complex and often fragmented process also means there's a good chance significant inefficiencies, errors or delays could occur with one or more supply chain partners.
Automation can streamline, consolidate, and modernize the myriad tasks required to ship DG, helping to overcome inefficiencies created by slower, redundant manual compliance processes that lead to a greater chance of errors or delays. With automation, organizations can help improve operational productivity to keep pace with an evolving global DG supply chain. However, an organization's approach to automation will make or break its success.
Automation takes a comprehensive approach
While automation is key to improving efficiency and achieving a competitive advantage, many organizations have an incomplete and siloed view of what it takes to fully automate.
Simply using supply chain technology in the warehouse or logistics department doesn't constitute automation of DG operations. Most TMS, ERP, WMS or OMS solutions lack the functionality required to specifically address hazmat shipping processes. This is a key reason why many organizations still rely on manual processes for DG compliance, even if they use software to prepare shipments in the first place
In addition, the need for automation isn't a "one and done" proposition and it isn't solely constrained to the warehouse or the back office. It's important for organizations to take a holistic approach to automation and use it as an opportunity to ensure business continuity across the enterprise supply chain, whether onsite or remote.
This means taking a thoughtful approach to implementation that extends beyond placing sole responsibility on IT to put automation in place. IT often has visibility that's limited to only one aspect or function within the organization. Successful automation requires leaders to broaden the scope to encompass all internal, partner and customer processes.
To determine the full automation scope, ask probing questions like how are my systems or processes changing and how am I going to keep up with those changes? Who are the users of, and audience for, automation within my organization? What tools will they need to be successful? If I have multiple locations, how do I account for integrating those multiple systems and the data that I'll need?
These considerations are particularly important when automating DG shipping processes.
One final consideration is what technology is needed to automate the DG shipping process. Dedicated DG shipping software helps ensure compliant DG shipping and streamlines management and provides a single location that all stakeholders can access for accurate, up-to-date information.
The Benefits of DG Shipping Automation
In addition to streamlined management, automation of DG shipping processes using DG shipping-specific software provides several operational benefits.
Efficient Shipping: Automation makes DG shipping operations more repeatable and reliable by enabling automatic validation of shipments, packaging, labels, and markings against the latest regulations. This drives further efficiencies and consistency for organizations with repetitive shipments or that ship the same material from multiple locations.
Financial Advantage: Improved compliance processes reduce the risk of fines and enables organizations to operate more cost-effectively.
Risk Reduction: DG shipping automation reduces the chance that a DG-related shipping incident that could potentially impact employee and public safety, the environment and brand reputation.
Resource Utilization: Automating highly manual processes supports better staff utilization and helps offset labor shortages.
Data Accuracy: Using DG shipping software for automation enables the collection of complete and accurate hazmat master data, including detailed information about a product's components, makeup, dimensions, and origins, to help management, manufacturing, procurement, 3PLs, carriers, customers and other supply chain partners make smart, efficient, and compliant decisions.
Looking ahead
As the supply chain remains unpredictable, now is the time to seize any opportunity to stabilize operations and gain a competitive advantage. Supply chain automation also is an opportunity to differentiate your services from the competition.
As you move forward as an organization, establish your end goals, and then map a path to get you there. In the case of DG shipping, you want to be safe, efficient, and compliant. That means putting into place the automated systems and processes that will achieve these outcomes. If left ignored, inefficient, manual DG compliance processes will be a major gap in an organization's automation efforts and can significantly slow down the entire supply chain.
The good news is that DG automation is easier than you might think. Your organization already has the product and shipping information, as well as the staff expertise, to successfully automate. As supply chain complications persist, automation will ultimately allow you to reduce operating costs while maintaining supply chain integrity.