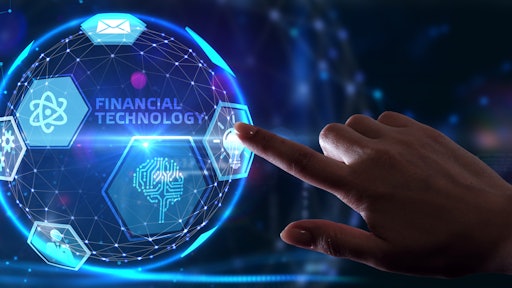 putilov_denis/stock.adobe.com
The perfect storm of inflation, shrinking margins, tight labor markets, global unrest, and a freight recession is threatening to deepen the impact on the freight industry. The Owner-Operator Independent Drivers Association (OOIDA) warns that if inflation continues and the job market deteriorates, freight volumes will fall, putting the industry in the eye of the storm.
Many companies are already undercapitalized or carrying excessive debt for equipment following increased demand in the first half of the year.
Managing through these challenging times will require an intense focus on watching cash flow, margins and operations carefully. FinTech offers some potential solutions.
Despite some innovation, the trucking industry has been fairly traditional in its approach overall, with a lot of the same legacy players in the market. Today, however, the emergence of smaller, challenger companies has introduced greater innovation. Newer Fintech companies in the trucking industry are changing the game by intensely focusing on drivers and their needs.
Logistics and trucking technology innovation has resulted in a huge infusion of venture capital as more companies pop up to serve different parts of the logistics chain. The sector raised more than $27.5 billion in 2024— an increase of 80% from the year before. Logistics providers focusing on warehouse management, cargo, freight forwarding, supply chain and last-mile logistics are seeing significant investment. So too, are FinTech companies focusing on the freight industry.
FinTech solutions for owner-operators
The emergence of FinTech is directly addressing some of the more common pain points for owner-operators and carriers, especially as inflation has made it more challenging for them to run their businesses. As drivers see higher costs and lower margins amid unpredictable shipping schedules, FinTech solutions offer alternatives to legacy models that require drivers who need cash flow to pay high fees or wait long periods before getting paid.
For example, let's say fuel normally costs $500 to complete a load, but it's now $750 due to price inflation and geo-political dynamics. In the past, a driver might have $500 on their fuel card or in the bank and be able to complete that load. Today, they may not have the extra $250 at hand and subsequently can't take on the next job that might earn them $2,000.
It can become a vicious cycle where the inability to complete one load cuts off cash flow to fund any future loads. Margins shrink and it becomes harder to run a sustainable business.
Redefining factoring
When we're in a low inflationary period, drivers are more comfortable waiting 30 days to get paid, even if it is frustrating. During high inflation times like today – with tight margins and high fuel costs – drivers need money in their account as soon as possible to pay for expenses to pick up the next load.
Traditional factoring companies tie drivers into lengthy contracts with high rates up to 5-7%. Trying to terminate these contracts early can lead to penalty fees ranging from $2500 - $5000. For an owner-operator whose margins are already tight, that's a big financial hit and is rarely a realistic option.
New FinTech solutions are rivaling factoring companies by doing business with increased flexibility, waiving termination fees altogether, and allowing drivers to start and stop as needed. These FinTech solutions are also cutting factoring fees. Some offer non-recourse factoring at half the cost, as low as 2.5%.
New FinTech factoring companies are also innovating on payment speed and methods. Traditional factoring companies have longer approval workflows, document submission cutoffs, and rely on ACH networks or wire transfers. This combination of factors leads to processing times of 24-48 hours to pay drivers. New technology solutions leverage payment cards and tighter workflows to issue payment in less than a day so drivers can optimize cash flow and keep their operations running smoothly
Redefining fuel cards
New VC investments have given rise to newer players in the fuel card space, challenging the traditional way of doing business.
Most fuel cards work in networks, so truck drivers have to use certain vendors. If you go out of network, you'll often face a penalty fee– it's similar to the healthcare model, actually. Newer FinTech solutions serving the trucking industry are moving away from traditional fuel card networks and building their payment platforms on established credit providers such as Visa. This gives drivers greater choice in where they buy fuel.
New-age fuel cards act more as business credit cards, providing greater flexibility, allowing purchase of essential items beyond fuel, and helping drivers build business credit history. Cashback on discounts can be applied instantly to the card rather than waiting to receive rebates at the end of the month.
Instead of drivers having to wait a month to get rebates for discounts at preferred providers, newer entrants are also providing instant cash back with no waiting.
Providing deeper business intelligence
Freight technology providers who incorporate FinTech solutions into their offerings are also unifying disparate systems and the tools owner-operators are using. For example, in the past, drivers might have used one company for factoring, another for a fuel card, a business bank account with one financial institution, and a loan for equipment financing from another lender. No one organization was providing a complete picture to help owner-operators run their businesses efficiently.
New technology platforms integrating FinTech solutions can bring all these separate systems into one end-to-end system. Integrating everything into one financial dashboard, drivers get a connected ecosystem and a holistic view of their business. They get paid in one place and automatically link funds to their card, and they can also use their payments to pay loans or put profits into their business account. We are likely to see increasing convergence in this manner– where drivers can handle everything with one technology provider, making business management as simple as possible for trucking entrepreneurs and truck drivers.
The future of FinTech in trucking
As FinTech continues to redefine the standard way of doing business, owner-operators can leverage efficiency to better control cash flow, payments and operations. While that's especially helpful during inflationary times, it can also help increase profitability once inflation eases.
Drivers often choose to work as company drivers so they don't have to deal with cash concerns or worry about managing a business. As a tradeoff, they have less flexibility over the hours and routes that they run. New trucking business management platforms with FinTech solutions open up opportunities for drivers to run their own businesses and grow and expand. As drivers continue to book loads, generate profits, and build credit with FinTech solutions, these tools also open the door to better financing options in the future.
While freight logistics may still be in the middle of the storm front, we can see a sunnier forecast for the future. FinTech in trucking helps batten down the hatches during the inflationary storm and make recovery faster on the other side.