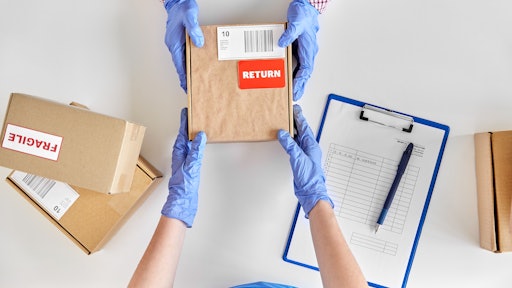 Syda Productions/stock.adobe.com
Today, most shipping and transportation industry professionals seem to focus on one aspect of the return and reverse logistics dilemma: how to handle the return experience and keep customer satisfaction high. It is time to explore a new angle: why do returns occur, and what can retailers do to reduce the cost and frequency of returns?
These are essential questions to address because the size of the retail market generally means returns are taking a massive chunk out of potential profits and adding to handling and shipping expenses.
As noted in a report published by Allied Market Research, reverse logistics and returns were estimated to be $635.6 billion in 2020 and will likely exceed $928 billion by 2028. The report also noted that in 2021, the return rate was estimated at 16.6% for the number of products consumers buy and then return. With this sort of revenue on the line and this much expense going toward returns, it is easy to see why the shift from "how do we minimize this impact?" is moving more toward "what can we do to prevent it from happening?"
The returns problem in retail
Even with the current situation of market economies and volatility throughout multiple industries seeming to grow daily, many companies still do not fully understand the scope of the returns problem in retail. It is no minor inconvenience or something that smart budgeting or clever accounting can easily negate. In 2020, U.S. retail returns totaled $428 billion.
That's 10.6% of total retail trade, according to Chain Store Age's 2021 report. However, according to a CNBC report in January 2022, the average rate of returns for online purchases was 20.8% — an increase from 18.1% last year as found by the National Retail Federation, which amounted to a presumed $761 billion of merchandise sales that ended up as returns in 2021.
For retailers, even a nominal 10% rate of return, which might be higher for some retailers in specific markets, could be devastating and hold them back from growth opportunities. This impact largely stems from the current situation where retailers have no cushion or alternative to fall back on when issues arise. Problems with current market plans and processes are more devastating when switching to a Plan B means creating Plan B from scratch.
Why returns are a growing concern in logistics
These increased rates or returns are of growing concern for retailers. Dealing with reverse logistics pulls money, resources, and staffing hours away from more profitable services that retailers could focus on instead. A high rate of returns also adds to cash flow issues and makes budgeting and financial planning more difficult, especially for smaller retailers. And according to a 2020 Voxware Survey, late deliveries result in 30% of consumers saying they are less likely to return to a vendor that hasn't delivered on time or has had issues that lead to a return taking place.
Returns cause harm to retailers and supply chains in multiple ways.
They clog up supply lines and take up space on trucks that could have been used for profitable loads.

Empty hauls are more likely with high return volumes due to unscheduled trips and routes.
Customer loyalty and brand reputation both take a hit and suffer.
Team members have added stress and pressure to offset the effects of retail returns.
Ultimately, the overall supply chain slows down and is less efficient when returns occur regularly.
Shippers need to get better control over returns
Shippers can better control returns and manage orders and shipments while also improving customer relationships by keeping the following things in mind:
Returns will continue to be a determining factor in the e-commerce business struggle. Companies that are better at returns will be better at selling, and when retailers can minimize returns, they can improve future growth and profitability.

Returns are the white elephant in the room that has been overlooked for too long. Retailers need to look at what underlying factors might contribute to high return rates and then consider how those problem areas can be dealt with and addressed.
In cases where returns cannot be avoided and become necessary to secure customer trust, streamlining the process is a must. Easy at-home pickup, remote drop-off location, and print mail labels can make the process easier and cheaper for everyone.
Retailers can also save time and money by tapping into existing lanes and modes already utilized. All couriers currently providing deliveries can also handle returns and take products back to the store, distribution center, warehouse, or another location.
Retailers must keep up with current trends and processes to meet customer needs while protecting their own goals and initiatives. Retailers need technology connected to the capacity for returns to work correctly.
In that same 2021 Chain Store Age survey, retailers reported an 11% average return rate for orders. Only 3% responded by saying that they felt their current return rate levels were acceptable. The remaining believe things could be better and that they would be willing to work at reducing return rates.
An omnichannel retailer sitting at an average rate of 10%, or an estimated 3% of annual revenue, could be looking at returns costing as much as $30 million per $1 billion of sales. Figures like these prompt retailers to look for opportunities to reduce returns, streamline the process, and boost profitability as much as possible.
Easy-to-use technology is crucial to leveraging the gig economy to managing returns pickups & initial deliveries
Few, if any, shoppers purchase with the direct and immediate intent of returning the product. Some consider today's consumers as being greedy and manipulative, and the return habit results from getting spoiled by choice. However, this is only partly true. The reality is shoppers want to keep their purchases. That is why they are making them in the first place. Most find it annoying and cumbersome to return items after making a deliberate purchase.
Suppose retailers can address these issues and meet customers on common ground. The number of returns needed can fall significantly, saving shoppers and retailers a great deal of time and money. Improved retail performance requires leveraging the gig economy and thinking creatively about managing returns and deliveries while embracing innovative technology and tools.
Approaching returns in this way can help retailers keep more of their hard-earned money while also assisting shoppers in keeping more of the products they purchase. The time to take action is now by establishing partnerships that put technology in the hands of those at risk for returns. That also leads to giving retailers another way to prioritize pickups and deliveries in the gig economy.