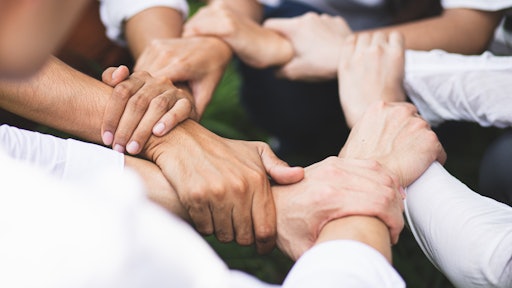 Shutter B/stock.adobe.com
According to the United Nations, more than 6.6 million refugees have fled Ukraine since the Russian invasion in February – with an estimated 90% of these refugees being Ukrainian women and children. As these millions of refugees seek new lives and new work in unfamiliar countries, the risk of labor and human trafficking is high. This threat requires a novel and dynamic solution, specifically: utilizing analytics for supply chains to mitigate the risk of these vulnerable refugees becoming victims of trafficking.
Labor and human trafficking involves the use of force, fraud, or coercion for the purpose of exploitation. It deprives individuals of basic rights and abuses them, both physically and psychologically. Refugees are especially vulnerable. A 2019 International Organization for Migration report 'Migrants and Their Vulnerability' summarizes this enhanced level of susceptibility. Not only are people 'fleeing violent conflict' at the highest risk, the report concludes, but 'women and adolescents' are the most endangered of this group, doubling down the heightened hazard facing most Ukrainian refugees today.
But with the unprecedented nature of this crisis and the current trafficking threat facing refugees, data science tools, targeting supply chains at the root of trafficking, can mitigate this heightened risk of exploitation. Specifically, research finds that analytics is being used to protect both migrants from exploitation and businesses from using supply chains built on exploited labor. This is done by raising migrant awareness of verified safe recruiters and increasing business awareness of the potential supply chain trafficking risks.
An example of a tool generating visibility into supply chains is FDRM, pronounced 'free-dom' and businesses can employ it to gather insights into their international supply chains and their risk of sourcing materials, goods, or services prepared with forced labor. This supply chain transparency is a key step toward getting rid of forced labor. The FRDM algorithm predicts the likelihood a given product was made with forced labor, allowing companies to avoid labor trafficking operations identified by FDRM.
This FRDM analytical approach has many important benefits. First, it codifies supplier data, allowing the algorithm to continue to improve for new users and to improve its flagging of trafficking systems. Second, it qualifies new vendors efficiently across ESG standards, ensuring environmental, social, and corporate governance factors are taken into account when investing in a company. And third, corporations can compare their own trafficking-mitigation efforts against industry norms, giving opportunities for improvement.
In addition to tools that employ analytics to flag the supply chain itself, platforms, such as Apple and its algorithms, also play crucial roles. Specifically, Apple is quite proactive with its zero-tolerance policy on human trafficking both in its supply chain and with the apps it allows in its app store. Apple maps its supply chain, has strict vendor standards for supply chain access, was ranked third best in the Responsible Business Alliance (RBA) 3TG Due Diligence for 2017, educates law enforcement officials globally on using their data for investigations, and rejects apps that solicit or promote reckless behavior. In fact, it was reported from the Facebook Papers that Apple threatened to remove Facebook from its App Store after a BBC news report regarding trafficking content on its platform. Apple's approach should be applauded for proactively, not reactively, prohibiting trafficking.
The United Nations Refugee Agency, or UNHCR, recently proclaimed "we are on high alert and warning refugees on the risks of predators and criminal networks who may attempt to exploit their vulnerability or lure them with promises of free transport, accommodation, employment or other forms of assistance." In an era of stressed, rushed, and increasing-suspectable supply chains, ensuring these are rid of trafficking is a crucial step in protecting the most vulnerable among us. It's our obligation to do so.