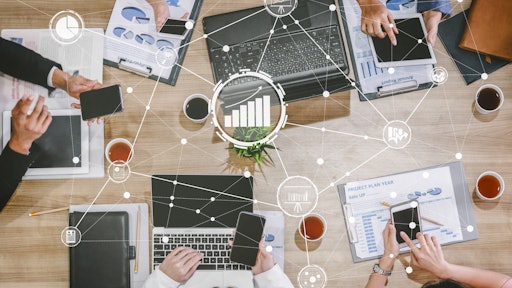 Blue Planet Studio/stock.adobe.com
My last article covered the importance of getting the scope of your business case for automating your source to pay processes spot on, and demonstrated why it is critical that you understand your existing processes before you decide the improve and automate them fully or in part.
This article will look at the steps of mapping out your existing technology stack and data, and then mapping out the processes you envisage implementing in the future, once your business case for automating your source to pay processes has been approved.
Mapping out your existing technology and data
Its important to state from the get go that your systems and technology rarely matter, but your data does. Focusing on the data you have and mapping out how that data interacts with other data and different pieces of technology can provide you with a simple way of setting up any automation project.
This step is usually conducted by a business's IT team, who are tasked with looking at how they can slot any new technology into their existing stack. The trouble is that approach is likely to be tactical and narrow in its scope. How many times has an IT review of purchasing and invoicing systems resulted in an overly complicated system map that shows lots of integration points that no-one truly understands? This sort of narrow approach often ends up killing a project, as it is deemed far too complicated, and executives are too scared to make a change.

One of the most important assets every business has is data – it's also a key component of being able to drive value from your finance and procurement processes; so, it's vital that you've got a good handle on your data.
Look at all the core business systems that interact with your finance and procurement processes and ask yourself the following key questions:
What data is required in your source to pay process and what system/s are the source of truth for that data
Identify where data is unnecessarily duplicated across the process and any systems which are solely holding duplicated data
Identify what data needs to be integrated into your new solution ensuring that the relevant sources of truth for key data remain as the source of truth.
Map the data through your existing process and identify where data quality may be corrupted.
This type of review ensures that you have a data-driven map of your current systems and technology; a clear understanding of where master data is stored; what data needs to be integrated; and most importantly an understanding of where data quality is being impacted in your current process.
That level of detail ensures that your project is scoped correctly and avoids technology 'scope creep' during the project', which typically leads to additional funds being required and your business case becoming obsolete.

Map out your future, 'to-be' processes
New technology won't fix out of date or poorly performing processes. But understanding the organizational changes that are required to resolve any embedded inefficiency in your current processes will mean that any processes you implement in the future have been designed to deliver clean data, optimized automation, and costs savings.
Business leaders often complain when their teams map out their future processes with a particular piece of new technology in mind. They are also averse to purchasing software from a reputable provider, if it means they are locked into a long-term contract. Especially if, after implementation, they find that the underlying issues within a poorly performing process have not been addressed.
The core issue here is that if your new process is mapped, with only slight tweaks, to fit a particular piece of new technology, your underlying processes are unlikely to be optimized or changed in a way that drives any real value. The technology that you select is unlikely to be fit-for-purpose, which is likely to result in your ROI not being achieved, poor user experience and ultimately poor adoption.

What should you be doing differently? Well, arguably the most important step in any transformation journey is designing what your future-state processes need to look like. And that map should not be based on any technology.
If you've followed all the steps that we've outlined so far, you should have an in-depth deep understanding of your current processes, where things are going wrong, and the data involved in the process. Now it's time to add a lens of what best practice should look like.
Your future process should be informed by the following key design principles:
Process simplification – you should be aiming for a 60-70% reduction in human activity in the process
Maximize automation – driven by simplification your future process should automate as much as possible, it's unacceptable in our current business environment to tolerate repetitive, manual data entry as a core part of any step in this process.
Systemize compliance – compliance with internal and external financial policies and processes is critical for any business, your process should systematize this compliance rather than consider it as an afterthought. Step through your process with internal audit and finance leaders to understand what restrictions, guidance or business rules need to be applied at stage of the process, typically technology will be able to automate a lot of this.
Eliminate double-entry of data – Double entry of data kills data quality and should be avoided at all costs. Don't design a process that has that level of redundancy – it creates avoidable risks in your process and is a waste of your resource time.
Ensuring clean data – data will drive a huge part of your cost savings, if you've got bad data going into your process you won't be able to drive the results you are looking for. Step through your process and identify what data validation should be in place to ensure your data remains clean.
Drive user adoption – From your existing process deep dive you should have a deep understanding of what your internal and external users want and need. Make sure your future process addresses these needs in a user friendly and simple way.
Current trends – your future process should be robust enough to be able to handle any changes in government regulation or customer trends. With your process documented review what would be the implication of needing to change something, what if a new data validation was required or a report needs to be run. Does the model still hold?
Following these principles will enable you to build a compelling business case that delivers a return on investment and drives the ultimate success of your source to pay process automation project. Ensuring that you have implemented a fit-for-purpose, future-proof process that you can be confident will deliver the results you want in the specified timeframe.

The rest of this series of articles will look at the equally important, next steps of mapping out the technical 'must haves' of those processes, and then pulling together a transformation roadmap and a bottom-up value assessment.
CLICK HERE to read Part 1.