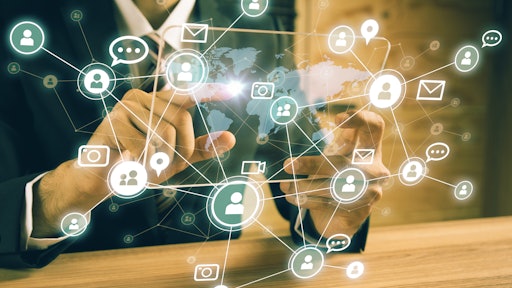 metamorworks/stock.adobe.com
"A satisfied customer is the best business strategy of all." - Michael LeBoeuf
The digital world we live in, tech-driven and always-on with almost instantaneous results, has sparked a massive shift in customer expectations. This is especially true of the generations that have grown up with and are used to unlimited digital resources. Meeting these baseline expectations of shipper customers is requiring freight forwarders and logistics service providers to be increasingly proactive in delivering the digital infrastructure that their customers demand.
This imperative is clearly resulting in logistics providers upping their digital game to address these expectations. The goal is to give customers the best experience possible, frictionless, simple, and transparent offering faster response times with self-service capabilities.
Additionally, today's ever-changing trade environment and the ongoing challenges propelled by current market conditions, the pandemic, and infrastructure issues, have also accelerated global shipping digitalization.
Here are five key freight technology solutions that help streamline freight processing and enhance the customer experience.
Self-service freight execution, front and center
Providing customers with the ability to execute transactions in real-time on a customer-facing freight execution portal is the pathway to delivering a better customer experience.
When you empower a shipper with self-service capabilities, giving them the ability to access always-on digital freight execution tools, you're saving them time and effort. They no longer need to sit and wait hours, even days, for rate quotes to arrive in their email, or for the phone to ring.
Immediate access to online freight rates and schedules, the ability to book cargo within minutes, and easily manage and track shipments is a formula for greater productivity, efficiency, and access to critical shipment data, allowing shippers to quickly address exceptions and boost supply chain performance. This connected, on-demand experience delivers ease and convenience to enhance a shippers' day-to-day freight management needs, all in one application.
Traditional global forwarders that adopt digitalization already have a strong client base, a mature partner network, and deep industry knowledge: a customer-facing application provides a clear competitive edge delivering critical value to their customers.
Shipment visibility access and accuracy
In our volatile global shipping environment, shippers are looking for more visibility, certainty, and access to digital supply chain data to better address challenging market and infrastructure conditions, reduce risk, and improve decision-making.
The days of searching carrier and terminal websites for tracking updates and then emailing those updates to customers is over - for several reasons. Carrier-generated tracking data is oftentimes inaccurate, lacks standards, and is incomplete. Shipper customers want clean, door-to-door tracking data and clearly-outlined exception management alerts, so they can quickly address delays. After all, they need to work to maintain the integrity of their supply chain and communicate in a timely manner with their end customers.
Tracking set up to enable a data feed of a wide range of events directly from the various parties to a shipment and then running it through an operating system (such as a TMS or freight management software), enables the shipper to share this visibility information directly with customers, to their inbox or smartphone for full end-to-end visibility. Also, this integrated shipment data allows for real-time access to updated milestones and events to facilitate management by exception.
Armed with this timely, accessible, and easily-shared tracking information, shipper customers will have the data necessary to make more informed decisions and to improve supply chain planning and response. Comprehensive and complete tracking data is a sure way to deliver a better CX.
Paper goes digital
Converting paper documentation to digital ensures easy access to cargo documents, online, anytime, as well as a higher level of data quality. There's no rekeying necessary, which is where errors or omissions may occur. Additionally, time savings is another important result of digital as there's no need to manually input data.
Automating freight rates
The world of freight rates can be quite complex and varied. Carrier contracts can be pages and pages long and spot market rates, along with surcharges and accessorials, change often. Automating this aspect of freight procurement delivers cost- and time-savings, and enhances a logistics provider's ability to easily share rates globally and in real-time.
Once freight rates are systematized, a forwarder will have the necessary database to analyze procurement and rate trends by trade lane and benchmark carrier vendors. Rate trend analysis will provide valuable carrier insights and enable logistics providers to better serve their shipper customers' transportation needs.
Tackling digital freight solutions today
Integrating digital technologies into a forwarder's current business model helps ease the transition to adopting digital solutions. This approach is a top priority, along with specifically adding those freight technology solutions and applications that support the optimal performance of a customers' global supply chain.
Once these freight technology solutions are up and running, there will be tremendous value through increased efficiency and data accuracy, effective data-based decision-making, and better response times. This is an important step in transforming a forwarder's business and offering customers a great experience.
There's no time to put this off. Digital freight and logistics technology adoption is accelerating, new tech solutions are entering the global shipping industry every day, and fierce competition from digital forwarders will only accelerate.
Shippers want a seamless, frictionless digital experience, such as the Magaya Digital Freight Portal, a rewarding interactive, digital customer experience with all the functions of a digital forwarder in a single solution.