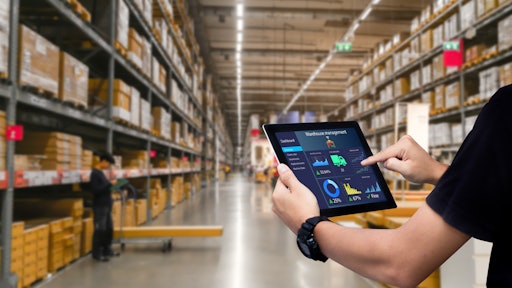 panuwat/stock.adobe.com
The key to success in today's climate: location, location, location. The mantra is true for real estate and is as equally as relevant to the supply chain. In a period of tightened supply lines, shortages, and general uncertainty about trade, the location of key facilities within the distribution network will now be one of the highest priorities for organizations everywhere.
This overarching principle is often referred to as "location optimization." In order to minimize the impact of logistics operational challenges, the supply chain should be designed where factories and warehouses are positioned so that the cost and time of moving products from the manufacturing stage to the distribution stage is as low as possible. Now, with e-commerce and express delivery services dominating the market, many supply chain professionals are trying to solve this logistics puzzle for their own organizations. Often, this means shortening supply chains to make distribution facilities closer to end customers.
Determining where facilities should be located can be tricky. There are multiple variables that factor into optimizing location including trade inputs, facility size and footprint, outbound shipping costs, and more. However, location optimization is a sure way to maximize revenues and decrease shipping costs across the distribution network, while also preparing the supply chain in the event of further disruption.
The math of moving product
Optimizing the location of key distribution centers is not as easy as comparing rates across carriers or simply installing a facility near a busy shipping lane. Complex calculations must be made on both the actual physical product being shipped and the accessibility of various transportation channels to key demand centers. Additionally, fuel costs are now another key consideration when moving product, and recent shortages on crude oil have made this a major pain point for supply chain operators across the globe.
All of this can be intimidating to the unseasoned logistics officer, with enough equations and calculations to make them wonder if they aren't studying calculus instead of the strength of their supply chain. However, breaking down the math does reveal a few key aspects that should be focused when taking on location optimization.
1. Unit size
It should come as no surprise that the size and dimensions of the product being shipped is a large part of the location optimization puzzle. In many cases, third-party logistics (3PL) providers and parcel shippers will assume a standard size, or unit normalization, for an easier math problem.
This assumption can lead to logistics issues for some organizations that ship products of varying unit size and shape, and can even bring about bottlenecks for in-demand products if not taken into account and planned for early
2. Accessibility
Many logistics professionals incorrectly assume that location optimization relies on situating warehouses and factories as close to demand points as possible. This assumption does not take into account that the real travel distance between two points on the supply chain can be affected by access to the shipping lane. For example, if direct highway access does not exist between a warehouse and distribution center, the actual traveled-distance between two links in the supply chain may end up being much longer than their physical distance from one another, adding another unwanted wrinkle to the calculations.
3. Demand
Perhaps the hardest part of this logistics math puzzle is determining the future demand relative to strategic facilities within the supply chain. Multiple factors can influence this, including product sourcing, shipping rates relative to season, business objectives for an organization, and the expected demand on any given product or service. Demand can also shift suddenly and unexpectedly, as witnessed by pharmaceutical companies during the pandemic. Because it is impossible to know the exact numbers, this makes strategic placement of key facilities even more important. A well-positioned supply network keeps you prepared, allows agility and ability to pivot, and can assist greatly in times of crisis.
FTZs for the future
During the quest for a stronger supply chain, organizations should strongly consider strategically placed foreign-trade zones (FTZs) for their location optimization efforts. FTZs are warehouses, factories, and distribution centers that are considered outside of the U.S. for trade purposes. This means that while FTZs might be physically on U.S. soil, everything inside the facility has yet to be sent through U.S. customs for screening and taxation.
FTZ benefits and how they relate to location optimization
FTZs can act as storage hubs for inventory that has yet to be sold or is part of a larger order. A strategically located FTZ along a major demand lane allows for large orders of products or parts to be shipped to the facility and held for storage until an order is placed. In the case of a factory or assembly plant, individual pieces of a product can be shipped and assembled onsite, then sent out for distribution. All of this activity before goods are entered into the U.S. market is conducted without tariffs and customs regulations, significantly streamlining supply chain operations.
Another is that importers using an FTZ can use Weekly Entries as their goods enter the U.S. This allows zone users to file a single one Customs entry per week, rather than per shipment. For each entry, companies pay a Merchandise Processing Fee (MPF). The cost of the MPF is calculated as a percentage of the value of the imported goods, with a minimum charge of $27.75 and a maximum of $538.40. For importers that receive multiple shipments every week, these savings can be as high as those achieved through duty elimination and reduction.
Both of these traits make FTZs an excellent option for optimizing trade, and strategically locating an FTZ within the supply chain would enable faster, more efficient, and less expensive methods of moving inventory into the hands of customers.
Partners for progress
There is no quick fix for location optimization in the same way that there is no quick fix for the current state of the supply chain. Successful business leaders must adapt and use all of the tools at their disposal to find meaningful solutions and truly become resilient for the road ahead.
Choosing the right partners to help implement location optimization is crucial, particularly when setting up an FTZ. When deciding next steps, the top priority should be discussing the specific needs relative to your business with parcel carriers and 3PL providers. Don't wait until the next disruption to begin optimizing locations along your supply chain. By then, it may already be too late.