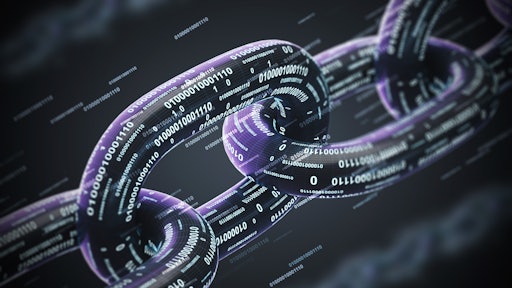 denisismagilov - Adobe Stock
After the disruptions in supply chains of 2020, the importance of business networks has gained ground rapidly. Companies have seen firsthand the importance of supplier, co-manufacturer, customer, carrier and distributor collaboration and what happens when it fails. Companies discovered that their legacy, enterprise-centric systems were no longer "good enough," and are looking to modernizing their supply chains with technology that enables multi-enterprise visibility and far greater collaboration on supply and demand based on real-time information. This includes orders, shipments, plans, forecasts, inventories, ETAs, payments, rates, status and more. The challenge is how to enable this change and address the need for all parties to work together to serve the end-customer with the highest service levels at the lowest landed cost.
Similar to social networks, multi-party networks are business-to-business networks that connect all supply chain constituents, including suppliers, manufacturers and logistics partners, and enable two-way, three-way and multi-party communications. Unlike social networks and simple services, they are designed to handle the vast scale, complexity and industry-specific needs of businesses. And, in contrast to traditional enterprise systems, portals and B2B networks, these supply chain network platforms are built from the ground up to be multi-party. They leverage a single data model, database and user interface to provide supply chain management solutions that span all supply chain functions, including planning and execution across orders, shipments, inventory and logistics.
Why networks?
Multi-party networks for supply chain management have been gaining momentum over the last few years, as major organizations, including retailers, automotive manufacturers, consumer goods and even the U.S. Navy are adopting a new network approach to modernize their entire operational supply chain.
This is one key clue to their growing popularity. As businesses have become less vertically integrated, more focused, and are outsourcing many of their processes, the ability to create wealth and maintain a competitive advantage accrues to those companies that can leverage their partners most effectively.
On top of that, the more complex and global supply chains have become, the more critical it is for companies to share information across enterprise and national boundaries. Clearly, there is a need for technology that connects all supply chain participants to a real-time platform powered by one database and one data model. This forms an authoritative single version of truth for all.
Why ERP, EDI and API connections fall short
While many organizations have tried to leverage electronic data interchange (EDI) and application program interfaces (API) to exchange documents and/or to design a set of routines, protocols and tools for building software applications with their trading partners, the reality is these point-to-point approaches just can't scale to meet large numbers of trading partners. They are also incapable of supporting the sophisticated, multi-party workflows that are required for most routine transactions.
Worse, these methods create massive data synchronization issues because there is no single version of the truth, especially when workflows expand beyond just two parties. Rudimentary EDI and API techniques are simply not set up to support today's multi-party environment never mind an organization's digital transformation.
Because ERP solutions were designed to handle private processes, they are also very weak for cross-enterprise shared processes. "One-to-many networks" or the "hub-and-spoke" model where a single company (hub) surrounds itself with other companies (spokes) aren't any better. This privileges one party over another in terms of the functionality they can use and the benefits they can achieve. Just as bad, is that spokes need to onboard multiple times; once for each hub they are dealing with.
This is extremely onerous and a major reason why hub-and-spoke networks have failed beyond basic EDI. On top of this, they are expensive to maintain and update. They are also unwieldy and end-to-end multiparty workflows involving more than two parties become very difficult. For example, global multi-modal shipments can typically involve four, five or more parties, including freight forwarders and customs, so traditional approaches make for extremely poor collaboration platforms.
Network solution to supply chains
By contrast, multi-party network platforms make partner connectivity a foundational principle, and are built on a many-to-many network architecture that includes a multiparty data model, solid data governance with a secure permissions framework, interoperability, as well as enterprise systems and multi-channel integration.
Other than accounting-related processes, today most business processes involve collaboration, execution, and planning with one or more business partners. That's why multi-party networks are built with the central goal of enabling processes and transactions that execute across multiple corporations.
A multi-party cloud platform that is designed to support a vast network of parties, enables them to collaborate on the same shared objects using shared applications and manage complex, multi-party workflows that span the entire end-to-end supply chain. This approach is providing new and innovative multiparty-aware services and applications, as well as enhancing traditional processes and solutions.
New network solutions such as global supply-demand matching are possible. This enables the organization to optimally match available supply to demand within supply lead times, even reallocating inventory in containers on the water as demand shifts. It also transforms the nature of planning and execution, enabling the business to plan and execute on the same platform. And, instead of being carried out on a rigid cadence, both are integrated and can be done continuously and incrementally based on real-time execution data.
Other established processes can be improved using the network, benefiting from trading partner input and insight. For example, what's the point of constructing an elaborate plan internally, if many of the dependencies reside outside the enterprise? An S&OP process on a multi-party network can incorporate key partners, so that factors such as suppliers and contract manufacturers, including their manufacturing capacity restrictions, lead-times and inventory levels, can be incorporated. This ensures a more coordinated robust and executable plan, and one that can be monitored by all relevant parties with promises and commitments tracked through execution.
Similarly, the network enables multi-party visibility and collaboration across the network for forecasts, orders, shipments, ETAs and inventories in real time, improving accuracy, reducing errors and inefficiencies. It also supports the ultimate goal, for all trading partners to work together to satisfy consumer demand at the lowest landed cost and improve their competitiveness.
One of the greatest benefits of the network approach is that it allows the network solutions to optimize the supply network more fully and enable more effective human and artificial intelligence (AI) resolutions to problems as they occur. Machine learning and intelligent agents are informed with better, more comprehensive real-time data. Organizations get earlier alerts to potential issues, more accurate predictive analytics around emerging problems and more optimal solutions to problems with advanced predictive analytics and problem-solving workbenches.
Networks enable supply chains built for agility and the New Normal
The pandemic exposed the blind and brittle nature of most supply chains. With many companies limited to hardwired connections to immediate partners (or a small subset of partners), most of the actual multi-tier supply network was invisible and this exposed companies to disruption and risk.
With a network, companies connect only once to the network, and can then interact virtually to any other company on the network. Thus, onboarding new suppliers, co-manufacturers, logistics providers and customers is faster, and the resulting supply chain networks are far more scalable and agile. With every company on the network potentially a hub, with full access to supply chain capabilities on the network, all participants can share in the benefits of the network.
Companies can respond to major market shifts, natural disasters, regulatory and geo-political factors much faster. They can find and connect to new trading partners, new suppliers, carriers and customers. As such, they can quickly adapt their supply chains to seize new opportunities and combat new threats, both natural and competitive.
This built-in connectivity, efficiency and agility, from supply chain configuration to operations, makes multi-party networks the preeminent approach to managing global supply chains.