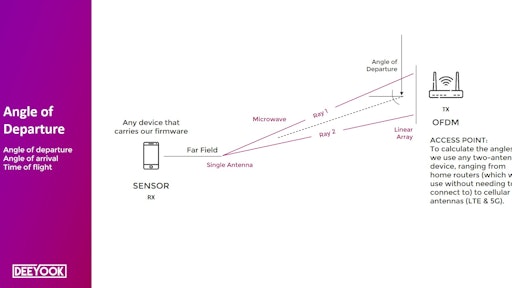 Deeyook
In today's interconnected world, tracking assets throughout the global supply chain industry is essential, as is the ability to do so ubiquitously and accurately, both outdoors and indoors. The need for asset tracking keeps growing, especially after the Coronavirus disease (COVID-19) pandemic forced consumers online in droves, which exponentially boosted demand for e-commerce and shipping. Not to mention, in the United States alone, 1.7 million packages don't arrive at their final destination and are reported stolen or lost on a daily basis, resulting in $25 million worth of lost goods a day, according to C+R Research.
It goes without saying that as the globalized logistics landscape keeps expanding, supply chain logistics keep getting more complex. Naturally, businesses with more control over their supply chain logistics have a greater opportunity of increasing their bottom lines by reducing costs, optimizing profits and providing better customer service to their clients. In today's increasingly interconnected and mobile world, wireless asset tracking can give businesses more control by providing an efficient, constant and remote way to locate and monitor assets in real time.
The following is a look at some of challenges wireless asset tracking faces in the supply chain, and why the industry will continue to embrace it moving into 2021.
Added value
Long before the Internet of Things (IoT) and IoT devices introduced the promise of generating, collecting and exchanging live data, companies would track their assets manually. This left room for large margins of error resulting from myriad reasons, ranging from mismanagement of physical items, time and logistical restraints on manpower, theft, accidents, lost cargo, etc. Today, through connectivity and advanced software solutions, companies can remotely track their assets from anywhere and at any point in the supply chain, all while analyzing that data to determine and monitor their assets. Companies can also keep track of overall workflow, service quality and productivity, as well as prevent asset loss or improve the asset recovery process.
It's no wonder that the global asset tracking market is forecast to surpass $31 billion by 2025, up from $11.8 billion in 2017, according to Data Bridge Market Research.
Where wireless asset tracking falls short
While adding significant value to supply chain companies, wireless asset tracking technologies are currently far from being able to fulfill the industry's full potential. There are a number of reasons for this, and a key one being that not all industries that depend on supply chain management services are using wireless asset tracking technologies.
For companies utilizing wireless tracking, the issue is that they may not be maximizing the full utilities of the technology. Many companies are mostly using it for tracking, monitoring and physically securing valuable assets, while they could also be using it for asset management, fleet monitoring and smart logistics.
This lack of complete utilization means that wireless asset tracking in the supply chain is falling short of the customer experience. Rather, it's that more marketing is needed to raise awareness amongst enterprises about the benefits and value wireless tracking can provide their business assets.
To keep up with demand, there are constant attempts at improving the precision, features and overall performance of wireless asset tracking and monitoring software platforms. The most relevant areas for improvement include:
· Higher accuracy rates
· Less vulnerability to hackers
· Longer battery life
· Better connectivity
Looking ahead to IoT
IoT has been one of the hottest subjects for a while now, as organizations in the supply chain industry are increasingly embracing it to maximize their profit from supply chains. IoT capabilities help them develop new products and services, predict their customers' needs and quickly execute their strategies. IoT also allows businesses new revenue-generating channels.
Therefore, it's not surprising that more business processes will involve using one of the elements of IoT this year, as Gartner predicts — with a thirty-fold increase in internet-connected physical devices, which will "significantly alter how the supply chain operates."
Global asset tracking keeps trending upwards
The following are some vital areas where wireless asset tracking plays a central role in moving the supply chain forward:
· Monitoring assets, of all price ranges. Businesses are no longer monitoring just the location of their expensive assets, like trucks, trailers, shipping containers or railcars. Today, there's also a need to monitor less expensive assets, like cartons or rolls, so they'll be readily available and accessible when needed. Such monitoring also prevents them from being stolen, getting lost or being unused.
· Fleet monitoring operation. More businesses are monitoring vehicle drivers and fleets to help boost and maintain responsible corporate behavior by maximizing delivery times, capacity utilization, vehicle maintenance, enforcement of rest periods for drivers and C02 emissions.
· Predictive and preventive maintenance. Fleet operators need to monitor the maintenance of their engines and equipment used in supply chain processes. Doing so results in longer lasting equipment and reduced risks of production stops, ensuring that operation management can better protect their investments.
· Preventing theft. Theft, whether from the factory, en route to stores or store shelves, is common. Wireless asset tracking throughout the supply chain may reduce instances of theft.
More companies are moving toward using IoT to create greater efficiency within their supply chain. Increased use of wireless asset tracking technologies, especially those platforms that are dependable indoor and outdoor, will provide new solutions for improved supply chain practices and management. The end result will be new revenue options and improved ROI.