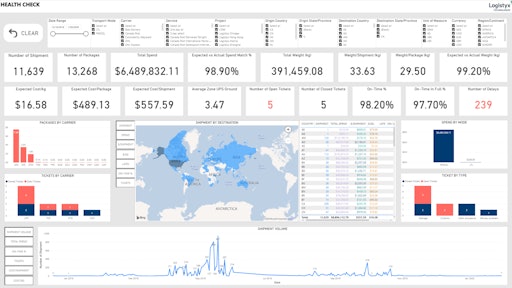 Logistyx Technologies
As the globe responds to the Coronavirus disease (COVID-19) pandemic, omnichannel business impacts have been profound. Stories regarding retailer responses are beginning to percolate, reflecting both success and failure. For many retailers, the pandemic has resulted in the largest supply chain disruption they have faced so far. For others positioned with decision-making insights and supply chain flexibility to respond geographically across continents, countries and regions, their response to the pandemic has entrenched their brand position of competitive strength and reliability.
While the initial news of the pandemic from Wuhan seems a distant memory, it is still an event that is counted in weeks. Chinese factories and markets closing (and the subsequent South Korean spread) as a response to the virus were clear supply chain indicators requiring timely action. Nowhere was this more obvious than in the retail e-commerce (omnichannel) landscape. Global retailers with strong business intelligence practices leveraging predictive and prescriptive analytics quickly received insights to respond and adapt as geographies and customers were impacted.
Prescriptive analytics helps guide organizations' supply chain decision-making. As entire countries and regions shut down business activities, omnichannel retailers were forced to respond or face the consequences. A retailer's ability to make inventory available or shift it into viable locations where workers could safely fulfill orders with transportation providers ready to pick up and reliably deliver to end consumers has been critical to their success. Even the rate of adoption of curbside pickup as a buy-online-pickup-in-store (BOPIS) evolution required thought and planning for retailers, as competing employee resources shift within the changing consumer retail vs. e-commerce model. Otherwise, if retailers were too late or inflexible to respond, they became handcuffed, had inventory shortages and were unable to meet customer requirements. Let's not forget the variables going into these decisions are changing by the day, just like they will on the back end as we recover.
The building blocks were there
It's no wonder successful retail organizations have strong business intelligence and analytics departments. There are many data points captured for decision-making, and the prevalence of cloud-based supply chain software and applications have enhanced their abilities. If we focus on the e-commerce segment and the movement of goods from point of pick up to end-consumer receipt, the data points for clear decision making become more obvious. Typical data points for supply chain transportation analytics include the following:
· Historical shipping data – inbound and outbound
· Carrier delivery status (visibility/performance)
· Carrier contracts
· Carrier invoice data (actual cost)
· Warehouse management software (WMS) inventory (location) availability
Augmenting this during the pandemic within a retail omnichannel model, one would need to understand distribution point availability, shifting supplier sourcing, employee resourcing and additive order shift planning into e-commerce or BOPIS from buy-in-store expectations as stores closed or consumer behavior adjusted to avoid retail locations. To accommodate, retailers use order management and WMS to augment these supply chain data points. Use of these data points in a suitable data storage model allows for business intelligence (BI) and prescriptive analytics to support decision-making to properly plan what inventory to have available, where and when to leverage which carrier(s) and delivery option programs to fulfill customer orders and expectations at the least cost. These capabilities can make even the most demanding situations more manageable.
A large U.S. telcommunications company, for example, recently needed to launch a new handheld mobile device into the U.S. market (pre-orders) expected to be delivered the last week of April, leveraging their omnichannel capabilities. Talk about a tall order at the peak of the U.S. pandemic.
With the ability to rate shop and execute deliveries with multiple carriers at each location throughout the omnichannel organization, the company called on all of its locations that were still open or available to fulfil allocated orders (less than one-third of their total U.S. retail store locations) and its relatively uncertain workforce. Planning for the effort, the company quickly shifted inventory appropriately to identified valid locations. To execute, it chose among the available carrier options to manage tens of thousands of deliveries. Track-and-trace capabilities provided transparency for customers and visibility for teams to ensure products reached expectant consumers' hands – for the most part, on time. The company's ability to understand the results of where and when to move inventory to allocate against orders with known delivery lead times and transportation cost impacts prior to distribution and with flexibility to adjust when employee resourcing constraints occurred was vital to this release program and informed through their use of analytics.
Account for the unplanned within the decision-making process
Managing supply chain performance is difficult during normal times. During the pandemic, key input variables usually taken for granted have changed. Without the right tools to accommodate these additive impacts from a data perspective, decision-making insights can become incorrectly biased and useless. To account for this, progressive organizations can use a properly designed data storage model, ETL processing of data obtainment with additive transformation, optimization capabilities and tools to support requirements – machine learning, artificial intelligence (AI), spatial analysis, etc., all wrapped with visualization tools to meet their objectives.
The current pandemic provides perfect examples of unforeseen variables affecting supply chains. Government mandated business closures and work stoppages have affected entire countries, regions, cities, suppliers and industries. Airlines adapted by converting passenger seating into cargo holds to offset the increased capacity demand for expedited movements. Daily, there are changing "banned" country lists preventing international carrier movements from certain origins. What's more is, major carriers have introduced temporary peak surcharges and suspended certain service guarantees to safely manage increased volume. Effective analytics must account for these variables within the broader tool set to predict and prescribe the best course of action to minimize customer impacts and keep costs in check.
Turn to the experts
The speed with which retailers had to respond to an evolving supply chain, disrupted retail model and enhanced e-commerce consumer demands during the pandemic is forcing many retailers to reflect on the systems used to support their business. Implementation of a global, flexible, multiple carrier parcel platform to support consumer fulfillment requirements is critical. Leveraging this with insights from prescriptive analytics to support strategic decisions and leverage the execution platform is equally critical. Retailers not utilizing these types of technologies are at a competitive disadvantage and will struggle to quickly and accurately make the right decisions affecting their survival.
A properly designed analytical supply chain BI platform allows for flexibility to adapt to the changing landscape and respond quickly with accurate insights to problems and support significant decisions while keeping costs in check. As organizations recover from the pandemic and solve disruptions caused during this time, they must also prepare for peak season. The path back to normal will be bumpy; plan for the unexpected. It would be foolish to expect the global recovery to happen elegantly, in an orderly fashion. Retailers prepared to address this uncertainty with sound strategy supported with analytical insights will be well-positioned to capitalize upon their position of strength. Those who are not will risk unsupported decision-making.