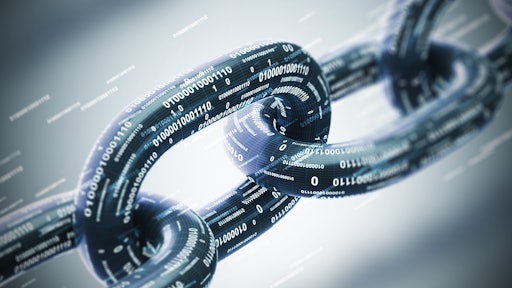 Getty Images
Blockchain is a hot supply chain topic and it is hard to discern what's hype and what's real. It's billed as a potential panacea for everything from eliminating fraud and counterfeit goods to the supply chain holy grail—end-to-end supply chain visibility. It can be challenging to determine when and where to start with blockchain.
Blockchain technology is uniquely positioned to alleviate issues stemming from increasingly complex supply chain networks, shorter and more dynamic product life cycles, increased regulation and more. However, while blockchain has real promise, as with every new technology, we are going through the early learning curve.
5 Questions to Consider
What is the current state of blockchain applications for the supply chain? Gartner's Hype Cycle for Blockchain Business (2018) shows Blockchain in Supply Chain initiatives are almost at the "Peak of Inflated Expectations." The supply chain is further along in implementing and evaluating blockchain than industries such as retail, oil & gas, life sciences or healthcare. What this means is while there are use cases being explored now—and some will show success—there will be lessons learned before blockchain is widely adopted in the supply chain.
So, do you wait, or innovate now with blockchain?
Following are five questions to help you evaluate your blockchain options and shape a more successful blockchain initiative.
1) What is your most promising supply chain use case? The blockchain use case you select is critical. It should align strategic business value, technology and organization readiness and, most importantly, challenges that blockchain technology is designed to solve.
Define a targeted use case that drives demonstrable business value and impact. Is your use case easy to articulate and is it going to deliver results that align to strategic business objectives? "Begin with the end in mind." In other words, get prescriptive with a use case that is going to deliver results, best practices and deliver more than cool technology.
Assess organization, partner and stakeholder readiness for blockchain-enabled change and innovation. The old adage that the success of any technology-enabled initiative is more about the business than the implementation of the actual technology still holds true. Your business processes, people and culture are critical to execution success. The transparency, accountability and cultural changes that blockchain will drive may be less disruptive for one use case versus another. As Forrester says, "Technology shortcomings won't be the biggest inhibitor (to blockchain)...blockchains are 80 percent business, 20 percent technology."
Evaluate if blockchain is the RIGHT technology for your use case. Blockchain is not a hammer for every nail—but it is uniquely able to provide capabilities that other technologies cannot. It can also provide easier implementation in some use cases. Of course, there are use cases where blockchain is not the perfect match and a different technology may work better due to capabilities or cost/benefit analysis. Keep in mind that your cost/benefit analysis can be greatly impacted by your decision to buy or build.
2) Are you ready from a digital supply chain perspective? Evaluate your readiness with respect to digital networks, processes and transactions. Focus on where your digital readiness and optimal business value intersect. Even if you may not be considering a blockchain initiative in 2019, prioritize expediting your digital supply chain strategy now. Your investment will pay dividends because technology-enabled innovation that improves your bottom line and customer satisfaction depends on the digitization of your business.
3) Should you build or partner? The next aspect to consider is how you will source your blockchain platform and applications. You have a few options and there are advantages and disadvantages to each.
Build your own. This is the most resource-intensive path. You need subject matter experts (SMEs) with knowledge of the business challenge and blockchain technology who can execute on the vision and build, manage and scale the solution. You also need a substantial budget for the infrastructure and tools they require. This approach may be optimal for large organizations that want to internally build and centralize blockchain solutions for the enterprise.
Subscribe to Blockchain-as-a-Service. In this instance, you alleviate the technology burden of building the blockchain platform by working with a vendor that provides and manages cloud-based, blockchain infrastructure. However, you still need SMEs to define the solution, oversee the project as well as build, manage and scale the purpose-built applications, services and functions your business needs. The burden of innovation also rests with your team, so you need resources with the knowledge to create a roadmap for future applications and ensure ongoing service enhancements and value to the business.
Partner. This option accelerates your path to a blockchain-enabled supply chain. Here, the technology partner provides and manages the infrastructure as well as the purpose-built applications to solve critical supply chain challenges. The partner also owns the roadmap for new applications and enhancements. There are partnering advantages that go beyond the blockchain infrastructure and application management. A strong technology partner also seeks to understand your use cases, incorporate your feedback and is invested in your success. As an equipment manufacturing client said recently about partnering with us, "We would have brainstorming sessions [with IBM] about the solution and then there it would be—the capability was developed, and we were able to have it live and ready to meet our needs."
4) Does your approach leverage existing investments in EDI, systems and processes? Whichever path forward you choose, make sure you can continue to leverage and gain returns on your existing investments. Blockchain can complement and extend your investments in EDI and automation processes, bringing immutability, security and visibility to your connections with partners and systems. The ability to integrate with your current ecosystem will accelerate connectivity and information flow between parties and allow you to realize faster time to value.
5) Can you easily extend the blockchain investment to solve new problems? Keep the end game in mind. As you evaluate your solution options, think about how you will leverage your investment to tackle additional use cases and solve new challenges. For example, you might start by addressing the challenge of transaction visibility for permissioned partners from order to delivery. From there you might add invoice reconciliation capabilities, then returns management and extend to additional solutions.
Technology-enabled business innovations are typically met with a certain amount of skepticism. This is the norm for all emerging technologies—and blockchain is no exception. In the case of blockchain, the trick to separating hype from reality is to focus on use cases specific to your business that blockchain is designed to solve, make sure you're digitally ready, and think through how you will realize a return on your investment and your vision for the future.
TK George is product marketing manager, Watson Supply Chain, IBM and Duke University Adjunct Associate Professor.