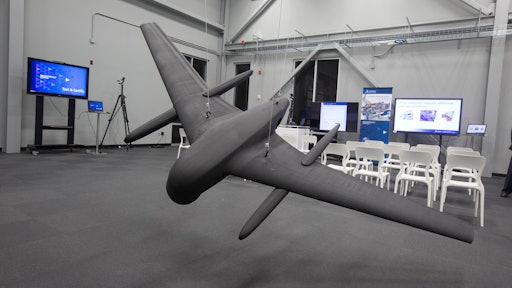 Dassault Systèmes
When the European aerospace company Airbus brought their first idea to Dassault Systèmes 3DEXPERIENCE Learning Center, they were prepared to see it fail. What they discovered over the 83 days following the project's transition from concept to full-scale functioning prototype, however, would lead them down a path to company-wide digital transformation.
In April 2017, Dassault Systèmes, a European software company that develops 3D design, 3D digital mock-up and product lifecycle management (PLM) software, in partnership with Wichita State University (WSU) and the National Institute of Aviation Research (NIAR), opened a groundbreaking innovation campus aimed at bringing together students, researchers and industry experts to accelerate innovation and product development, virtual simulation and next-generation manufacturing.
Wichita, Kansas, widely-known as the Air Capital of the World, seemed the fitting home for the experimental learning center. Once home to Boeing, the world's largest aerospace company, the region's rich aviation tradition lives on through Airbus, Textron Aviation, Bombardier Learjet and Spirit AeroSystems, and hundreds of suppliers and industry partners who still design and manufacture commercial and general aviation aircraft in Wichita.   
In 2002, Airbus opened its first design and engineering facility outside of Europe in Wichita. Shortly after the construction of the Innovation Campus was completed, it moved the facility to a new building on the campus.
Its first project would be a prototype of a thrust reverser unit, a component that slows down an aircraft upon landing. Airbus sought to simplify the design and improve its efficiency in record time. While this type of development project would normally take 18 to 24 months, Airbus set a goal to complete the work in a focused 90-day "sprint."
This project gave Jeff Smith, director of the Aerospace and Defense Ideas Lab at Dassault Systèmes, the clarity that taking a 3- to 5-year lifecycle to 90 days is achievable. But he says, there is still a lot of work to do before Airbus can complete its digital transformation.
"Now you're talking about taking a project that was in a controlled work environment and replicating that across a whole company," he explains. "When you want to talk about institutionalization of what we developed here and being able to replicate that across Airbus, that's a business transformation that takes time."
The Innovation Campus
Digital transformation is on the mind of most of today's CEOs—and if it's not already, it soon will be. But transitioning people, products and processes is not easy.
"One of the hard things about people being innovative is the risk," says Shawn Ehrstein, director of the CAD/CAM Lab and VR Center at WSU. "It's great to have this new technology that you think might work, but whose willing to put their job on the line and hope it works?
"The 3DEXPERIENCE provides a place to bring a project and utilize our environment, equipment and software platform without making the investment, to see if you can get your ROI on it before you make that full investment in your company," he adds. "We've found a way to minimize your risk and investment by trying a project here to make sure it works the way you think it will."
Dassault Systèmes' Innovation Campus is comprised of three pieces that combine industry, academia and research all in one place: The 3DEXPERIENCE Learning Center, which demonstrates digital continuity; Go Create, a glorified makerspace or fab lab; and 24 classroom labs.
"It's about the people, the product, the processes and the tools, and you have to have synergy with all of that if you're truly going to innovate and make a business transformation," says Smith. "They get to test drive the 3DEXPERIENCE platform in the context and richness of all these capabilities in the 3D Learning Center."
Within the learning center, Dassault Systèmes has created a set of applications and business practices that focus on each life cycle in an aerospace complex (though they can be applied to an industry), from conceptual design through manufacturing, certification and support aftersales. The goal is to take that typical life cycle of 3 to 5 years to 90 days. Those unique capabilities include: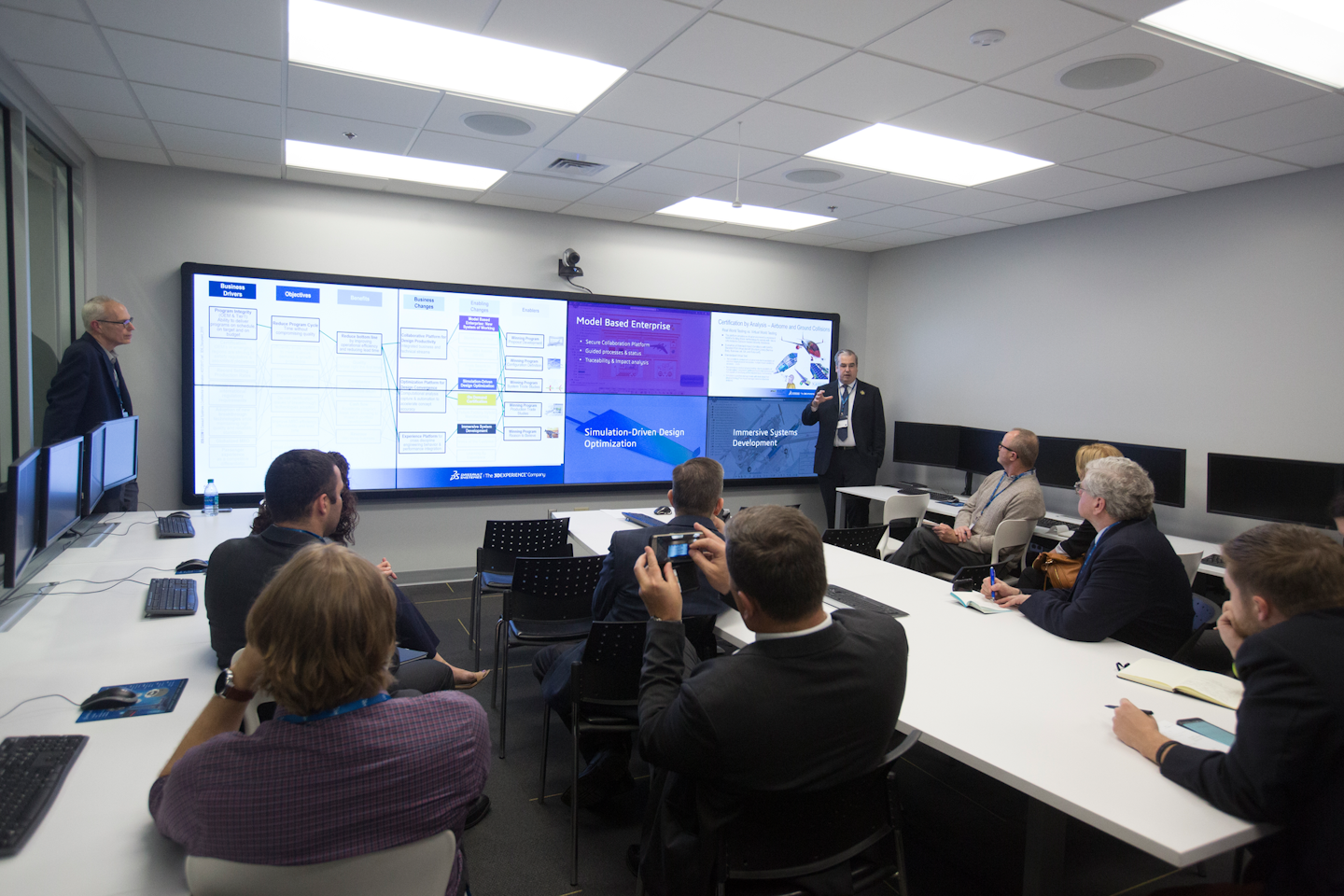 Customer collaboration rooms allow teams of up to eight people across all functions to work together in one place on a single platform.Dassault Systèmes

Customer collaboration rooms that allow teams up to eight people across all functions to work together in one place on a single platform. These rooms include high-resolution screens, web conferencing and other collaboration tools along with the full suite of solutions from Dassault Systèmes. 
"Compressing the life cycle, going from concept to flight in 90 days, is not just about applying technology. It's also about tearing down the barriers to collaboration…and changing the way you want to work," explains Lee Encapera, technical architect at Dassault Systèmes.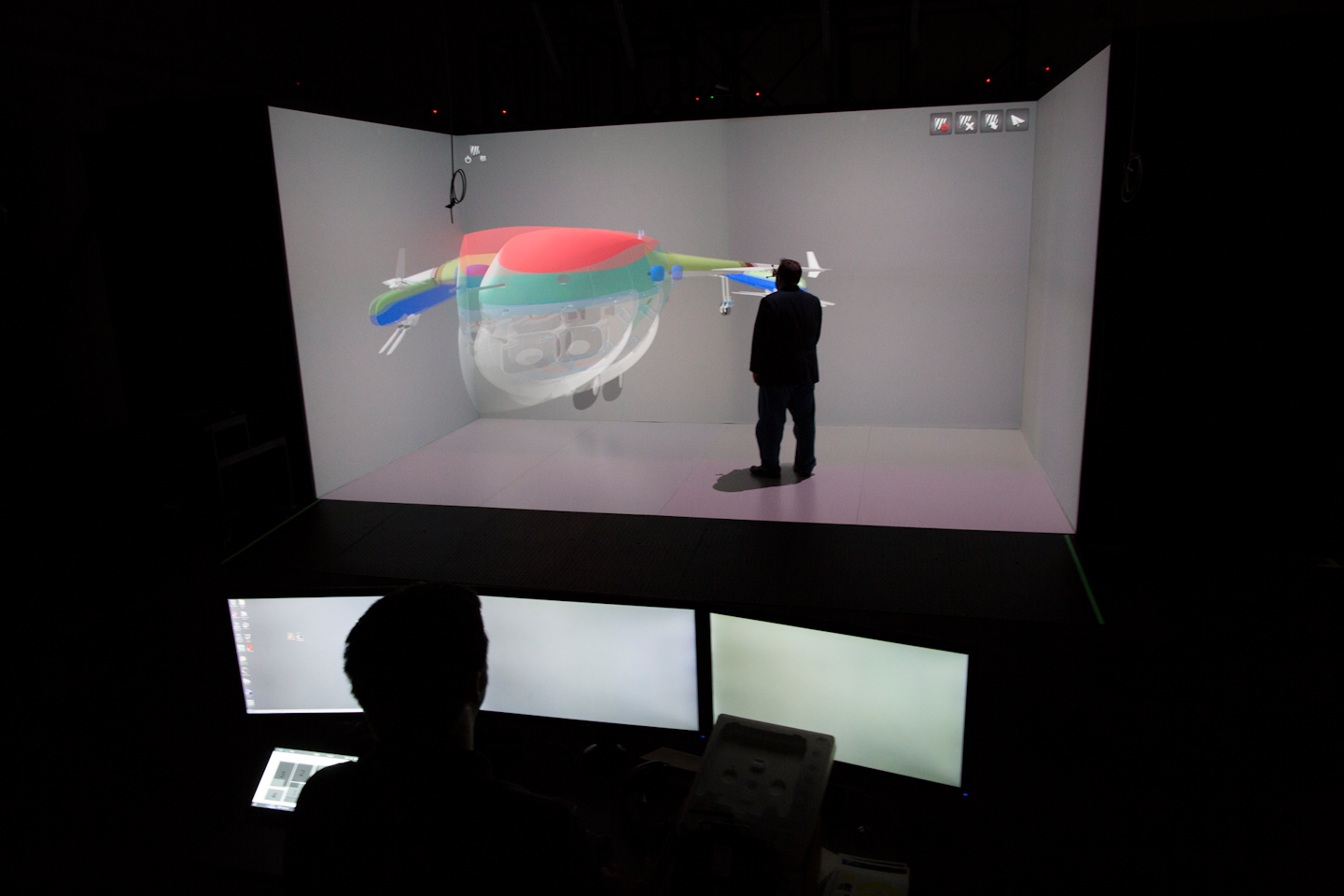 The center features the largest CAVE in North America, where users can create 'virtual twins' of products and processes before making physical prototypes or investments.Dassault Systèmes

Virtual reality technologies that allow users to explore new designs in fully immersive 3D and see the results of multiple simulations through the creation of digital twins in the areas of production, design optimization, certification and system engineering. 
"A positive side effect of creating a digital thread is something you would call a digital twin and something we call a 3DExperience twin," says Encapera. "It's a virtual realization of something that you're trying to represent in the physical world," 
A digital production twin, for example, allows users to virtually simulate robots completing a task before ever spending a penny in the physical world. This allows users to optimize the operability of the manufacturing process, identify issues or risks early on, and continuously refine their designs. 
The cost and time savings of this capability will vary by task, but according to Encapera are almost incalculable. 
"If you were to do this without simulation, I can almost guarantee you're going to have collisions; you're going to have two robots hitting each other at high speed. You can take some mitigation actions in the real world to make sure that doesn't happen, but that typically slows down the process," he says. "If you take a simple case, you might see that the results are a little less beneficial, but if you take a complex case, the benefit becomes almost incalculable." 
Smith adds that "by leveraging the virtual world prior to the physical world, for every dollar you invest, you save $7." 
The end goal is to be able to tell the program to create a vehicle with a specified set of characteristics. Nirvana would be using artificial intelligence to empower that process and make more informed design decisions. But at this point in time, virtual simulation is still in its infancy, and Dassault Systèmes must work toward verifying its accuracy in the physical world. 
"The industry is not ready to do away with all physical tests," adds Mark Beyer, value development consultant, SIMULIA strategic business development, Dassault Systèmes. "We still have a need to anchor our simulation with empirical data. It allows us to do less testing in an accelerated program, but we still have to prove to the certifying authority that we understand the limitations of the simulation and go through a data assurance process to verify that the vehicle will perform the way we say it will in simulation."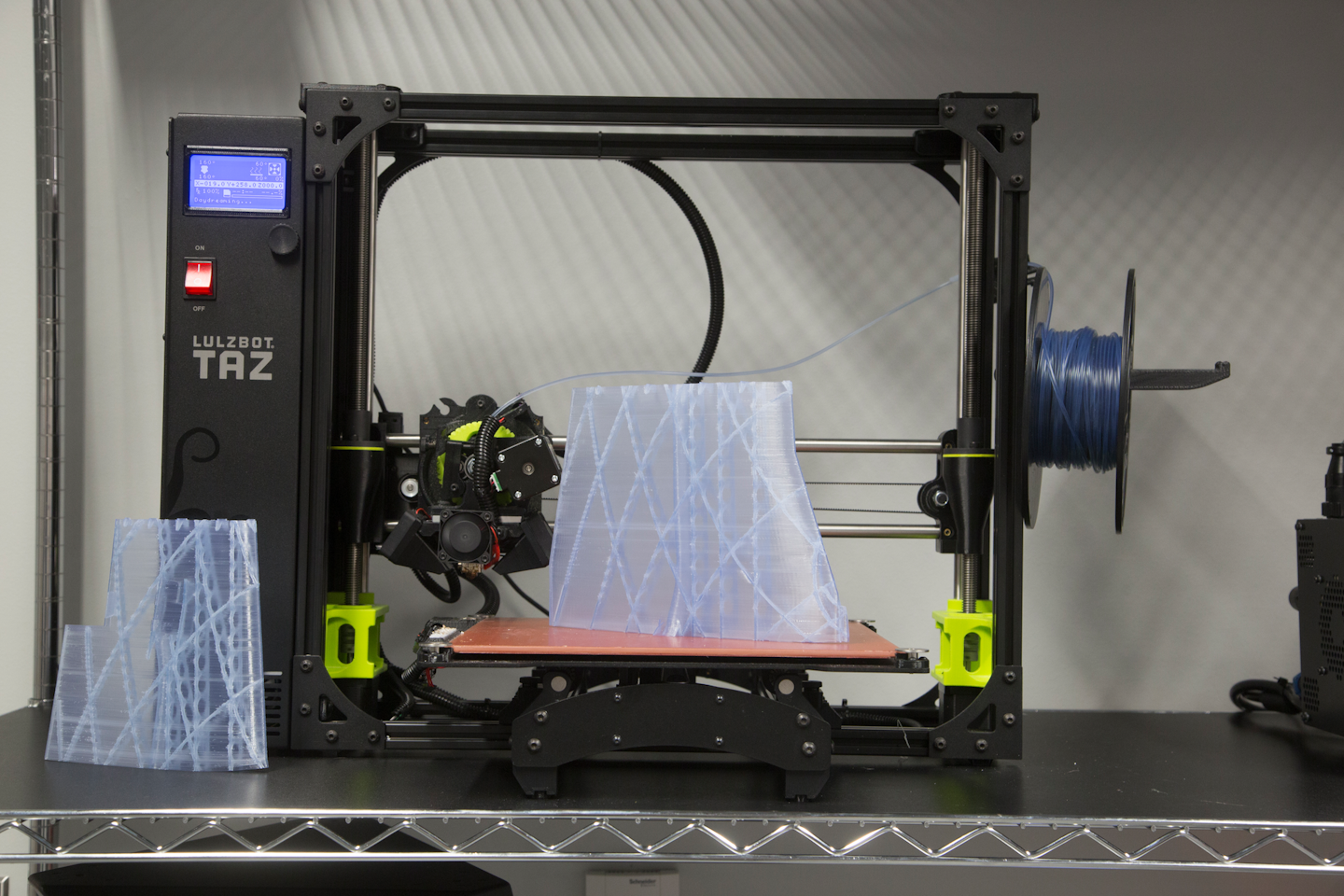 Additive manufacturing allows engineers to create custom parts as well as optimize standard parts for cost and weight.Dassault Systèmes

Additive manufacturing allows engineers to create custom parts as well as optimize standard parts for cost and weight, typically resulting in a 70 percent or more reduction in cost and weight. 
Airbus, for example, leveraged additive manufacturing, also known as 3D printing, to create stand in parts for its thrust reverser prototype when its supplier was unable to deliver on time. Instead of delaying the manufacturing process when the supplier missed its deadline, Airbus was able to print the plastic parts within hours that could fill the space until the metal parts arrived.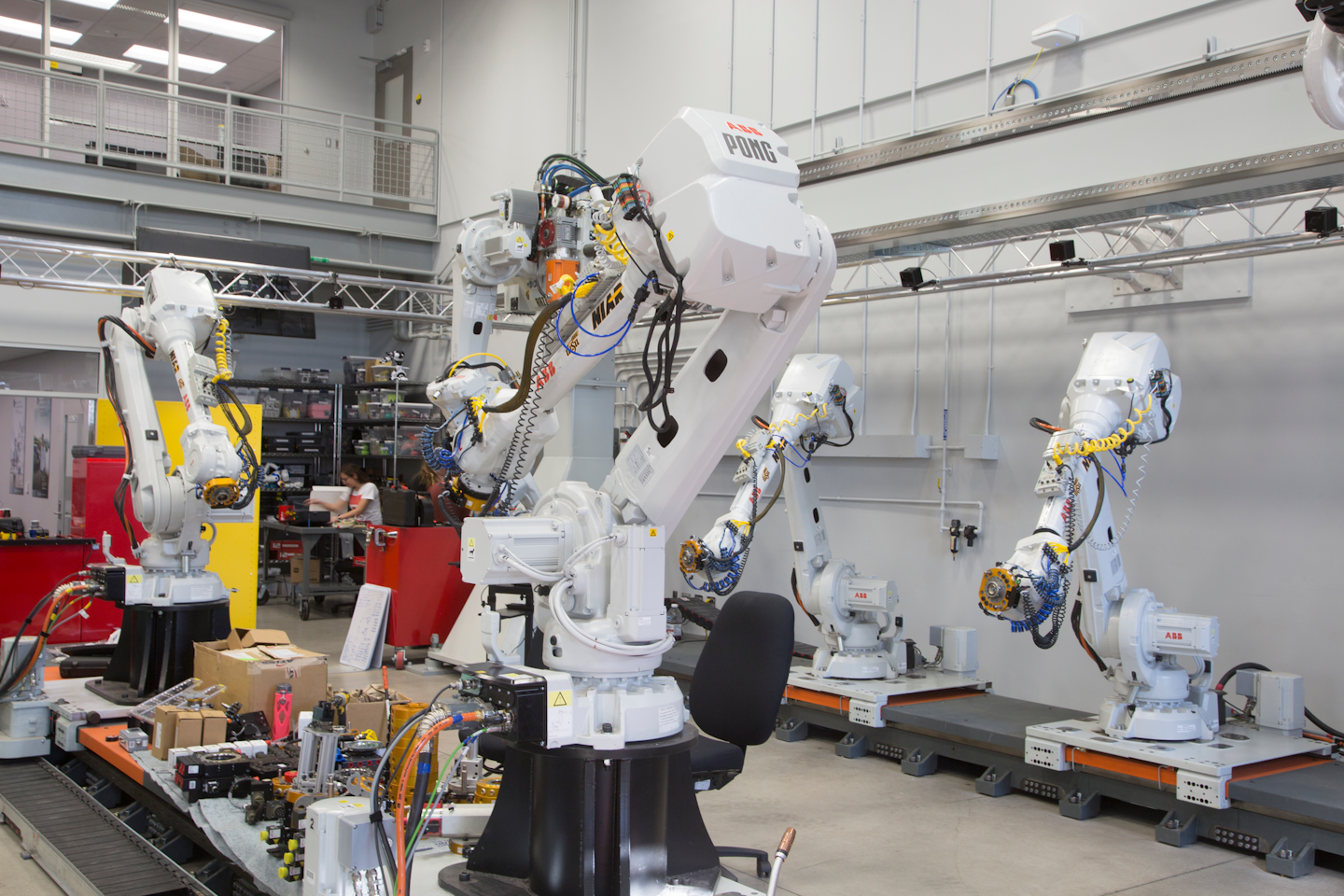 Multi-Robotics Additive Manufacturing (MRAM)–or the factory of the future–makes it possible to explore and optimize how robots can be used in your warehouse setting.Dassault Systèmes

Multi-Robotics Additive Manufacturing (MRAM)—or the factory of the future—makes it possible to explore any shape without restriction and reduce material waste up to 90 percent as well as optimize manufacturing techniques using the latest in robotics. MRAM can 3D print chopped fiber composite, mill, scan and execute many other advanced manufacturing techniques to accelerate production, lower the number of parts and eliminate manufacturing waste.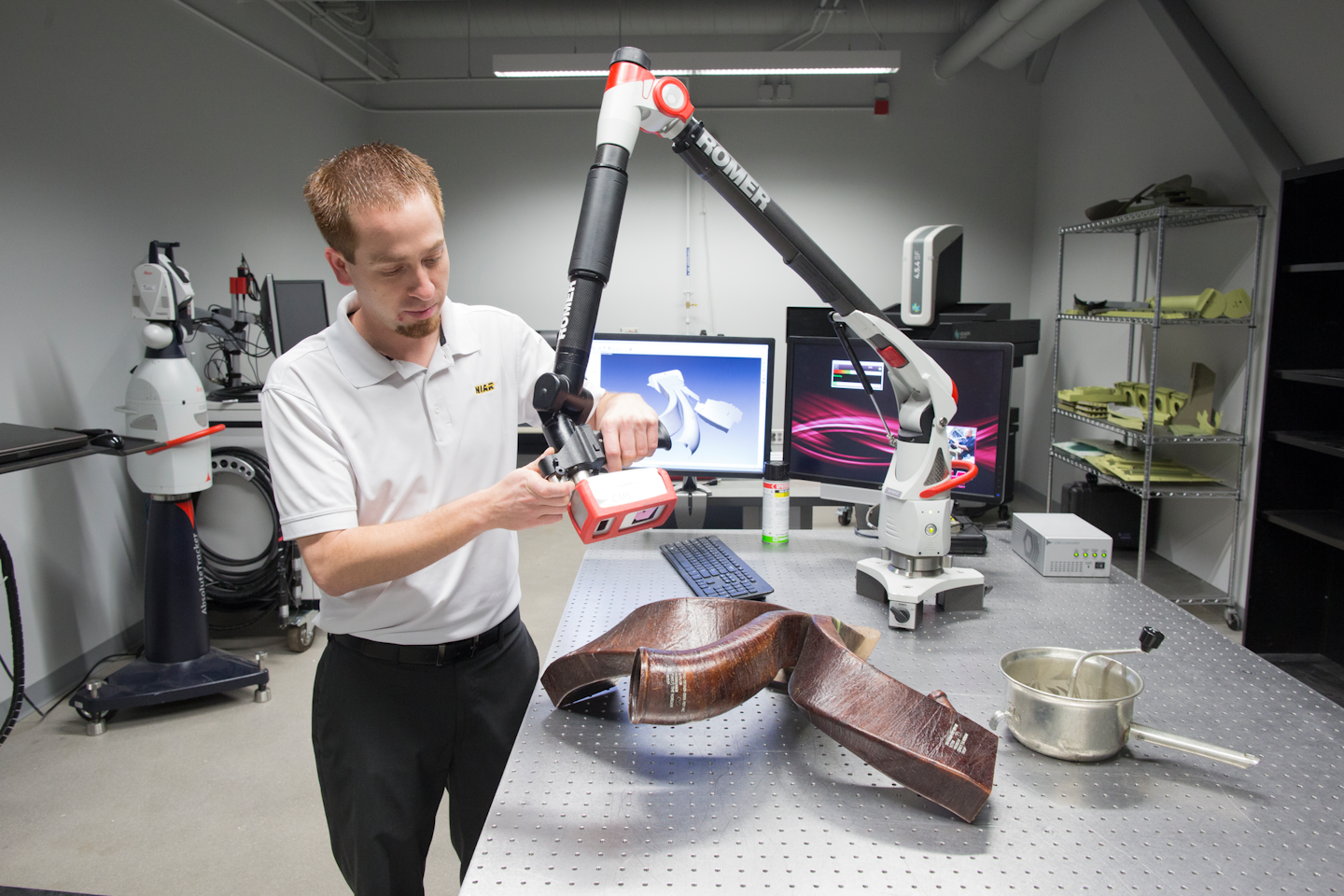 Reverse engineering is the process by which a man-made object is deconstructed to reveal its designs, architecture or to extract knowledge from the object.Dassault Systèmes

Reverse engineering and inspection allows engineers to scan complex parts to create new virtual representations as well as to inspect new parts for certification and quality control.
"We believe that we have a transformative strategy in place to be able to demonstrate what the art of the possible is, to be able to innovate the future of advanced product development and manufacturing," adds Smith. "Integrating these technologies and software demonstrates that." 
Follow Amy Wunderlin on Twitter.