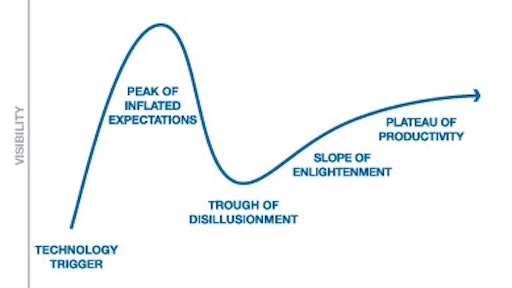 Blockchain is here, and meaningful applications using this revolutionary technology are on their way. 
In simplified terms, blockchain is a decentralized leger to which events and data can only be appended. Blockchain can dramatically improve data security, provide business-to-business (B2B) transparency, and most importantly, trust. 
Like all things new and shiny, blockchain's potential as a transformative technology seems limitless. Through the lens of a technical maturity perspective, blockchain technology as a whole has moved past the peak of inflated expectations, as displayed in the Gartner Hype Curve Model (to the right). Depending on your perspective, it's likely headed down the trough of disillusionment, or perhaps inching its way up the slope of enlightenment. Proven blockchain technologies, such as Bitcoin, demonstrate that the slope of enlightenment and plateau of productivity are not too far away for the masses. However, between now and the point of time where people will seek to use the technology, there are still numerous challenges to face. Three top challenges include uniformity, adoption and scale.
Uniformity
Uniformity brings a sense of calm, and not simply for developers. It brings a greater significance to businesses and its leadership. Standards allow those communicating with each other to understand and interpret meaning from a message or transaction. Even without blockchain as a consideration, uniformity is a massive challenge for all businesses today. What is a bill of lading? What goes in the document? How is the document structured? Do I need to reply to the sender or just accept the data and move on? These are all enterprise integration questions that need resolution before blockchain solutions can be widely adopted. Much like people, systems have to speak with one another using a library of words they're programmed to understand. Agreeing to a common, uniform language is the central step toward integrating blockchain with the supply chain industry.
Adoption
Adoption, unlike uniformity, is a product of critical mass. Anyone can define a "standard," yet for a standard to have real business value, others need to use the same standard. In a business world where IT resources are backlogged, value will be the primary force driving adoption.
The next challenge with adoption is simply integrating B2B transactions via the blockchain. Currently, challenges with B2B transactions are plentiful without even considering blockchain.
Integrating business systems, whether on-premise or cloud based, is a necessity for growth, but the cost and effort to manage and implement digital business transformation is not for the faint of heart. In order to effectively participate in a blockchain ecosystem, members will need to have fine-grain control over transaction transmission, validation, security, translation, enrichment and more. Businesses will also need to have expertise in sending and receiving real-time transactions from its various business systems.
So, how do businesses prepare for the blockchain in supply chain revolution? The answer, counter-intuitively, is to focus on systems integration rather than focusing on blockchain at all.
Again, it's difficult for a business to make a case for anything without relatively fast return on investment. With the exception of some pharma and closed-loop food supply chains, blockchain doesn't provide significant ROI yet. Therefore, its important to go back-to-basics and prepare your business for the digital revolution already underway. Businesses are already adopting new enterprise integration patterns, which enable customer self-service, new revenue channels, visibility across business systems and the ability to see your entire business' health in real time.
Add powerful data warehouse solutions, coupled with new and easy-to-use business intelligence systems, organizations are evolving faster than ever. Adopting these technologies and architecture patterns will not only solve data management and movement problems for digital businesses, but also prepare them to interact with new and promising blockchain applications for supply chain.
But what about the rest of us—the majority of organizations that lack the internal IT skills to pull off digital transformation? Consulting firms are certainly an option, but full digital transformation without internal sponsorship and leadership can easily end up becoming a requirement and funding nightmare.
There is an alternative in the middle where organizations can fast-forward digital transformation via specialized integration platforms. You may currently know them as value added networks (VAN). For decades, VANs have been a trusted partner for B2B connectivity with electronic document interchange (EDI). Today, organizations providing these services via platform-as-a-service (PaaS) techniques are doing the same thing, but for more complex business process transactions rather than for just EDI documents.
Adoption of blockchain applications for supply chain does not just require the application itself to be meaningful (important for the business), powerful (disruptive) and valuable (good ROI). Blockchain adoption requires millions of enterprises to be digitally ready to transact in real time.
Scale
Scale, unlike uniformity and adoption, presents new, unseen challenges for blockchain use in the supply chain. Questions like, "How large will the ledger need to be?" and "How will businesses run these transactions cost-effectively?" are on the minds of many bright developers, but the answer remains somewhat obscured. Partially because of the lack of uniformity and adoption, but mostly because of two main metrics: transactions per second and cost per transaction. Clearinghouses that process a transaction and then compute the chain on your behalf later are one solution, but they can be hacked, and the third party would need to be highly trusted. Another emerging solution are sidechains, which break down the transaction into smaller and easier-to-compute transactions where a master blockchain branches to smaller chains representing detailed data. However, this solution just kicks the can down the road, as sidechains need to be computed at least twice, therefore facing the same long-term challenge.
Until quantum computers are commonplace, the scale challenge might be solved by a computing or algorithmic breakthrough. More likely, a good balance of uniformity and adoption will drive the right technical architecture for the next killer blockchain app for supply chain.  
Eric Rempel is the chief innovation officer at Redwood Logistics.