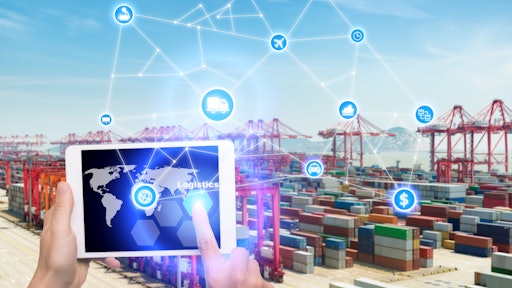 The Internet of Things (IoT) is revolutionizing the logistics industry. By connecting nearly everything from parcels to people, the IoT is enabling supply chain and logistics companies to track and trace freight in real time, make data-driven decisions that improve operational efficiency, perform predictive maintenance on assets and infrastructure, and much more. In fact, industry experts estimate the IoT will drive more than $1.9 trillion in value within supply chain and logistics by 2020.
This value comes, in part, from the way the IoT helps converge information technology (IT) with operational technology (OT). By deploying IoT-enabled sensors and advanced analytics, supply chain and logistics companies can gain real-time visibility into operations and insights on how to make improvements. For example, global shipping line Maersk manages its far-flung collection of shipping containers with sensors that monitor the location of containers and whether they are full or empty, enabling the company to route them efficiently to where they will be needed next. The system also tracks temperature, C02 and oxygen levels inside refrigerated containers to maintain the integrity of the contents and make the delivery and check-out process faster. This IoT-enabled strategy has so far saved the company $100 million.
Given Maersk's success, it is easy to see why the shipping industry and ports stand to gain the most benefit from IoT technologies. More than 90 percent of world trade is carried by the international shipping industry, with more than 50,000 merchant ships trading internationally in more than 150 nations. And due to the intermodal nature of ports, they pose one of the biggest IoT opportunities in the supply chain with the potential to connect data and operations from interdependent modes of transportation (shipping, rail and truck). Ports, however, especially those located in dense cities, struggle to meet today's growing logistics demands. Not only is shipping traffic growing, ports also face an increasing number of cybersecurity threats, mandates to reduce carbon emissions and pressure to improve worker safety. Fortunately, IoT technologies are enabling modern solutions to many of the industry's perennial problems.
Take for example the Hamburg Port Authority (HPA) in Germany. HPA is the largest port in Germany and the 14th largest in the world. Ten-thousand ships enter it each year, and 83 rail transport companies operate at the port. More than 132 million tons of freight travel through HPA annually and use is growing fast—the port processed 8.9 million TEU in 2016, and expects that figure to double by 2025. Yet, because the port is located near downtown Hamburg, it cannot expand beyond its current footprint. As a result, HPA needed to become more efficient within its existing boundaries. Using IoT technologies and sensors, HPA was able to create a more intelligent and automated harbor operation to improve traffic flow and move freight in and out more quickly.
A Unified Network Platform
For HPA, the first step in achieving its goal was to integrate its separate networks into a single, unified platform. Previously, the port was using four separate network systems for its logistical operations. A stand-alone radar system communicated with and tracked ships; another network managed train traffic. Meanwhile, a third network supported telephone communications, and a fourth supported the port's IT platform. These non-consolidated infrastructures created communications problems among HPA's 1,800 employees and hindered overall efficiency. HPA worked with Cisco to bring all these together onto a single platform, which it dubbed HPAnet.
Wired and wireless networks were converged into one physical infrastructure. An enterprise switching platform paired with wireless controllers and security routers formed the hardware foundation for the new network, while unified communications manager software brought voice, video and teleconferencing capabilities to HPA personnel through their mobile phones. With a port-wide wireless network and the new mobile technologies, HAP personnel no longer have to meet in a central location to collaborate with a colleague. Instead, they can be where they are most needed, and the network, in a sense, comes to them.
For enhanced security, the communications manager is also paired with adaptive security appliance firewall software that supports cryptographic algorithms and encryption standards. The firewall integrates with a cloud-based web security solution to provide web-based threat protection.
Operational Efficiency and Reduced Traffic Congestion
HPA's unified network platform not only serves as the foundation for more fluid communications across port employees and with outside clients; it also serves as the foundation for an upgraded traffic management system. HPA installed 300 roadway sensors to monitor traffic across major roadways in the port area to help them more efficiently orchestrate the movement of ships, railcars and trucks.
For example, as container ships approach, port managers must raise truck or railcar bridges to allow the ship to dock. In the past, knowing how to optimally route the ship for the least disturbance to rail or truck traffic in the port involved some guesswork. Today, it's a different story. Through integration with ship radar, HPAnet alerts port managers that a container ship is approaching. The roadside sensors monitor traffic flow on the roads and railways, sending real-time data to the Port Road Management Center. Advanced analytics provide port managers visibility into traffic speed, congestion, the number of vehicles crossing over a bridge, the volume of traffic on major roads crossing the port and more. With data-driven insights, the guesswork has been removed, and port managers are able to make decisions that ensure the least disruption to traffic.
HPA also installed large digital billboards along roads to communicate with drivers about delays and traffic patterns. Additional sensors provide parking information to drivers via mobile applications that take advantage of GPS-enabled location data. This system has reduced the time drivers spend on the roads looking for parking. With trucks making an average of 40,000 trips across the port each day, reducing traffic congestion or the amount of time engines spend idling helps significantly cut carbon emissions.
Sensors on other assets such as cranes and pallet loaders allow HPA port managers to see in a simple interface which assets are available and where they are located. This helps them further optimize efficiency by speeding freight turnover and moving cargo in and out faster. Sensor data also give HPA insights into long-term usage patterns on the roads, bridges and other infrastructure. Using this data, HPA can monitor the health of assets and infrastructure and conduct preventative maintenance to avoid costly downtime. In fact, in logistics, real-time analytics on asset health and the ability to schedule preventative maintenance is one of the fastest ways to achieve ROI on an IoT initiative. The reduction in operational disruption can virtually pay for the IoT investment.
IoT-enabled Results
By integrating multiple, siloed networks into one unified platform and deploying IoT-enabled sensors and technologies, HPA has not only simplified network management and streamlined operations, but also reduced operational expenses. HPA staff now have real-time visibility into the movement of vehicles and the status of shipments in a single interface, and they can access this information across the entire port. The company was able to reduce the number of network management components it must maintain from 400 to 200, and by using server virtualization, the entire port now runs on 48 servers rather than the 242 it used previously. As a result, operational costs are being reduced even while HPA's operational capacity is growing. Operational costs are expected to be reduced 70 percent over the next five years, and the port is on track to double the number of shipping containers (TEUs) it handles by 2025.
The transformational potential for the IoT in logistics and supply chain is undeniable. HPA serves as just one example for what is possible. The real-time visibility and data-driven insights provided by IoT-connected sensors and systems enable companies to increase efficiency, reduce operational costs, perform predictive maintenance to prevent downtime, and even cut energy consumption or minimize negative environmental impacts. With the increasing pressure within the logistics industry to meet two-day, overnight or even same-day service commitments, the IoT is a critical component in helping companies meet the demands of today's fast-paced, global economy.
Companies in this article