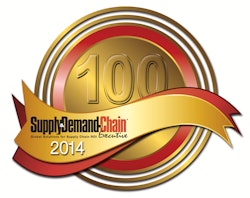 Supply & Demand Chain Executive Magazine, the executive's user manual for successful supply and demand chain transformation, this week announced its 12th annual listing of the Supply & Demand Chain Executive 100, highlighting 100 Great Supply Chain Projects.
The world of supply chain is ever-evolving, becoming more complex seemingly by the day. To keep up with the volatility and the demand-driven needs of customers, supply chain solution providers, consultants and other organizations must be flexible enough to react to change, but also visionary enough to prepare for the future.
This year the magazine focused the criteria for its 100 feature on supply chain transformation projects that have met these responsibilities and achieved success.
"Our readers count on Supply & Demand Chain Executive for intelligence and decision-making information on solutions and best practices for supply chain transformation," said Barry Hochfelder, editor of Supply & Demand Chain Executive. "With this year's Supply & Demand Chain Executive 100, we are featuring '100 Great Supply Chain Projects' that demonstrate the broad spectrum of opportunities for enabling excellence in the supply chain."
Through an online submission process, Supply & Demand Chain Executive collected information on supply chain transformation projects, including information on the objectives, scope, timeline and results of the project. The submissions were evaluated by the magazine's editorial staff primarily based on: ambitiousness/scope of the project; creative application of technologies/solutions/services used; extent of the business results/impact; and clarity of submission.
"Our goal with this year's '100' is to put the spotlight on successful and innovative transformation projects that are delivering bottom-line value to small, medium and large enterprises across the different functions that comprise the supply chain," Hochfelder added. "The projects featured can serve as a roadmap for supply chain executives looking for new opportunities to drive improvement in their own operations."
After receiving nomination forms, the Supply & Demand Chain Executive editorial staff identified applicants that best fit the stated criteria for the 100. Final recipients will be featured with more detail in the cover story of the June 2014 issue of Supply & Demand Chain Executive, as well as online.
This year's winners, in alphabetical order, are:
Acsis Inc.; AFN LLC; Agistix; Allen Lund Co.; ALOM; American Global Logistics; APS Technology; Aptean; Aras; Arena Solutions; Ariba, an SAP Company; ARRIS Group; Avendra; Avercast; Basware; Baxter Planning Systems; BizSlate; Blue Ridge; C3 Solutions; CargoSmart; Celsis International; Chainalytics; Choice Logistics; Demand Management; DiCentral; DSSI; E2open; Eastman Chemical; Elemica; eLynxx Solutions; enVista; Epicor Software; ESM Solutions; Eved; eZCom Software; Fleetmatics Group; Fortna; 4Flow; 4SIGHT Supply Chain Group; Gazelle Information Technology; GENCO; GEP; GHX; Greybeard Advisors; Grand Junction; GT Nexus; Hasak Cold Storage; HICX; HighJump Software; Hyster Co.; Iasta; IHS; InfinityQS International; Ingram Micro Mobility; INSIGHT Inc.; Insight Sourcing Group; Insite Software; Integration Point; Intelligrated; International Business Systems; Intesource; Invata Intralogistics; IQMS; and ISM Services.
Also, JDA Software; John Galt Solutions; Jump Technologies; Junction Solutions; JVKelly Group; Kane Is Able; Kenco Logistics Group; Kinaxis; Lean Logistics; LLamasoft; LogFire; Logility; Logistix Solutions; Longbow Advantage; Manhattan Associates; The Mpower Group; NeoGrid; NetSuite; Netwin Solutions/GTKonnect; NewEgg.com; Nextraq; Next Level Purchasing Association; NGC Software; Nipendo; NPI; Noosh Inc; Objectif Lune; Optricity; Oz Development; Pace Harmon; Paragon Software; Performance Consulting Associates; PINC Solutions; Prime Advantage; ProcessWeaver Inc.; Purolator International; Puridiom; Quintiq; Rapid Ratings International; Resilinc; Retrotech; Ryder System Inc.; Saddle Creek Logistics Services; Satellite Logistics; Scania; SciQuest; ShipXpress; Silvon Software; Smart Software; Source One; Stamps.com; Steelwedge; SYSPRO; Terra Technology; Thrive Technologies; ToolsGroup; TradeStone Software; Transplace; Transportation Insight; Tyco Retail Solutions; UltraShip TMS; Ultriva; Universal Truckload Services; UPS; Virginia Department of General Services/Division of Purchases and Supply; Vocollect by Honeywell; W&H Systems; Witron; and Yale Materials Handling Corp.