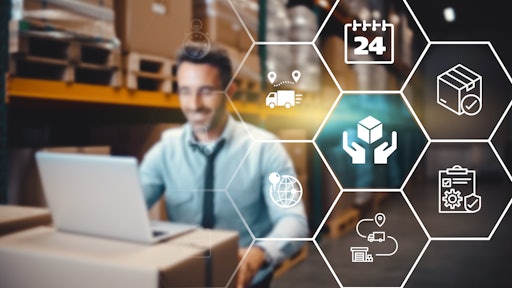 Generative ART AdobeStock_618444171
Logility, Inc. announced plans to acquire Garvis, a visionary SaaS startup that combines large language models (ChatGPT) with AI-native demand forecasting. The combined organization will enable a new supply chain planning paradigm with DemandAI+ that helps plan demand and inventory at the speed of the market.
"We are at the precipice of a significant transformation in supply chain planning with advancements in technology, generational shifts of planners, and the significant speed of market changes and disruptions," says Allan Dow, president of Logility. "With an AI-driven approach at their core, Garvis revolutionized the way companies forecast demand in very dynamic market. We're bringing them into Logility's portfolio to accelerate our shared vision to break the boundaries of traditional myopic supply chain planning solutions."
"Our clients have realized epic results by using AI-driven algorithms and natural language interfaces to gain insights into the peaks and troughs of demand and quickly communicate that knowledge to the rest of the organization," says Piet Buyck, CEO, Garvis. "Results have included a 70% savings of weekly planning time, 15-30% reduction in forecast error and improved inventory management, all with ridiculously fast implementation times."
Key takeaways:
Garvis designed DemandAI+, an AI-first forecasting solution that fuses generative AI with machine learning algorithms to create a modern, more inclusive and intuitive planning paradigm that quickly digitizes supply chain relationships and exposes that data to any stakeholder across the organization.
Built for the cloud, DemandAI+ will be embedded into the

Logility

Digital Supply Chain Platform for demand forecasting.
The acquisition advances

Logility

as a supply chain planning platform leveraging generative AI, advanced AI-driven algorithms, and machine learning. This innovative approach addresses base demand, promotional lift, causal forecasts, external data, and user insights within a single solution improving forecast accuracy and aligning organizations in today's dynamic market.