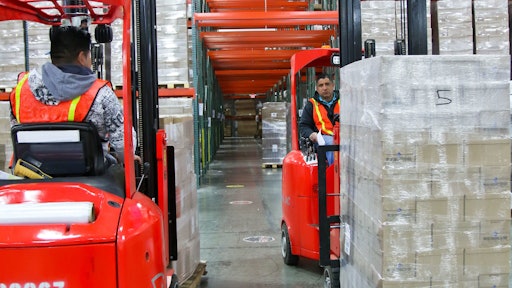 SnapFulfil
New Jersey-based order fulfillment specialist Resurge Fulfillment provides state-of-the-art e-commerce solutions to companies striving to build their brands and extend their influence beyond the sales transaction.
With a 118,000-square-foot headquarters in Freehold, N.J., and a new West Coast direct-to-consumer center in Reno, Nev., Resurge focuses on providing third-party logistics (3PL) services for firms and start-ups positioned for significant growth. However, the company required a warehouse management system (WMS) with the flexibility and scalability to adapt and grow as the company grew alongside its customers' rapid strategic expansions.
What's more, Resurge was due to go live on the East Coast while most of the United States was under a stay-at-home advisory during the Coronavirus disease (COVID-19) pandemic, so the WMS provider had to overcome unprecedented logistical challenges caused by travel restrictions and available labor.
The solution
In order to capitalize on demand, Resurge onboarded quickly and efficiently with WMS technology innovator SnapFulfil, who was able to support Resurge remotely and conduct regular online training meetings.
Despite travel restrictions preventing the usual on-site training and go-live support, plus limited labor for user acceptance and training, this collaborative approach - based on trust and mutual respect - meant they were able to complete an efficient, detailed and quality implementation.
With SnapFulfil, a fully-realized Software-as-a-Service (SaaS) provider, with its DNA "in the cloud," its geographically dispersed implementation and support teams have properly mastered remote augmentation.
The benefits
The ongoing pandemic has seen Resurge come to the rescue of small to medium-sized providers affected by labor shortages and health issues, plus those sellers left homeless by Amazon's move to shipping essential items only. Thanks to the easy configurability of the SnapFulfil WMS, customers were rapidly integrated into the system.
Subsequently, Resurge grew its customer base from zero to 25,000 orders per month, in under 10 weeks during the COVID-19 chaos. Knowing SnapFulfil can scale rapidly, Resurge expects 80,000 orders per month by September and 125,000 by November/December holiday season time.
Co-founder and chief strategy officer, Brian Kirst, explains: "Our previous fulfillment business Total Reliance (which my business partner Adam Napoli and I sold to a leading Chinese logistics concern in 2017) first utilized SnapFulfil and enjoyed revenue growth of more than 800%, plus the same efficiencies, accuracy and cost effectiveness. So, we completely trusted them to get our remote implementation right the first time and in just a matter of weeks. Plus, they bring a level of support which, in my experience, goes way above and beyond the industry standard.
"The SnapFulfil WMS has always been our differentiator, and on launching Resurge, we didn't even consider any other system. We attribute our success to having the right WMS in place, and SnapFulfil has bespoke functionality totally relevant to our business as a progressive type of 3PL. What's more, it gives us confidence and credibility to pursue prospects that might not otherwise select such a new style 3PL and DTC fulfillment associate.
"SnapFulfil is one of our most valuable partnerships. The ability to leverage their support services as if they are an extension of our core management team is another key component of our ability to succeed in the future.
"We're really pleased withthe Reno project as well, as all of the remote efforts related to implementation and setup is going to according to plan. Our partner there is learning from us daily and totally geared up to providing the better, faster and more adaptable order fulfillment and e-commerce service that the COVID-19 crisis has facilitated and is now here to stay," adds Kirst.