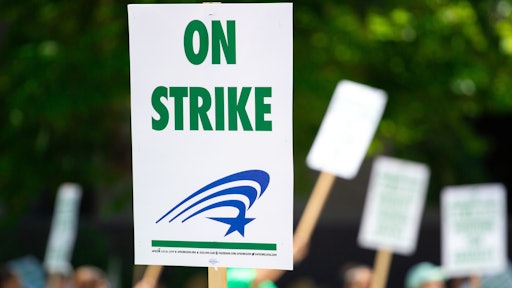 Pexels
Approximately 3,500 UAW members at Mack Truck manufacturing plants in Macungie, PA; Middletown, PA; Baltimore, MD; Hagerstown, MD, and Jacksonville, FL are striking over wages increases, job security, and pension and health plan benefits. This is the first time that Mack Trucks has experienced a strike in 35 years, lasting only eight days. At the time of this publication, the strike has entered its 11th day.
"We are surprised and disappointed that the UAW decided to strike, rather than to allow our employees to keep building trucks and engines while the parties continued to negotiate. The positive working relationship between local UAW leadership and management at our facilities was clearly in evidence throughout the negotiations, and progress was being made," Mack Trucks President Martin Weissburg says in a statement.
Due to the strike's effects on Mack's Hagerstown plant, Volvo has temporarily laid off 3,000 employees. The Hagerstown facility has halted production, creating substantial damage to Volvo as it produces engines, transmissions, and axles for the New River Valley factory, which is Volvo's largest truck manufacturing facility in the world.
Still, UAW strikers want further assurances from the company, arguing that they deserve job security for the future CNBC reports.
CNBC reports that the strike comes as truck manufacturers enter a downward phase of their production cycle, projecting a weakened freight outlook that has only been worse because of trade tensions. There has been a decline in new vehicle orders since the summer, and data from ACT shows a 21% decline in net orders for Class 8 trucks.
Volvo announced on Friday that there has been an 81% decline year-over-year in North American net truck orders, blaming the decline to elevated order levels in 2018.
Strike Continues
With the UAW contract's expiration coinciding with an industry shift from production could work against the union in negotiations.
As orders on the decline, the workers don't have leverage as there is less work for them to do. Still, Mack Trucks wants to remain committed to U.S. manufacturing.
Volvo is calling for a reasonable agreement as the company competes against rivals that are manufacturing in lower-cost countries.
It is unclear how long the strike will last as it enters its eleventh day.
"We are committed to the collective bargaining process, and remain confident that we will be able to arrive at an agreement that provides a competitive wage and benefit package for our employees and families, and helps to ensure the company's competitiveness," Weissburg says.