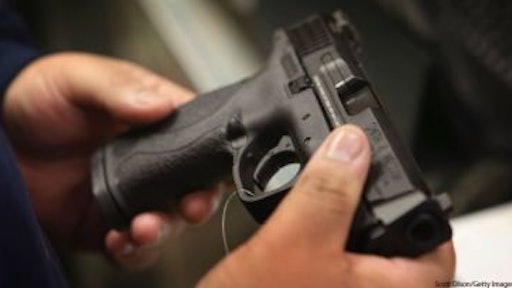 A second suspect has turned himself in to Chicago police on Wednesday after stealing over 300 brand new guns from a freight yard in Tennessee.
Roland Jackson, 24, turned himself in after him and his allegedly accomplice were found on Sunday in a van that was reported as suspicious. Taveyan Turnbo, 18, was also taken into custody.
Turbo is expected to appear at a bond hearing on Thursday while Jackson has been charged with felony possession of firearms.
According to authorities, a majority of the stolen guns were found inside the vehicle. ABC 7 Chicago reports that the pistols, .22 and .380 caliber Ruger firearms were stolen from a United Parcel facility in Tennessee as well.
The guns were initially shipped from North Carolina and were headed to Dallas, Texas when they were taken from a freight yard in Memphis. The theft is one of the nation's largest investigated by the bureau of Alcohol, Tobacco, Firearms and Explosives.