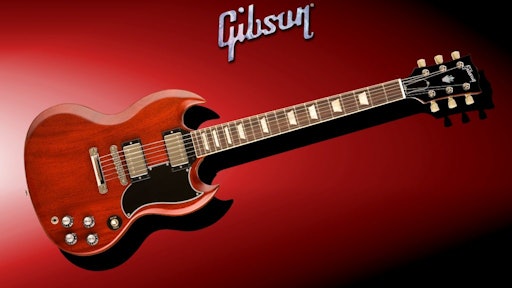 Bloomberg reported that Gibson Brands has filed for Chapter 11 bankruptcy protection. Lenders will be able to take control of the iconic guitar business that has supplied instruments to the likes of B.B. King, Slash and Elvis Presley.
The U.S. made guitar company was founded in 1894, and sells over 170,000 guitars annually in 80 countries.
The filing will keep Gibson in business, but gives ownership to its noteholders and replaces stockholders that include chief executive officer Henry Juszkiewicz, the company's leader for 30 years. Juszkiewicz will continue with the company upon emergence from bankruptcy. Current noteholders include Silver Point Capital, Melody Capital Partners and funds affiliated with KKR Credit Advisors.
During the restructuring process, Gibson will "unburden" itself of consumer-electronics unit that is blamed for its financial troubles.Its Gibson Innovations business sells speakers, headphones and DJ products. As the business restructures, the unit will be wound down.
Currently, the company owes $500 million and lenders will provide a loan of up to $135 million to keep the company in business, Bloomberg reports.
Gibson was in talks with creditor group, Jefferies LLC, in March, but was short lived as shareholders and KKR had differing viewings on appropriate parties to be involved. Gibson has also been in talks with other potential investors to receiving new funding to refinance its debt and take out the existing creditors.
Gibson has an exit plan in place with hopes that after the reorganization it will be able to return focus to the core guitar business.