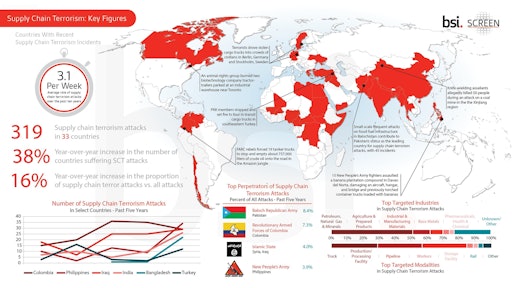 Attacks on global supply chains by terrorist groups have hit the highest rate ever, as have associated costs, according to a new report by BSI.
The type of attack can vary from targeting the oil infrastructure, hijacking and cargo theft through to contraband smuggling, extortion and kidnapping schemes. This causes considerable direct and indirect economic costs, disrupts the international movement of freight and creates reputational risks to organizations.
Analysis conducted by BSI's SCREEN Intelligence program found that, over the past 10 years, an average of 3.1 attacks have occurred each week. In 2016 a total of 346 attacks took place. With terrorist attacks on the rise, and the causes of disruption also rising, BSI warns that the costs to international trade and commerce will continue to increase.
In the last decade terrorists have attacked the supply chain in 58 countries, indicating the global nature of the problem. However, there are particular routes and countries that have been hit worse by these kinds of attacks. Supply chain terror attacks occur at alarming rates in many countries, including Colombia, India and Turkey.
Costs to the supply chain as a result of attacks are both direct and indirect. Physical attacks against the supply chain, such as arsons, bombings or armed assaults, create direct disruption, and often result in the destruction or loss of transported cargo.
Additionally, attempts to tamper with international cargo shipments can compromise the integrity of the load or result in the seizure or destruction of goods by customs authorities. When companies have to unexpectedly divert or reroute shipments, the costs can reach massive figures. For example, the terrorism related to the Syrian conflict forced Lebanese officials to reroute $1 billion worth of exports and resulted in the loss of $754 million in revenue for the Jordanian trucking industry.
BSI's analysis indicates that terrorism also imposes significant indirect costs on international trade and supply chains. Increased security measures, while intended to mitigate the risk of additional attacks, have disrupted the typical flow of cargo, especially for cross-border shipments. These additional procedures often have slowed the movement of freight and increased shipping costs, and companies have frequently responded by rerouting cargo or modifying shipping arrangements, further driving up costs. For example, following the Paris attack in November 2015 France imposed stricter controls along the borders with Belgium and Luxembourg, costing companies an additional $59 per delayed vehicle. The total cost to shippers in Belgium was estimated at $3.5 million within the first month following the attack.
David Fairnie, principal consultant, Supply Chain Security at BSI says, "The direct impact from acts of terrorism and the indirect effects from terrorist organizations exploitation of the supply chain have been, and will continue to be, critically felt across Europe. Terrorist attacks in major cities and against key transportation nodes in the UK, Belgium, France, Germany and the Netherlands have triggered heightened security levels and emergency border controls across the continent, leading to significant commercial impact on our client's businesses. BSI witnessed significant spikes in customer support requests, for our supply chain security advisory, resilience and business continuity services, after major terrorist events. I believe supply chain terrorism will continue to significantly impact Europe for decades to come."
The report also found that in 2016 terrorists targeted a wider range of industries and modes of transport than in any other year. In particular, terrorists increasingly targeted industries generally associated with private or corporate supply chains, rather than state-owned supply chain infrastructure. Over three years of data, terrorist attacks against the agriculture and food and beverage sectors more than tripled, attacks on the industrial and manufacturing materials and pharmaceuticals sectors more than doubled, and attacks against the metals industry nearly doubled.
Worryingly, despite the upward trend of attacks, BSI's report found that there is still inadequate spending on supply chain security. For example, in India, cargo throughput has increased sharply over the past decade, with air freight volume alone increasing by nearly 120 percent. However, this growth in shipping volume has not been met with a matching investment in supply chain security. Similar concerns in Bangladesh have led the European Union to recently prohibit the direct importation of air freight from Bangladeshi airports.
Jim Yarbrough, Global Intelligence Program manager at BSI, adds, "It is a common misconception that terrorism is strictly a national security issue and that counterterrorism is solely the responsibility of governments. However, our analysis clearly shows that commercial interests and private organizations are increasingly threatened, extorted and directly targeted by terrorist organizations all over the world. Corporations must take notice and prepare their organizations accordingly. We know that industry leaders are implementing stronger supply chain security measures and ensuring that their business partners and international suppliers are fully vetted and armed with the information and knowledge that will protect their business. They understand that these measures can go a long way in maintaining their global operations and business continuity."
Companies in this article