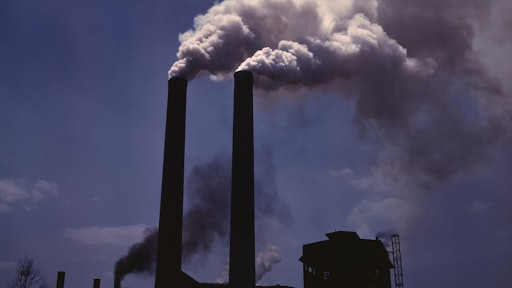 In June, President Trump announced his intentions to withdraw the United States from the Paris climate accord. In a speech from the Rose Garden, the president stated his belief that the 2015 pact imposes unfair environmental mandates on American businesses and workers.
However, environmentalists working for climate change have expressed a different point of view, namely that the decision will weaken efforts to prevent global warming.
As all of this plays out on the political stage, the private sector is marching toward a different environmental drum.
"We are seeing some real momentum in the private sector around trying to tackle climate change. I'm optimistic that the private sector is stepping up not backing down, and is sending an important message that they see climate change as a critical threat to their businesses," says Sheila Bonini, who leads the private sector engagement team at the World Wildlife Fund (WWF).
Dexter Galvin, who heads the supply chain program at CDP (formerly the Carbon Disclosure Project), agrees with Bonini's sentiment but cautions that companies still have a long way to go. He states corporations, while engaged in addressing climate change internally, have done little to impact carbon emissions in the supply chain.
Yet, CDP research finds that for average manufacturers, four times their emissions exist in their supply chain, and for retailers, up to 10 times their total emissions are in the supply chain. But Galvin says few companies are actually engaging suppliers in "any meaningful way" on climate change.
Bonini says these findings are not surprising. "We live in a time when supply chains are fast-moving, and widespread. Global supply chains provide us with a tremendous array of amazing products at incredibly reasonable prices. But it is challenging to work backward to see where a product was made and how it was made, and determine its environmental impacts," she says. "One product might impact deforestation while another creates food waste in the supply chain. There is a lot of complexity and that's what has made it difficult to address emissions [on a global scale within supply chain.]"
It appears, however, the tides of change are sweeping in as Wal-Mart announces its intentions to engage suppliers in reducing emissions in their own operations and supply chains. Dubbed Project Gigaton, this initiative will provide suppliers with an emissions reduction toolkit in an effort to eliminate one gigaton of emissions from the supply chain by 2030. "That is equal to three times the annual emissions of the state of California. And is the equivalent of taking more than 211 million vehicles off of U.S. roads and highways for a year," Wal-Mart reports in a press release.
The measure marks a giant leap toward making an impact on global warming. Greenbiz.com reports that in 2014 the global carbon emissions from fossil fuel use was 9.75 gigatons. To limit global warming by 2 degrees Celcius, as spelled out in the Paris Accord, the world must not exceed a carbon budget of 335 gigatons in the future.
In a world where every gigaton counts, and up to 80 percent of an organization's emissions are embedded in the supply chain, Project Gigaton could lead the way for other companies to follow suit within their supply chains and pave the way for a greener tomorrow.
"Wal-Mart is the largest global retailer. The impact they can have if they can really get their suppliers on board is tremendous," says Bonini of the magnitude of this program.
Elizabeth Sturcken, managing director, corporate partnerships for the Environmental Defense Fund (EDF), one of Wal-Mart's partners in the Gigaton challenge, states, "Project Gigaton shows real leadership in engaging the supply chain. It is critical, and it is needed, especially today when the federal government appears to be taking a step backward on the environment."
Putting the Pieces in Place
Wal-Mart serves 260 million customers per day in 11,695 stores in 28 countries, and has e-commerce networks in 11 countries. Its carbon footprint is extensive but the retail giant understands its environmental impact and has been hard at work for some time to reduce its Scope 1 and 2 emissions up to 18 percent by 2025. Project Gigaton simply attacks the retailer's remaining bucket of emissions – those from upstream and downstream Scope 3 sources.
"We are proud of the improvements we've made in reducing our own emissions but we aim to do more," reported Kathleen McLaughlin, senior vice president and chief sustainability officer for Wal-Mart in an official press release about Project Gigaton.
Wal-Mart is already known as the first retailer to have a verified science-based target emissions-reduction plan. The company now plans to work with 250 of its top global suppliers, working across multiple product categories like food, personal care products, toys, electronics and apparel, to employ these targets in reducing supply chain emissions. Laura Phillips, senior vice president for global sustainability, reported to GreenBiz.com, "Our goal is to [eventually] have as many suppliers as want to join in. This is a big tent, and there is a part for everyone to play."
Doug McMillon, CEO of Wal-Mart, told attendees at the company's annual Milestone Summit that Project Gigaton requires the entire value chain to be optimized, which includes considering human rights, environmental impacts, transportation and logistics, product design, sales and disposal of products at the end of their lifecycle.
"If you think through the whole system you end up helping all stakeholders," McMillon said.
To that end, the company has identified six key pillars to help companies hit the Gigaton mark, states Sturcken. These include helping suppliers target emissions reductions in energy, agriculture, waste, packaging, deforestation, product use and design.
To help suppliers make commitments to emission reduction or establish emission reduction projects, Wal-Mart collaborated with the WWF and EDF, and other like-minded organizations, to build a set of tools to get suppliers to voluntarily participate and help them hit the gigaton reduction target. This toolkit highlights the business case for why suppliers should consider signing on to Project Gigaton, and Bonini adds, "These tools will help Wal-Mart's suppliers make these kinds of commitments and start making the necessary changes to take carbon out of their supply chains."
The open-source toolkit will provide companies with the tools needed to create results and the methodology to measure progress. According to Bonini, the toolkit will be a digital resource center filled with research materials, videos and other information to help suppliers on their way to emissions reductions. It is here that they will learn how they start their journey toward meeting an energy reduction target, working on deforestation, addressing food waste and other issues.
Bonini adds there is a great amount of sophistication among Wal-Mart suppliers, with many of them, such as Pepsi, Dell and General Mills, already using science-based targets. The online toolkit offers some simple guidance but also provides case studies from these forward-thinking companies.
According to Bonini, one of the first challenges for many corporations can be finding out just who their suppliers are farther downstream, and where they are from, to get a sense of the risks they pose in the six identified areas. For this reason, the toolkit provides guidance to get more visibility into their supply chains.
"It's very difficult to tackle the emissions problem if you lack visibility into your supply chain, and are unsure exactly where the problem sits," she says. "Once they have visibility, companies need to set policies to get the sustainability results they want. How to enforce that is also very difficult; that is making sure suppliers several links back in your supply chain are actually adhering to the policies you set."
Sustainable Suppliers Already Engaged
Though Wal-Mart has not made the Gigaton challenge mandatory for its suppliers, the company has a history of getting voluntary compliance from them in its other sustainability initiatives.
In 2015, the company put a spotlight on suppliers that stood out on sustainability, by dedicating a section of its website to those who made the cut and explaining the reasons for putting them on the list. Today, more than 3,000 products are tagged with the company's "sustainability leader" badge.
One of Wal-Mart's existing sustainability leaders, Land O'Lakes Inc., a leading supplier of butter, snack and deli cheeses, and refrigerated desserts, became one of the first to join the Project Gigaton initiative.
The food company reported in a press release that the initiative fits well with its existing efforts to be more sustainable in its Land O'Lakes SUSTAIN program. With Project Gigaton the company will assess 100 percent of its farmer-member milk supply, where it will focus on continuous improvement of enteric emissions and yield potential, including greenhouse gas emissions manure systems; and to securing 20 million acres on the Land O'Lakes SUSTAIN Agronomy platform to continuously improve fertilizer optimization, soil health and water management by 2025.
Land O'Lakes reports it will meet their Gigaton commitments by equipping farms and ag-retailers with insights, technology and tools to implement and track on-farm sustainability practices that can improve outcomes for soil, water and air. With these commitments, the company hopes to reduce 10 million metric tons of greenhouse gas emissions by 2025.
"Through Land O'Lakes SUSTAIN, our partnership with member-owners and our ongoing leadership with some of the world's largest food producers and retailers, including Wal-Mart, our cooperative is in a position to achieve meaningful goals and shape the future of sustainability," said Matt Carstens, senior vice president of Land O'Lakes SUSTAIN in a press release.
Tools to Track Results
As it has done in the past, Wal-Mart plans to highlight top performers in Project Gigaton by employing survey tools from The Sustainability Consortium to track supplier performance and results.
The company has also asked participating suppliers to get third-party certification for their results. "There needs to be some verification of what's happening on the ground, particularly in challenging areas like deforestation," Bonini explains.
She adds they will need to work toward an agreement on metrics to ensure that apples to apples comparisons are being made.
"Tracking actual energy use and measuring it from a greenhouse gas perspective is fairly straightforward, but it's not as straight forward in some of the other areas," she explains. "For example, how do you translate not having deforestation into a greenhouse gas reduction? We've been working on this but it's not perfect. We are working with NGOs (non-governmental organizations) to make the conversions and metrics very clear and standard. That's a big challenge but it's one that is evolving, and I'm optimistic that the project will actually help us drive the momentum to create very easy-to-understand metrics."
Though work remains, Carter Roberts, president and CEO of the WWF, remains confident on the final results of Project Gigaton. "Project Gigaton is a testament to the transformative impact that leaders of the industry can have on our greatest common challenges. As more companies follow in the footsteps of Wal-Mart and their suppliers, we can achieve the critical mass needed to address climate change. This is an important step toward a safer and more prosperous future."