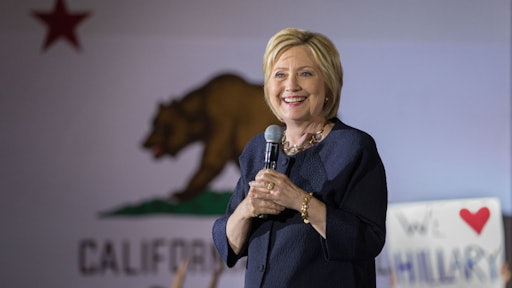 Hillary Clinton's brightening White House prospects have cleared a path for her to pursue a $275 billion infrastructure plan that would be paid for by corporate tax-law changes, a central part of a broad agenda that has been overshadowed by her attacks on Republican rival Donald Trump.
The rising likelihood of a Clinton presidency also augurs new influence for liberals in financial regulation, a strong push to expand workplace policies including paid medical and family leave, and efforts to fix Obamacare. The proposals, if enacted, would ripple across the economy, affecting companies including Apple Inc., Google Inc. and Microsoft Corp.
Yet her plans have received little attention in a 2016 race that's largely been a referendum on Trump's qualifications, particularly after allegations that the billionaire businessman made unwanted sexual advances toward women. Polls indicate the outcome is in little doubt: The election prognostication website FiveThirtyEight assessed an 86 percent chance of a Clinton victory.
To read the full story, please click here.