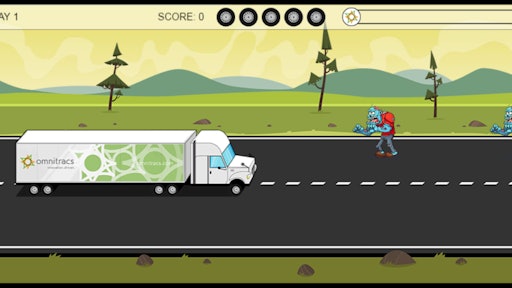 Omnitracs LLC, a global provider of fleet management solutions to transportation and logistics companies, launched a new web-based game called Zombie Dispatch, designed to recognize the important role of trucking and truck drivers in our economy, as well as illustrate technologies and solutions to help fleets be more efficient, easing the burden on fleet managers and hardworking drivers.
The Zombie Dispatch game takes place in the immediate aftermath of a zombie outbreak. Players are challenged to complete a number of truck-driving missions to deliver a cure to the hospital and prevent the possibility of a zombie apocalypse. Players navigate their trucks through rural and urban settings, safely dodging debris and damaged vehicles, while eliminating the waves of zombies emanating from the infected area.
"We created Zombie Dispatch as a way to have a little fun around Halloween, and help make drivers and fleet operators aware of some of the many products and solutions available to them. From electronic logging devices and navigation apps to route planning software and sophisticated analytics from Big Data, these solutions improve fleet efficiency and enhance driver satisfaction," said Jim Gardner, vice president of marketing.
"While zombies aren't real, the critical challenges facing the trucking industry are downright scary. We recognize that trucking and truck drivers are the lynchpin of the economy, moving all types of products from port to store or refinery to gas station. Zombie Dispatch is a fun game with a serious message, that Omnitracs is committed to providing the technology to improve the way the drivers and fleet managers view, and improve, the important role of trucking in the economy."
According to a study by Frost & Sullivan, implementing connected truck technology like Omnitracs offers results in a 10 to 15 percent increase in productivity, 30 minutes a day in saved labor cost, up to a 25 percent reduction in fuel costs and up to 20 percent increase in vehicle utilization. And still, despite advances in technology, automation and self-driving technologies, human drivers will play the most essential role in the transportation industry for years to come.
Zombie Dispatch can be found at www.playzombiedispatch.com, and is optimized for both desktop and mobile play.
Companies in this article