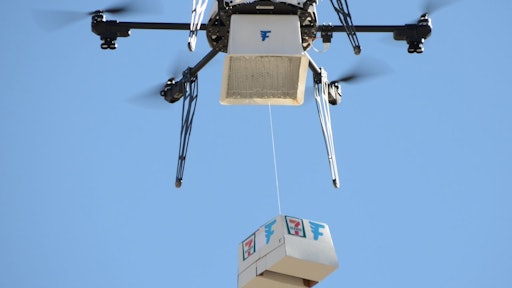 7-Eleven Inc. and a tech startup called Flirtey beat Amazon to the punch in making the first drone delivery to a customer's home in the U.S.
Most already know 7-Eleven, the convenience store retail chain that boasts about 10,800 stores in North America and 59,500 in total around the world. Flirtey is a privately held company based in Reno, Nevada, which builds and operates drones to make deliveries that are needed in humanitarian and health work, retail and food industries.
Rather than adapting existing unmanned aerial vehicles, Flirtey builds its own, develops the software to run them, and creates proprietary packaging and containers to keep items secure during delivery, according to CEO Matt Sweeney.
During the 7-Eleven delivery, which took place in Reno, Nevada, on July 10, Flirtey successfully transported: Slurpees, a chicken sandwich, donuts, hot coffee and candy to the home of the family who placed the order.
To read the full story, please click here.