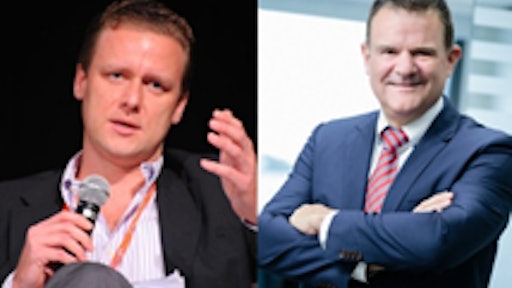 Following five years of close collaboration, the supply chain management solution and service experts AEB Asia Pacific and ISC Far East formalized their partnership to deliver more powerful solutions to the Asia Pacific market for optimizing operations, visibility and control in global supply chain management.
ISC is a provider of supply chain management services. The company offers traditional logistics services, independent solution and process consultancy, and tax and duty optimization—with a strong focus on system integration of logistics providers through control tower management structures.
AEB delivers logistics and customs software solutions. The company's portfolio includes IT support from procurement to fulfilment—for all intralogistics processes and beyond, merging global trade and logistics functionalities in a single-solution suite.
AEB and ISC are well-established in the Asia Pacific, and have a firm footing in the supply chain and logistics industry. Both parties bring a wealth of knowledge to the partnership, and strongly engage in contributing to the advancement of the sector through user groups, chambers of commerce, industry associations, thought leadership initiatives and various industry conferences. The combination of AEB and ISC solutions and services creates a powerful offering: AEB provides the required system foundation to facilitate and structure the complete package of value-added services and solutions from ISC, resulting in custom-tailored solutions for supply chain optimization.
AEB solutions and ISC services support businesses from the start of the process at point of sourcing: ISC commences with fact-finding and analysis, defining clear specifications to develop and manage request-for-quotation (RFQ) processes. Once providers are identified, and processes, roles and responsibilities are defined on the basis of a total cost of ownership approach, ISC conveys the integration roadmap to its customers. Once implementation is complete, and operations are up and running, ISC's control tower team groups and coordinates suppliers, while AEB's Visibility and Collaboration Platform monitors the process through seamless integration.
Udo Westphal, Singapore-based managing director of ISC Far East, said, "The Visibility and Collaboration Platform is a comprehensive tool, which supports daily operational activities of the control tower to achieve greater efficiency and transparency."
Frans Kok, general manager of AEB Asia Pacific, also based in Singapore, commented, "I am excited about the role of AEB in supporting ISC's operations, and we look forward to ISC's upcoming projects and possible integration of further solutions from AEB's software suite."
Westphal continued, "Together, we focus on the total cost of ownership and converting fixed supply chain costs into variable costs for our customers, while providing complete visibility and security. This—and our continuous improvement philosophy—allows customers to concentrate on their core business while operations are managed in a precise, efficient and cost-effective manner."
Supply chains are growing evermore complex and international, while cost pressures, competition, market shifts, regulatory changes and customer demands are continuously on the rise. Smooth, organizational and operational processes from end to end, as well as effective supply chain visibility, result in increased service levels and reduced costs, and help companies to mitigate risks. At the end of the day, the complexity of modern supply chains can only be mastered through comprehensive hands-on supply chain know-how and visibility. In this respect, IT structures are paramount to provide the necessary support across the entire network.
AEB and ISC's partnership was formalized in the second quarter of 2016 to support businesses in achieving better supply chain efficiency in the areas of procurement, customer satisfaction, inventory management, supply chain cost management and risk management.
Companies in this article