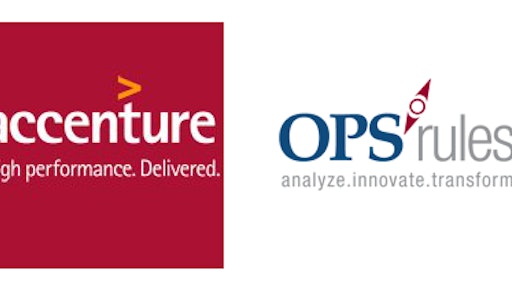 Accenture is expanding its machine learning and operations analytics capabilities by acquiring OPS Rules, a boutique analytics consulting company that specializes in the application of data science to create supply chain and operations analytics solutions. When the acquisition is completed, Accenture will add new operations analytics professionals to its team that apply machine learning and optimization techniques to develop fresh and innovative analytics approaches for clients across many industries. Terms of the transaction were not disclosed.

Founded in 2012, OPS Rules has offices in Waltham, Massachusetts and Richardson, Texas. OPS Rules is led by David Simchi-Levi, a professor of engineering systems at the Massachusetts Institute of Technology (MIT), and renowned supply chain and operations analytics expert. Simchi-Levi and his team will join Accenture Analytics, part of Accenture Digital, and will also be a part of Accenture's Data Science Center of Excellence, an innovation team that focuses on solving immediate and complex client problems through advanced analytics approaches, including machine learning, deep learning, text analytics and more.

Serving clients in the consumer packaged goods, high-tech, life sciences and industrial sectors, OPS Rules provides multi-echelon inventory optimization, custom supply chain analytics, supply chain risk management, and dynamic pricing services to help companies improve operations and enhance business results.

"Under David Simchi-Levi's leadership, the team at OPS Rules was extremely innovative in applying machine learning to optimize various business operations, including supply chains, procurement risk and dynamic pricing for the retail industry and beyond. We are delighted to welcome them to the Accenture Analytics team," said Narendra Mulani, chief analytics officer, Accenture Analytics. "OPS Rules' expertise and techniques will continue to enhance our ability to create value at scale for our clients through data-driven transformations."

"Our mission is in total alignment with Accenture Analytics—meaning every day we are focused on helping clients identify and capture hidden opportunities in their data," said David Simchi-Levi, chairman of OPS Rules. "By joining Accenture, we will be able to tap into its global footprint, ability to deliver at scale, and deep industry knowledge to collaborate on advanced and operational analytics strategies that can empower even greater change. Together, we can help clients to innovate through advanced data science and transform into insight-driven enterprises."

Accenture is constantly developing and delivering new analytics capabilities for its clients. Within the past year, Accenture launched the Accenture Insights Platform, a cloud-based analytics-as-a-service solution designed to simplify analytics and deliver real-time actionable insights, and the Accenture Cyber Intelligence Platform, a security solution that uses machine learning and streaming analytics to help organizations identify network-born cyber threats. Accenture also acquired Gapso, an advanced analytics services and solutions provider based in Brazil that specialized in solving complex supply chain and logistics challenges.

Completion of the acquisition is subject to customary closing conditions.
Companies in this article