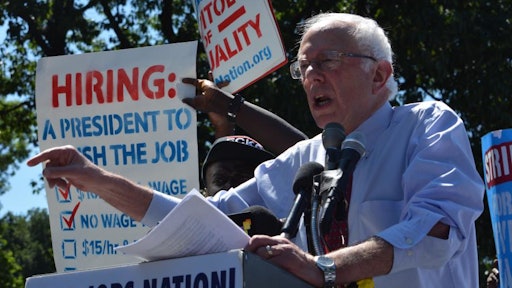 March 24, 2016—West Coast port dockworkers endorsed Bernie Sanders for president, breaking with their counterparts on the East Coast who had endorsed Democrat Hillary Clinton.
Sanders, the Vermont Democratic senator who has run behind Clinton in the race for the party's nomination, "is best on the issues that matter most to American workers," Robert McEllrath, president of the International Longshore and Warehouse Union (ILWU), said in a statement. That includes "better trade agreements, support for unions, fair wages," and other issues including "fighting a corrupt campaign finance system."
The ILWU represents about 50,000 workers at ports in California, Oregon, Washington, Alaska and Hawaii.
The East Coast International Longshoremen's Association, which represents about 65,000 workers, endorsed Clinton before the primary selection process began. In a letter to her last October, ILA President Harold Daggett wrote: "Your concern for working Americans has been loud and clear." Daggett added that the ILA would "work very hard and employ our many resources to help you become our next president."
To read the full story, please click here.