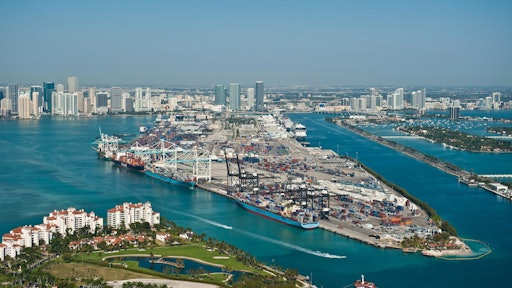 Feb. 3, 2016—Interest in Cuba-bound ferries has been high enough at PortMiami that officials are looking for ways to create temporary terminals to accommodate operators wanting to launch overnight runs to Havana every day, according to The Miami Herald.
Planning for a new passenger-and-cargo route to Cuba is detailed in hundreds of emails and internal documents obtained by The Miami Herald through Florida's open-records laws. They show multiple ferry operators with newly secured licenses from Washington eager to lock down space at the port, which at one point was planning on the Cuba-bound vessels launching in March.
The documents show a yearlong effort by PortMiami to get ready for what could be a significant new enterprise there. Industry leaders predict the ferry routes will be popular with Cuban-Americans not only visiting their homeland, but also bringing large stores of goods from the U.S. for family on the island.
Internal emails also hint at the dicey politics involved at the county-owned port, given the Castro regime's continued pariah status in large swaths of Miami's Cuban-American population.
Sensitivity was on display during an early email exchange between United Caribbean's Bruce Nierenberg and senior port officials just weeks after President Obama's Dec. 17, 2014 announcement on his pursuit of full diplomatic relations with Cuba.
To read the full story, please click here.