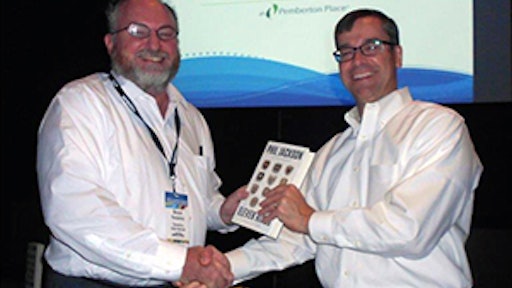 Raleigh, N.C., and Atlanta—Sept. 10, 2013—The 2013 Tompkins Supply Chain Leadership Forum, held August 26 through 28 in Atlanta, brought some of the world's brightest supply chain and logistics executives together to network and learn how to reinvent their supply chains to better meet customer demands.
Supply Chain Consortium awards, announced on August 27 at the Georgia Aquarium, included Consortium Advisory Board honors and Outstanding Contributor awards. Companies with leaders who received awards included Domino's Pizza, GlaxoSmithKline, Hallmark Cards, C.H. Robinson, The Exchange, Ingram Micro, Kane Is Able, MillerCoors, Target, The Coca-Cola Company, University of Wisconsin-Madison, Johnson & Johnson and The J.M. Smucker Company.
"This year, we had the highest attendance in the nine years that the forum has been held," said Bruce Tompkins, executive director, Tompkins Supply Chain Consortium. "More networking opportunities were available than ever before, and the education sessions featured new thinking on distribution, network design, logistics and demand-driven technology, among other topics. I know that attendees walked away with some fresh supply chain strategies."
In the forum's opening keynote, Jim Tompkins, CEO of Tompkins International, also unveiled strategies for responding to the disruption taking over the retail industry. He encouraged leaders to "face the titans"—Amazon and Walmart—by developing a smart strategy that meets the unique needs of the customer.
The next forum will be held August 25 through 27, 2014.
Companies in this article