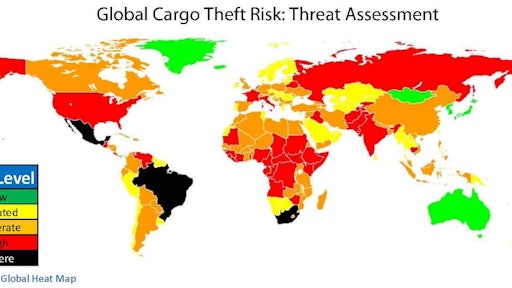 The prevention of cargo theft on a global scale requires intimate knowledge of incident trends on a regional basis, as security programs and mitigation techniques do not always transfer successfully from region to region, according to FreightWatch International (of Sensitech Inc.). The global logistics security services company, which aims to mitigate risks associated with cargo theft, identified that the greatest risk of cargo theft today exists in Brazil, Mexico and South Africa, as cited in its "2013 Global Cargo Theft Assessment" report.
According to the report, cargo theft rates in Europe increased 24 percent on average from 2011 and were on the rise in Asia as well. Cargo theft rates in North, Central and South Americas remained consistent with prior years.
"As global cargo theft incidents increase, the cargo theft risk that shippers face must be actively managed," said Ron Greene, Vice President, FreightWatch International. "Understanding global and local risks can help shippers take proactive measures to keep in-transit cargo secure."
For the past decade, more than 10,000 cargo theft incidents have been reported in Brazil. In 2012, nearly 6,800 incidents were reported in São Paulo alone. In Mexico, more than 6,000 cargo theft incidents were reported last year, the majority of them involving truck hijackings. In South Africa, more than 800 truck hijackings were reported.
In Europe, data collected and analyzed by FreightWatch International indicates pharmaceutical products are actively being targeted in some countries on a large scale for the first time. According to the report, Italy is becoming a pharmaceutical theft hot spot, with thefts more than doubling in 2012.
The most frequently stolen commodity in Asia in 2012 was food and drink products but other commodities are new targets in this region. Increasing demand for high-value consumables, such as electronics, is identified as the reason for the increase in cargo theft in Asia, based on incident reporting.
For the third consecutive year in the U.S., food and beverage (F&B) items were the product type most often stolen in 2012, accounting for 19 percent of all cargo theft, followed by metals and electronics.
In Mexico, the preferred method for cargo criminals continues to be hijackings, which occurred in 83 percent of all recorded incidents in 2012. Cargo theft is concentrated in several of Mexico's largest cities because they are centers of industry and distribution hubs for cargo.
"Understanding these trends can help shippers implement loss-reduction programs to minimize cargo theft, increase supply chain efficiency and deliver products intact and on-time," said Greene.
For more report details, visit http://bit.ly/ziF3l3.
This report is courtesy of FreightWatch International.
Companies in this article