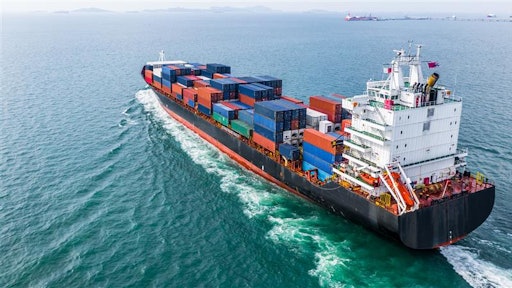 Kalyakan/stock.adobe.com
Throughout the pandemic, supply chain disruptions became commonplace and mainstream news. Lengthy lead times usually dominate those headlines, but the downstream effect can be greater.
When freight isn't moving, it's at risk.
Two ports in the United Kingdom, Felixstowe and Liverpool, face projected labor disputes. The ensuing operational stoppage has shippers sweating. Felixstowe, the biggest container port in Britain, handles more than 4 million TEU and 2,000 ships each year, including the 400-meter Ever Arm, which made a stop there on Aug. 10.
When chokepoints in the supply chain overflow, it creates logjams of stationary freight. Whether at the port itself or nearby drayage yards, the backup of freight draws the attention of organized thieves and local street criminals.
When seaports became overwhelmed with cargo in the United States, the concentration of stationary freight on and along rail lines proved to be a ripe target and mass rail pilferage became a widely reported issue. The debris even caused train derailments. With the proliferation of soft-sided trailers in the UK, gridlocked over-the-road freight in terminals near the seaport will also be easy targets.
So what can you do to minimize your risk and keep freight moving? Let's take a deeper look at the problem at hand and how greater visibility can empower you to be more agile when plans need to change.
When the cargo stops
As the past two years have shown, it doesn't take much to throw a supply chain into chaos. This is a consequence of the just-in-time logistics system that hasn't been working, and there isn't enough capacity in all areas of the supply chain for a quick fix.
Thieves have recognized this and capitalized. Crime reporting isn't mandatory for privately owned operators, but recent reporting shows that cargo theft continues at roughly the same rate as last year and criminals are picking up on patterns like certain markings on containers that might signal top-end electronics or other valuables. Thieves may not be able to get away with the entire container, but they can pilfer quite a bit or compromise sensitive cargo.
For instance, with some food or pharmaceutical shipments, a broken seal means the goods are no longer fit for sale. If you find your freight has been tampered with, you're back at square one, just as if it had been stolen.
How to keep it moving
The best remedy for the risk of theft is visibility into your shipments. If you know where your freight is, you may be able to redirect it before it reaches a choke point. At this point, it may be too late to reroute freight and avoid a stagnant port like Felixstowe or Liverpool, but having as much insight as possible informs decisions.
Any action you can take to minimize stationing time can reduce the risk of theft. Freight is more vulnerable in a drayage yard than at a seaport, so aligning drivers' schedules to pick up the freight as soon as possible and minimize the time between pickup and delivery can give you more control.
In the case of Felixstowe, and likely Liverpool, you can't control a strike. But when operations resume, there will be a capacity strain on all the links in the supply chain downstream from the port. Short-haul drivers, long-haul drivers, warehouse space, secure parking areas will all be hurting for capacity, which creates additional security risks. The more visibility you have, the better you'll be able to deal with these unpredictable chokepoints and deliver your freight as close to on time as possible.