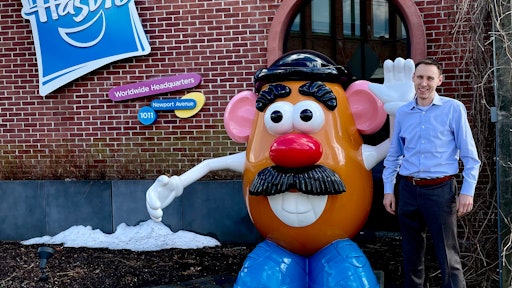 Hasbro
For many in the industry, falling into the supply chain space has been a happy accident. Some folks began their careers working as accountants, consultants or truck drivers in other markets. Maybe they provided security or worked on the assembly line. Could be that their ambitions were to be a lawyer, doctor or pharmacist.
The same can be said for Nicholas Matlach, who longed to be an attorney. But, he couldn't afford the years of schooling required, so he worked at a 2-person computer repair shop during undergrad, while providing IT support at the U.S. Supreme Court by day and attending law school at night.
"I graduated from law school during the recession and the debt associated with that schooling required a pivot into an opportunity in cybersecurity, which eventually led me to protecting some of the most iconic brands across a global supply chain and through entertainment pipelines," Matlach says. "As with many practitioners in this role, the industry found me more than I it."
Although Matlach is a licensed attorney and spent 5 years supporting U.S. Supreme Court Justices and court personnel, he now serves as director of global security compliance for Hasbro, where he utilizes his IT background to protect cargo and intellectual property (IP) within the company and its third-party facilities and oversee physical, digital asset protection, loss prevention, supply chain security, investigations, security assessments and event security.
"Be prepared for disruptions and be prepared to disrupt. I can't think of an industry that won't see significant change as a result of the pandemic, and even outside of the influence of the pandemic, most industries are already seeing waves of significant changes roll through at an unprecedented pace," Matlach says. "Anyone who thinks they will be joining the same industry at the end of their education that they anticipated joining at the start is mistaken. It's best to let go of that expectation early on and adopt a flexible viewpoint that is prepared to see things as they truly are in the moment and as they will be, not as they once were. When you start your career, don't be afraid to present different viewpoints and challenge the status quo."
Since 2012, when he joined Hasbro, he's made a number of achievements, including inventing and implementing a global program that reduced the number of IP leaks across Hasbro and its manufacturing, vendor and supply chain ecosystem by over 80%; developing and implementing over 230 unique globally-applicable controls for manufactures, business partners and internal departments; developing a digital and physical asset protection program as an industry exceeding standard; leading the IP Security Governance Committee, a C-suite group chaired by Hasbro's president, to govern and support IP security initiatives with regular updates, reports and strategy presentations; consolidating Hasbro's Customs Trade Partnership Against Terrorism (CTPAT)-based supply chain and IP security compliance programs; designing and utilizing 400-plus physical security verification assessments to measurably reduce risk; maintaining threat intelligence and providing rapid investigation and crisis management to content partners and internal stakeholders on incidents; overseeing investigations and collaborating with law enforcement and private investigators; instituting diversity and inclusion measures across the 20-member team in four countries and building a diverse, gender-balanced team with hires from non-traditional backgrounds. It's these reasons as to why Supply & Demand Chain Executive named Matlach the overall winner of the 2022 Pros to Know award.
The Pros to Know award recognizes outstanding executives whose accomplishments offer a roadmap for other leaders looking to leverage supply chain for competitive advantage. Supply & Demand Chain Executive received over 350 nominations for this award, the highest ever in Pros to Know history, but what differentiates Matlach from other award winners is his ability to apply knowledge and know-how from a different industry into the supply chain space, proving that there's more to the supply chain industry than just a supply chain-focused title.
"I don't know if there is a secret other than to keep your eyes open for opportunities and jump on them when they come," he says. "I find enormous satisfaction in facing a unique challenge and being able to craft a solution that works or an innovation that truly improves. This isn't a role or an industry where solutions are going to come ready-made out of a textbook or a business journal. Being in a position to encounter a new challenge and create a new solution from scratch is what drew me to this position, and it's what keeps me excited for the start of each new day."
Cybersecurity: From computers to toys
Matlach's security career kicked off at IBM, where, as senior cybersecurity specialist, he helped generate a 600-plus-page analysis on how to design and develop a leak-proof manufacturing supply chain security program for Hasbro's confidential products related to unreleased entertainment. This role eventually led to a position with Hasbro as manager, global security compliance. In 2018, Matlach was promoted to his current director role where he oversees the protection of digital and physical assets (images, CAD/design sculpts, prototypes, samples, cargo, cargo data etc.), with responsibility for securing how they are generated, stored, shared and used within Hasbro's supply chain, which consists of 70 manufacturers and more than 230 business partners.
"Leaks are a part of any manufacturing environment, and at Hasbro, preventing them is business-critical," he says.
That's why, under Matlach's leadership, Hasbro has led the industry in pioneering manufacturing security standards that reduce theft, loss and leaks across the supply chain. Matlach and his team partnered with CMX to implement its CMX1 platform to digitize and streamline the auditing process, which in turn, reduces risks and elevates quality and compliance.
"By digitizing all auditing with CMX1, Hasbro has been able to double its suppliers and reduce the number of auditors and can now close an audit within 48 hours, including two review cycles. It also no longer needs third-party auditors. All audits are done in-house by highly trained professionals that are very familiar with our mitigation strategies. During the challenges of the pandemic, this capability allowed Hasbro to transition to virtual desk audits performed remotely without missing a beat," Matlach says.
Matlach and his team are also executing a supply chain strategy with a goal to diversify from China, where over 90% of their manufacturing previously took place, and built up a substantial vendor base in India and Vietnam, which will ultimately enable Hasbro to produce up to 60% outside of China.
Hasbro also continues to modernize its supply chain model, which requires consolidating some of the smaller suppliers where their capacity or capabilities are no longer needed or are shifting that capacity to other larger suppliers. Matlach and his team are thereby tasked with performing the offboarding of the smaller factories, working on timing and maintaining manufacturing integrity during the sunset process, along with on-site tool and injection molding parts transfers and moving other elements to new factories that will be taking on the work.
"I have been very fortunate to have landed where I am. A background in IT seems to be a rarity in the physical security industry, which more often draws people from an operational or law enforcement background. However, like most industries, security is becoming increasingly digital, with risks interwoven between cyber and concrete arenas," Matlach says. "Without a cycle of continuous data collection, evaluation and calibration, security and supply chain resilience will quickly fall out of sync with the needs of the business and the realities of the world."
"Toy and game manufacturing is intensely challenging because product lines are both very dense and relatively short-lived. We bring to market close to 1,500 new items each year on a development cycle that can be as short as a few months from concept to consumer hands," he adds. "Our manufacturing base and supply chain can shift dramatically in a very short time to accommodate a need that may only last a few seasons. But, this also allows us a fresh start and the ability to adapt and innovate process frequently. We can test something through a full lifecycle essentially every year, and that's not an opportunity present in other industries."
At the end of the day though, when all is said and done, mitigating risk, regardless of the industry, is what keeps supply chains safe.
"I know I am only one of countless others in the profession that keep the supply chains running and safe," Matlach says. "A truth, perhaps never more starkly realized than during the pandemic, is that all the plans, policies and proscriptions in the world, when issued from a distance, can't guarantee that you know what is truly happening on the ground. Being physically present in a place and witnessing process in action has become a luxury rarely afforded in this environment. Maintaining operational awareness without being there has been akin to getting dressed in the dark – until you turn on the lights, you can't be sure how mismatched your intentions were to the outcome."