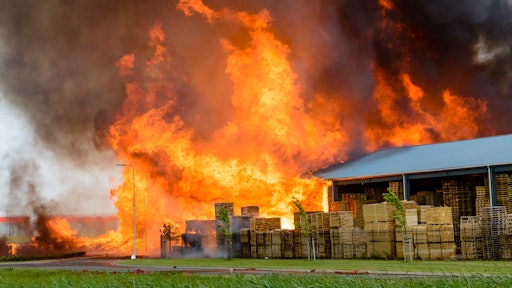 The EventWatch 2017 Annual Report, authored by Shahzaib Khan and Andrew Perez, analyzes extensive supply chain information gathered by the firm's 24/7 global event monitoring, alert, and analysis service. Integral to the comprehensive report is Resilinc's supplier repository, which includes risk information associated with more than 85,000 supplier sites, representing over 2 million parts.
Natural disasters and weather-related events proved to be considerable sources of disruption across the globe, especially in the United States, according to EventWatch.
For example, Hurricanes Harvey, Irma and Maria contributed to a significant development in 2017—North America became the most disrupted region in terms of naturally occurring events.
Meanwhile, 2017 saw its share of considerably disruptive events, such as the aforementioned hurricanes, and the financial troubles of major electronics manufacturer Toshiba. While mitigating against these "black swan" events is crucial, research continues to reiterate the importance of preparing for smaller, more frequent disruptions that could have a larger impact on business revenue and day-to-day operations. Therefore, a dynamic supply chain risk management program in 2018 should focus its visibility on larger-scale events, such as storms and other natural disasters, as well as events that occur on a daily basis like site-level disruptions.
After reviewing the various disruptive occurrences that took place this past year, Resilinc has compiled a list of five ongoing events to carefully monitor in 2018. Following are highlights of the report.
Geopolitical developments in North Korea: The supply chain community would be well served in keeping a keen eye on geopolitical developments in North Korea. The situation appears to be volatile and potentially disruptive to the global supply chain network given the nation's proximity to China, South Korea, Japan and the United States, both geographically and politically.
China's response to pollution and its impact to manufacturing: China's efforts to curtail pollution gave supply chain professionals much to contemplate in 2017. Throughout the country, factories were shuttered to help reduce hazardous levels of smog. As pollution is not an easily solved problem in the short-term, factory shutdowns and manufacturing limitations may be further utilized by China in 2018.
Cyber-attacks and cybersecurity: Cyber-attacks, particularly of the ransomware variety, and issues of cybersecurity made headlines throughout 2017. Cybersecurity should be of the utmost concern to supply chain professionals in 2018.
NAND flash chip supply shortages: In 2017, reports surfaced of temporarily halted production at Toshiba facilities in Japan leading to strained supplies of NAND flash chips globally. As global supplies of NAND flash chips are highly reactive to changes in production, persistent monitoring will be necessary in 2018.
Increased volatility of storms and natural disasters: With billions of dollars in damages incurred due to natural disasters in the United States, the spotlight has turned again to climate change and its role in the increased volatility of storms. In 2018, stronger storms should be expected and should be mitigated against as well as possible. Pertinent climate change/weather data should also be used in decision-making when available.
Disruptors
Factory fires and explosions represent the most common disruption observed in 2017, up from the second position the year prior. Merger and acquisition represents the second most common disruption observed, dropping from its first position in 2017.
While most supply chain professionals are likely to have their eye on the more common disruptions represented in the report's top 10 (see Figure 1), a number of less common disruptions all registered increases in 2017 from the year prior. These include EMA/FDA/OSHA action, geopolitical/terrorism, regulatory change, mine shutdown/explosion, environmental hazard, cyber-attack, forest fire, company split and volcano.
Last year, the automotive industry was the most disrupted industry as it experienced an increase of 395 bulletins published. All industries observed increases of around 300 bulletins or greater in 2017.
Most supply chain professionals would consider Asia to be the region most disrupted by natural disasters due to its inherent vulnerability to typhoons and earthquakes. This trend was corroborated in 2016's EventWatch Annual Report, as Asia was the most disrupted region by natural disasters. However, in 2017, due to particularly disruptive storms and extensive forest fires, North America was significantly impacted by naturally occurring disruptions, and for the first time, North America was the most disrupted region by natural disasters.