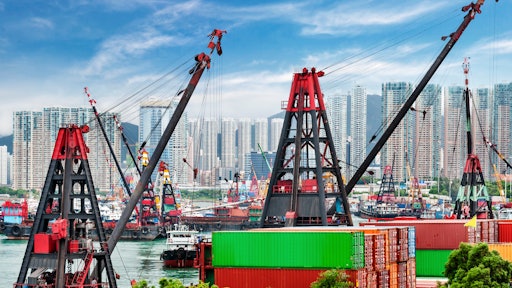 Q: Global4PL is a leading U.S. exporter with a wealth of experience. Let's discuss some of the best practices for U.S. exporters and the next steps for those who are thinking of expanding into exporting.
A: Exporting is a great way to increase sales since the market overseas is larger than the U.S. market. While exporting is not difficult, you need to set it up correctly. For example, exporting requires a basic understanding of the HTS, ECCN, License Exceptions and knowledge of who is the end-user or user of your products, export controls, as well as the financing and payments aspects.
The best exporters I know have this in common, i.e. they set up the basics correctly from the beginning. Once orders start coming in and things get busy, you cannot afford to have customs delays, issues with non-compliance and aggravated customers. The U.S. government expects exporters to perform due diligence and be a responsible corporate citizen.
In the meantime, there are a lot of organizations and companies out there to help exporters, including the federal government, colleges, trade organizations and consultants, as well as some free resources.
At Global4PL, we do our best to help our customers grow globally. It might be surprising, but only 3 percent of U.S. companies are currently exporting, so there are plenty of opportunities for companies to engage. As stated above, this not only helps a company's sales, but also positively affects the U.S. economy.
Q: At the same time, exporting has also become more challenging and risky. For example, the DOJ has stepped up enforcement of the FCPA, while a myriad of other government agency regulations are a challenge too. Can you explain?
A: As I said before, it is important to have fundamental knowledge of the basics of exporting, which will help you navigate requirements like the federal government's export controls and the regulations regarding international financial transactions. This is very important considering both U.S. and overseas governments expect the exporter to understand their responsibilities. Not knowing the law is not a valid excuse.
In general, export controls prohibit exports to countries that are under embargo or to people and companies that have been denied export privileges. There are some controls that apply to technology, which are designed to prevent the wrong companies or countries from accessing sensitive equipment, software and technology. Other controls are aimed at controlling crime or terrorism and protecting national security. Some of the primary federal agencies that control exports directly include the BIS, OFAC, DOJ and/or DOD.
Some of the least known export controls are FCPA and Deemed Exports. The FCPA Foreign Control Act (commonly referred to as the Foreign Corrupt Practices Act), prohibits the payment of bribes to foreign officials to assist in obtaining or retaining business. The FCPA can apply to prohibited conduct anywhere in the world and extends to publicly traded companies and their officers, directors, employees, stockholders and agents. Agents can include third-party agents, consultants, distributors, joint venture partners and others.
Deemed Exports, on the other hand, is releasing controlled technology to a foreign person in the United States or overseas, even though a physical item is not being exported. Controlled technology and the transfer of knowledge is considered a "deemed" export. For example, allowing someone to work on your computer code who does not hold U.S. citizenship or a green card is akin to sending the product overseas. The definition of an export is to ship the product or transfer the knowledge. So, if you were to give such access to a coder with Russian citizenship and the coder was in your building in Silicon Valley, it could be seen as shipping the code to Russia.
Exporting can have big rewards, but running afoul of compliance regulations can result in serious penalties. Take the time to do your research and contact the experts when needed.
Q: Exports have historically represented a bright spot for the U.S. in terms of trade, and the government has a wealth of resources for exporters (Gold Key, Trade Missions, etc.). What are some that you recommend?
A: There are plentiful resources for exports, however they are not all in the same place which sometimes makes it difficult to find them. Some of the best resources can be found at the Commerce Department's International Trade Administration. One program is the Gold Key Service, which provides U.S. companies with matchmaking appointments with up to five interested partners in a foreign market. The full service includes identification and outreach to potential matching firms, sending client's information to identified matching firms, preparing a profile of interested firms, attending the appointments, and providing a report with the profile and contact information for interested firms.
On the funding side, EXIM Bank (www.exim.gov) has a portfolio of solutions targeting exporters, allowing them to grow their business faster because they can get secured loans. EXIM also offers risk mitigation programs that insure the risk of payment from foreign buyers, which is great.
On the private sector side, American Express is one company that offers assistance to companies looking to expand their businesses in international markets. The American Express Grow Global program brings together global trade experts, exporting officials and business leaders to help small- and medium-sized companies expand globally.
Finally, there are industry groups like the global Organization of Women in International Trade (OWIT) that has chapters in major cities throughout the United States and even some foreign markets. OWIT provides monthly seminars, networking events and other benefits to both women and men.
Q: It's fair to say that the U.S. trade policy is in a genuine state of flux right now. The current administration withdrew from the Trans-Pacific Partnership last year; is renegotiating NAFTA; and is alarming trade partners with its use of tariffs and protectionist measures in an attempt to narrow the U.S. trade gap. Yet, this disruption is understandably concerning to the export community. What strategy is Global4PL adopting right now? What advice do you have for other exporters?
A: To say that the U.S. trade policy is in a genuine state of flux right now is an understatement.
My view is that some of the ideas are good, but the implementation has not been done correctly, and there has been a lack of communication with both U.S. exporters and foreign countries. At the same time, foreign countries are responding with retaliatory tariffs and this hurts U.S. exporters.
I am afraid that the current U.S. trade policy has unintended consequences, whether it was withdrawing from the TPP or if we withdraw from other free trade agreements (FTA), we lose a seat at the table. If the United States is not a participant, then we give our seat to China, which is more than eager to replace us as the global leader in trade. Also, free trade agreements are poorly understood and blamed for the U.S. trade gap, which is not quite accurate.
Furthermore, FTAs offer protections for U.S. exporters. One example involved an American engineering firm that was being blocked from bidding on a large project. Under the U.S.-Chile free trade agreement, Chilean entities are not allowed to discriminate against U.S. companies, and the Chilean government was forced to change their bidding policy to avoid violating the rights of U.S. companies afforded under the pact.