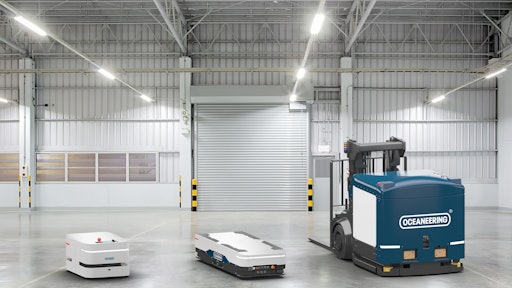 Oceaneering International
Oceaneering International debuted three new mobile robots utilizing natural feature navigation technology and requiring little to no added infrastructure.
"We are naturally excited with the arrival of our new products," says Henny Bouwmeester, VP and general manager, Oceaneering Mobile Robotics. "We spent substantial efforts not only in understanding customer needs, but also ensuring that the designs can truly scale. Accordingly, these new robots enable us to continually unlock new capabilities and move ever closer towards bringing mobile robotics to all industries."
From Oceaneering:
The UniMover D 100 is a small underride vehicle designed to transport light goods such as boxes, totes, trays and individual items, and features on-demand obstacle avoidance capabilities making it ideal for deliveries direct to consumer.
The UniMover O 600 is an underride vehicle suitable for transporting a variety of bulk items such as engineered parts, food, laundry, medical equipment, packaging and pharmaceuticals.
The MaxMover CB D 2000 is designed as a true replacement of conventional counterbalance forklifts, and can accommodate a large variety of load types ranging from conventional and specialized automotive pallets to racks and carts.