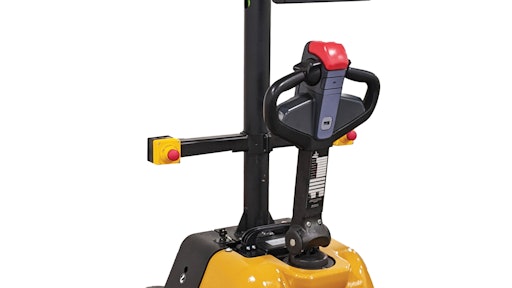 Big Joe Forklift
Big Joe Forklifts debuted BUD, Big Joe's User Directed Pallet Mover, which features a simple onboard tablet and cloud connection to drive autonomously on custom missions once an operator manually loads a pallet and tells it where to go.
"Automation as we know it in material handling is about to be turned upside down by products like BUD. As opposed to having to do lengthy site surveys, complicated ROI calculations and expensive implementations, the whole idea of this technology is going to flip to where the machines become so simple to deploy and low cost that the user becomes their own integrator and these items become a practical day to day tool for most companies," says Bill Pedriana, CMO of Big Joe Forklifts.
From BusinessWire:
BUD can transport and drop off loads of up to 3,300 pounds with basic obstacle avoidance and a swappable lithium battery to deliver exceptional operational flexibility. With the addition of an optional "universal carrier" attachment, BUD can be outfitted with a tow hitch, shelving, custom fixtures or a simple deck to function as a jack of all trades just about anywhere.