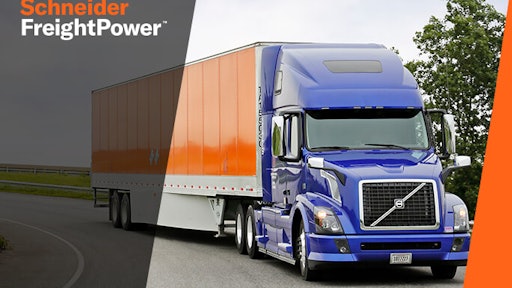 Schneider

Schneider launches Schneider FreightPower to rewrite the rules – giving shippers access to an expanded, highly flexible capacity network backed by a trusted, experienced carrier. This new marketplace fuels Schneider's ability to say "yes" even more often, regardless of market condition or location.
Schneider FreightPower™ marketplace is leveraging the strength of its trailer pool and 34,000 carrier relationships to give shippers unprecedented access to the capacity they need. Schneider FreightPower™ provides on-demand, box-on-site storage and transportation. Best of all, Schneider FreightPower™ is backed by Schneider's network of safe and reliable qualified third-party carriers, ensuring the shipper's business – and reputation – is in trusted, tested hands.
"We operate one of the largest North American freight networks, with over 12,000 trucks and 35,000 trailers," says Erin Van Zeeland, group senior vice president of Schneider Logistics Services. "In addition to our vast equipment assets, we have relationships with more than 34,000 carriers, all ready to carry customer loads each and every day. That's good news for shippers that need to move goods safely and on time, and it's good news for drivers who want access to a larger pool of freight."
Some of the advantages shippers using Schneider FreightPower™ marketplace are enjoying include:
Hearing "yes" more often: Backed by one of the largest trailer pools in North America, Schneider FreightPower™ helps shippers of all sizes find capacity, even in challenging markets and locations. It's also ideal for surge capacity needs.
Optimized supply chain: By combining advanced analytics and personalized expertise, Schneider ensures shippers' networks are designed to work harder and deliver more results.
Avoiding the unknowns: Schneider puts its expertise to work in protecting a customer's brand, people and product by collaborating with safe and reliable third-party carriers to deliver goods safely and intact.
"Because Schneider is always delivering, always ahead, we're constantly investing in new ways to provide shippers with more capacity," says Mark Rourke, Schneider's president and chief executive officer. "Schneider FreightPower™ is a powerful example of that commitment. Shippers of all sizes come to us with their toughest transportation challenges, and we're solving them faster than ever before. That means our customers get more value – and get more done in a day."