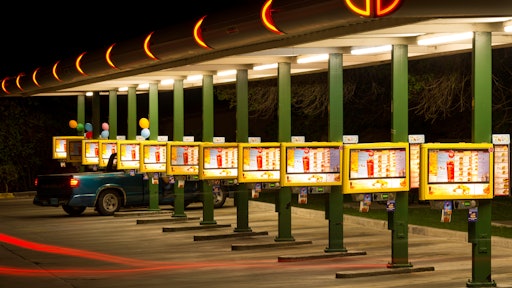 Getty Images
ComplianceMetrix LLC (CMX), a provider of enterprise quality management software (EQMS) for food and consumer brands, has introduced a new tool to help the food and beverage industry better handle recalls and withdrawals. Created for restaurants, retailers, grocery, convenience stores, manufactures and distributors, CMX Recall helps companies easily and quickly communicate to supply chain partners the need to take action on product.
A longtime CMX partner, the fast food chain Sonic Drive-In will further update its supply chain management solution SupplyChainMetrix (SMX), adding these new capabilities for managing product incidents, withdrawals and recalls from initiation to resolution.
Sonic is using SMX's Incident Management to automate the resolution of product-related complaints, quality and delivery issues between Sonic's 3,600 drive-ins, distributors, bakeries and suppliers. The system streamlines and automates the reporting, resolution and credit/replacement process from days to hours.
The newly launched CMX Recalls will be used by Sonic to automate and streamline the process for managing product withdrawals and recalls.
"Managing product incidents and recalls effectively is critical to our business and can also be one of the most challenging responsibilities we have as a QA Team. While there are many solutions in the market, most generally lacked the capabilities and integration needed to respond quickly to an issue and manage the scope if it evolves. With SMX, our supplier, distributor, product and location records are always accurate, up-to-date and accessible, giving us the foundation and a single platform to manage quality and risk. This, combined with CMX's extensive understanding of our problem domain, made them the clear choice for Sonic," says David Abney, vice president of quality assurance at Sonic. "After implementing SMX Incidents & Recalls, we've experienced measurable improvements in our speed to respond and resolve product related issues."
Key capabilities and benefits of CMX Recalls include:
Automated identification of issues and trends—The module can be optionally used with SMX's Incident Management module, allowing for automated trend detection and seamless transition to an investigation, and further response management if needed.
Full cycle event management—Provides support for a variety of event types and progressions including investigation, hold/release, withdrawal, and voluntary/mandatory recalls from initiation to resolution. The module also supports the execution of "mock" events with full functionality.
Quick identification of impacted parties—The module leverages SMX's product-to-supplier, supplier-to-distributor, and distributor-to- retail/restaurant location relationship management capabilities to quickly identify impacted parties that require notification.
Automated communication and response management—Allows customers to communicate product identification, disposition and replacement instructions to thousands of supply chain partners and locations simultaneously via email, voice and text. The module automatically manages reminders and escalations and tracks responses and product recovery effectiveness.
Real-time event monitoring—The module includes real-time monitoring capabilities to track emails opened, acknowledgments, response forms received, amount of product accounted for, and time to respond for impacted parties.
Comprehensive record keeping—The module allows for crisis management teams to record notes, attachments, risk evaluation, event strategy, related product incidents, and automatically records all actions taken from initiation to resolution for all involved parties.
"After studying other solutions and collaborating with our customers, we saw an opportunity to bring something new and innovative to the market. Over the last several months, Sonic has been a valuable partner in helping us develop and test the new product. We think the level of flexibility, automation and monitoring capabilities is unmatched, and our customers will benefit greatly in their ability to manage events more effectively", adds Jim Hardeman, executive vice president of product, ComplianceMetrix.