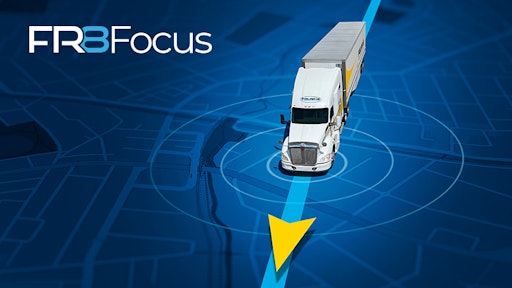 Polaris Transport
NorthStar Digital Solutions (NDS), the 2019 Polaris Transportation Group (PTG) spinoff software division, partnered with Radaro to create FR8Focus, a mobile app aimed at helping carriers connect, track and manage their fleets in real-time.
"FR8Focus is about more than a single piece of technology. It's about flawlessly combining an assortment of technologies to solve industry-wide issues. Operations can see their entire fleet(s) on the road at a glance, communicate with drivers instantly and adjust schedules ad hoc," says NDS COO Dave Brajkovich. "From a carrier's customer standpoint, we have eliminated a lot of frustration. When they see real-time route flows and receive instant notifications, there is no longer a need to ask where their shipment is."
From Polaris Transport:
NDS purchased the Radaro platform, which had the basic driver control applications built on the latest mobile platform. NDS then enhanced the Radaro product by deploying backend integrations to tie in all the critical core transactional systems.
FR8Focus is designed to keep the front-end tools simple for the driver so they couple it to their daily activities with minimal efforts for the administrative requirements.
Additional features include user-friendly functions for drivers receiving electronic manifests; routes and schedules are pushed to the drivers; drivers manage by updating order statuses as they arrive, orders management updates assessorial, additional charges, detention, etc.; document imaging snap-to-grid, proof of delivery, bill of ladings, customs invoices and more, all integrated and updated to the back end instantaneously; asset route management, tracking miles, delivery and pickup times, fuel and yield management; integrated systems notifications, including weather, capacity, safety and more; full dispatch visibility of the fleet in motion with all delivery and pickups on grid; and full customer visibility for live tracking by order with early arrival and changes notifications.
"Our main goal was to bring our drivers and assets visibility and communications to the backend to minimize heavy administrative labor that could be managed via systems automation from the road to the back office," Brajkovich says.
"Our solution was developed with the carrier, the customer and the driver in mind, resulting in truly intuitive systems where workflows anticipate each step," says Joe Thull, Radaro's head of North America. "FR8Focus complements existing tech stacks to allow for efficient integration and avoid the headache of replacing systems essential to running their business."