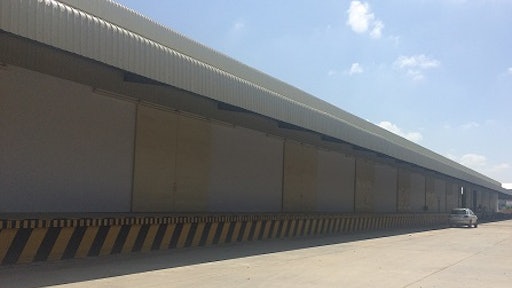 Yusen Logistics (Cambodia) Co., Ltd. has established a temperature-controlled distribution center in Phnom Penh, Cambodia. One of Cambodia's largest cold storage facilities, it opened on August 1.
The facility strengthens Yusen Logistics' distribution network in Asia and will support Cambodia's growing demand for warehouse storage for imported general consumer goods and chilled and frozen goods. In addition, the company will be offering Cambodia's first consolidated delivery service in Phnom Penh for retailers and wholesalers.
The 33,000-sqaure-foot facility, which is almost double the capacity of the existing warehouse, includes a 4,237-square-foot temperature-controlled storage area. The expansion will enable the company to handle the storage, processing and distribution of chilled and frozen goods with quality assurance and compliance.
The consolidated delivery service is available to customers in Phnom Penh on a daily basis, excluding weekends. Yusen Logistics will also provide the same service for chilled and frozen goods using cold-storage boxes and will ensure product quality is maintained up to the point of delivery.
Yusen's Cambodia subsidiary, which began operations in 2013, has provided a diverse and varied range of logistic services, including ocean and air freight forwarding, customs clearance, domestic delivery, and cross-border transportation. It has contributed to the smooth supply of goods to Cambodia's domestic market with the knowledge it has built up in the import of a wide range of goods, especially foods, as well as everyday items. Yusen Logistics is striving to meet the logistics needs of customers in Cambodia by blending a diverse range of services with the capabilities of new facilities.
Companies in this article