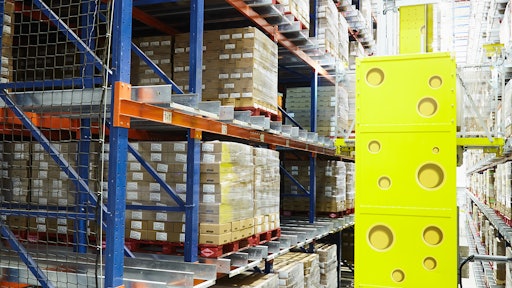 Westfalia Technologies
As families gather around the kitchen table, they want to know the food on their table is fresh, safe and handled with care. However, the CDC estimates that roughly 48 million Americans suffer from foodborne illnesses each year. With reputation and market value being top priorities for the food and beverage industry, efficiency and compliance in food and beverage storage is crucial to a company's longevity, especially in temperature-controlled environments. Considering that the cold storage market is projected to increase to over $330 billion by 2030, it's critical for food and beverage manufacturers to operate safely and be efficient while doing so.
To accomplish this, many warehouse owners are looking to expand temperature-controlled storage capabilities, including refrigerated and frozen storage options, to accommodate current and future demand. Not only that, manufacturers and distributors must consider other supply chain trends like the labor shortage and the influx of SKUs, all while keeping an eye on future growth.
Today's food and beverage leaders can do this in four ways.
1. Automation's role in the future warehouse
Large conventional warehouses that experience high SKU counts and large case volumes inevitably find themselves facing issues with first-expired, first out (FEFO) rotation, lot skipping and general storage inefficiencies when facilities become too large. A transition toward automation pivots away from laborious tasks such as manual case picking and pallet handling. Efficiency gains in both labor productivity and reliability, energy consumption and state-of-the-art data mining capabilities are enjoyed by those investing in more automated systems.
A highly effective solution would be to implement an automated storage/retrieval system (AS/RS), reducing key operational challenges often faced in conventional warehouses. With an AS/RS, products can be retrieved from storage with significantly less touches, meaning less opportunity for damage, contamination or wastage. Implementing an AS/RS also makes up for the labor gap exacerbated by "The Great Resignation." In fact, because an AS/RS can operate in extreme conditions (like -30°F), workers can reduce exposure to sub-zero temperatures, eliminating both a safety hazard and significant area of productivity loss.
2. A data-driven design
Finding a company that offers warehouse automation solutions is easy; however, seeking a long-term partner when making the transition is essential to success. Regardless of system design, automation solutions should always possess a data-centric approach from the start. In fact, this should be one of the first critical steps for designing the right warehouse automation solution. If that inventory and order data is not available, then the right partner can help collect it. This methodology is the first step in implementing a successful automated system as it lays the foundation for a risk mitigation framework. Ultimately, risk mitigation will help eliminate downtime, reduce maintenance costs and ensure redundancies are designed into the system as needed.
One of the benefits of AS/RS is that it can be implemented in virtually any warehouse, new or existing, regardless of SKU or pallet volume. For example, retrofitting existing infrastructure has the versatility of scaling as low as 20 feet, with systems specifically designed to maximize cube. A data-first approach allows businesses to determine specific pain points so the system can be customized to solve specific challenges and meet industry requirements.
3. A standard of sustainability
As consumers increase focus on making ethical and progressive buying decisions, sustainability should be a core value for a future-focused food and beverage company. Utilizing an AS/RS contributes to greater energy efficiency, especially in a temperature-controlled environment, and decreases the overall footprint of a facility by up to 50% or more. Opting for a vertical warehouse design with AS/RS allows for a landlocked facility to expand, while preserving valuable land space. Bringing sustainability into warehouse design not only builds customer loyalty, but also translates to up to 40% less energy use–and therefore lower energy costs, too.
4. A system is only as good as its software
While automated warehouse systems come in many forms, the right warehouse execution system (WES) or warehouse management system (WMS) is critical to the overall functionality of the system. Employing proper software alongside warehouse automation provides several key benefits including increased traceability and reduced fulfillment errors. The ability to track product movement accurately and in real time with detailed logging of all automation events provides insights that were previously unavailable. It also helps avoid costly mistakes by reducing unexpected stock-outs, back-orders and fulfillment errors.
A WES will also supply data from inventory and order fulfillment events, turning that data into forecasting and trending models. For example, better planning tools allow operators to evaluate peaks in demand and promote re-slotting of certain items to improve productivity.
AS/RS can also be programmed with just-in-time (JIT) order fulfillment, which reduces product having to be re-stored, so inventory isn't sitting on the loading dock for long periods of time. In fact, JIT order fulfillment helps ensure that orders are picked in congruence with truck arrival times, reducing the size of a staging system. Ultimately, an AS/RS is ideal for food and beverage and temperature-controlled warehouses with high SKU counts and case volumes.
Creating an efficient and sustainable warehouse is extremely important to longevity in the food and beverage industry. With the right automated system designed for your needs, the best software to manage the facility and the data to ensure product safety, consumers and suppliers can rest assured they're receiving the best quality food–from the farm or factory to the warehouse to their table.